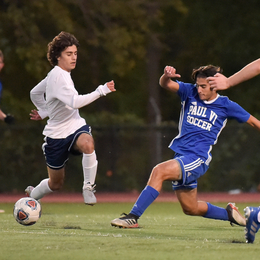 Boys Soccer
High School Fall Sports Preview
BISHOP EUSTACE CRUSADERS
PLAYERS TO WATCH: Junior forward Lorenzo Carletti had a breakout sea- son as a sophomore, netting a team-high 12 goals to go with two assists on his way to allconference first-team honors. He will lead the offense along with senior midfielder Drew Ruehlicke, another returning playmaker who had eight goals and two assists and made the all-conference second team. Junior John Verrechia will also be a contributor up front. The defense is solid with seniors Nick Senior and Andrew Borrelli, who both made the all-conference second team. Seniors Peter Buck and Alex Pietrangelo and sophomore Danny O'Rourke are also experienced on defense. Junior Billy Pickering and sophomore Alex Pobre are other returners expected to have an impact.
OUTLOOK: The Crusaders went 10-10 and reached the sectional semifinals during a solid 2018 season. With a strong core returning they are eyeing a winning record and deep playoff run.
CAMDEN CATHOLIC FIGHTING IRISH
PLAYERS TO WATCH: Three all-conference second-teamers are back in the fold for Camden Catholic, including sophomore forward Billy Clewell, who led the Irish with nine goals and five assists as a freshman. Senior midfielders Liam Barnett and Andrew Godley are the other returning all-stars; they are key contributors at both ends of the field. Junior forwards Lucas Dunn (eight goals, two assists) and Sean Martin (five goals) are other top players offensively, while senior Harrison Keller and junior Chris Conte will contribute as well. Senior Mike Volpe, junior Joseph Giegerich and sophomore Ryan Davis—who started as a rookie —are experienced defenders in front of senior goalie Patrick Galloway. Juniors Shane Serio and Liam O'Connor are other veteran returners, and several members of the talented freshman class are expected to play varsity right away.
OUTLOOK: The Irish took a big step forward last fall, compiling a 6-13-1 record after a winless season the year before. Expect the improvement to continue in 2019.
CHEROKEE CHIEFS
PLAYERS TO WATCH: Cherokee graduated 10 seniors, including three all-conference players, so new team leaders will have to emerge. The defense is solid, with junior goalie Ethan Dannersberg back as the starter and senior backs Tyler Gorecki and Max Wieliczko returning in front of him. Senior Shawn Nor- ton is another experienced keeper. Junior Ian Bialy and senior Joseph Carroll are key players in the midfield and junior forward Zach Weiner will look to step up offensively. Sophomore Alex Wieliczko saw time as a freshman and gained valuable experience, and other returners hoping to play bigger roles are juniors Connor Ryan and Joseph Napoli.
OUTLOOK: The Chiefs went 5-10-1 last year but were competitive in most of their matches, dropping five one-goal games. If they can find a way to win some of those close games, a bounce-back season is possible.
CHERRY HILL EAST COUGARS
PLAYERS TO WATCH: Although three all-conference first-teamers graduated, there is still a solid core in place at Cherry Hill East. Senior midfielder Eddie Grant and junior forward Luke Luerhs both made the all- conference second team and will be counted on to spark the offense. Junior midfielder Drew Luerhs also made the all-conference second team and is a key part of a defense that allowed just 18 goals. Senior Kevin Lochbihler returns to solidify the back line, while seniors Christian Alcamo and Josh Thomas return at the forward position. Seniors Nick LaRusso, Mohan Suri and Dilan Mada and junior Hugo Campov- erde add great ability and skill to the lineup. Experienced backs are seniors Ben Utter, Cole Weinberg and Ryan Skloff, and dynamic senior Matt Randall will look to become the starting goalie. The Cougars will also get great depth from a strong group of underclassmen, especially the incoming freshmen.
OUTLOOK: The Cougars posted a 7-7-3 record last fall, their best mark since 2012. They hope to keep moving forward behind a deep senior class.
CHERRY HILL WEST LIONS
PLAYERS TO WATCH: Cherry Hill West lost a lot of firepower with the graduation of all-conference and all-South Jersey first-team midfielder Zach Bruno, who led the Lions with 18 goals and nine assists. Fortunately, senior forward Khylei Neal could be ready to become the new go-to scorer after recording four goals and two assists on his way to all-conference first-team accolades. Senior midfielders Griffen Martello and Christos Malliaros are other top playmakers. Most of the starting defense graduated but starting goalie Ian Sachs, a senior, is back after making the all-conference first team as a junior. Senior defender Cole Johnson saw a lot of minutes as a junior, and junior midfielder Tim Redmond will join the back line as well. Juniors Ian Dolan and Colin Chance and sophomore Ethan Steinbiss are other returners expected to have an impact.
OUTLOOK: The Lions' successful 2018 campaign featured a 12-7-3 record and a trip to the sectional semifinals. If the defense develops as expected, they should remain competitive.
CLEARVIEW PIONEERS
PLAYERS TO WATCH: Senior forward Jack Accorsi leads the returners for Clearview after recording 15 goals and five assists last year to make the all-conference first team and all-South Jersey second team. A four-year varsity player, he is poised for a big final season in green and gold. Senior forward Vince Fedoryka, senior midfielders Kevin Donahue and Pat Drozd and junior midfielder Cody Scully are also key pieces of the offense. Senior Anthony Careless is a three-year starter on defense and senior back Pearse Costello made the all-conference first team. Other experienced defenders are seniors JJ Bilderback and Drew Pecorilli and junior Jake Gamber. Senior Zane Martin is a veteran goalie who is expected to take over as the full-time starter and senior Cade Longo is a contributor in the midfield.
OUTLOOK: The Pioneers went 11-8 to bounce back from a rare losing season, qualified for the Coaches Tournament and dropped a close 1-0 game to Eastern in the first round of the playoffs. With Accorsi leading the way, another successful season appears likely.
EASTERN VIKINGS
PLAYERS TO WATCH: Eastern suffered huge losses to graduation, with almost the entire roster—including nine starters and six all-conference players—moving on. Senior back Colin Ems is the only returning starter from the field, and he will be a valuable leader for the Vikings after earning all-conference second-team honors as a junior. He also scored three goals. Junior Joe Weichert earned the starting keeper job as a sophomore and made 80 saves, while senior Connor Blasberg is another experienced goalie. Senior Eric Alves and junior Matt Meade will take on bigger roles and a host of newcomers will fill in the rest of the starting lineup.
OUTLOOK: The Vikings' impressive 14-5-3 season ended with a loss to Jackson in penalty kicks in the sectional semifinals, and they also reached the quarterfinals of the Coaches Tournament. This is clearly a rebuilding season, but the program usually finds a way to stay competitive.
GLOUCESTER CATHOLIC RAMS
PLAYERS TO WATCH: A solid crop of seniors—many of whom have been contributing to the varsity team since they were sophomores—is back to lead Gloucester Catholic. That includes midfielder Bobby Kulinski, who is the top returning scorer and should spark the offense. The starting defense also returns, with seniors Ethan Guldin, Jack Stewart and Giancarlo Cammarata joined by junior Ian Negron. Chris Liscio, Alex Polidoro and Kyle Dill are other valuable members of the senior class, along with Alex Heard, who has experience in goal. Junior Tyler Carter saw time as a sophomore and is another contributor.
OUTLOOK: The Rams went 6-11-1—doubling their win total from the year before—and were competitive in most of their games, including five one-goal losses. With a talented senior class, they hope to contend for a winning record in 2019.
HADDONFIELD BULLDAWGS
PLAYERS TO WATCH: Center midfielder Tommy Mollis is primed for a big senior season after recording 11 goals and 12 assists as a junior to make the all-South Jersey and all-conference first teams. He is the orchestrator of a dangerous offense that also includes senior forward Geno Mariano (six goals, three assists), junior forward Alessandro Meucci (four goals) and sophomore forward Christian Ball, who had eight goals and three assists in an impressive rookie campaign. Seniors Connor Fell and Hadi Mohammed are experienced players in the mid- field, and returning starters on defense are seniors Cole Roddy and Mike Zappetti. Players hoping to compete for the starting goalie position include juniors Henry Courtney and Declan Malcarney and sophomore Joe Lamb.
OUTLOOK: The Bulldawgs gave eventual champion Delran a test in the sectional semifinals before finishing with a 15-7 record. After finishing second in the Colonial Conference Liberty Division, they have the potential to reclaim the crown and put together a playoff run as well.
KINGSWAY DRAGONS
PLAYERS TO WATCH: Kingsway returns a terrific scoring duo in senior Sean Fatiga and junior Chris Spicer. Fatiga led the Dragons with 19 goals to go with three assists and made the all-South Jersey third team and all-conference first team, while Spicer added 11 goals and six assists. Junior Owen Ryan is also capable of putting the ball in the net. Junior Ashton Ruggio and sophomore AJ Henry both gained some varsity experience in net and could be ready to take over as the starting goalie. Michael Daly, Quinn Roche, Kieran Breen and Eddie Casey are seniors expected to contribute and other returners looking to have an impact are junior Conrad Cliver and sophomore Jeff Heineman.
OUTLOOK: The Dragons posted a 12-7-1 record in 2018, reaching the sectional and Coaches Tournament quarterfinals. With Fatiga and Spicer looking like two of the top offensive players in the area, this is shaping up as another successful season.
LENAPE INDIANS
PLAYERS TO WATCH: Five starters are back for Lenape, led by senior midfielder Jack Blumberg, who had four goals and five assists last year on his way to all-conference first-team accolades. Junior forward Shom Dhar (five goals) is another returning playmaker along with senior midfielder Danny Mulvihill. Senior Aidan Cashin also returns in the midfield and senior Colin O'Malley is a returning starter on defense. Senior Owen McNamara is another experienced midfielder, and junior Justin Gibson hopes to emerge as the starting keeper. Other players looking to contribute are senior Kevin Schurr and juniors Xavier Scotland and Alex Siniscalo.
OUTLOOK: The Indians overcame a slow start last fall to reach the sectional quarterfinals and post a 10-10 record. With a solid nucleus in place, they figure to remain competitive.
MOORESTOWN QUAKERS
PLAYERS TO WATCH: Moorestown returns an exciting nucleus led by seniors Dov McGuire-Berk and Alex Lopacinski, who both made the all-conference first team as juniors. McGuireBerk is a midfielder who contributes at both ends of the field and finished with four goals and three assists last year, while Lopacinski is the anchor of the back line. Junior Christian Trzeciak, a three-year starter, is another strong player on defense, which also gets a boost with the return of senior goalie Kevin Muhic. He made 96 saves and earned all-conference second-team honors. Speedy sophomore forward Cade McGrath had a goal and six assists as a freshman and will look to spark the offense along with senior midfielder Joe Delconte (four goals, two assists). Bryce Peterson, Sam Winkler and Matthew Buckley are other seniors expected to play a big role as well.
OUTLOOK: The Quakers' 11-7-3 record featured a regular-season win over Delran, a close loss to eventual champion St. Augustine in the Coaches Tournament and a berth in the sectional semifinals. They have the talent to follow it up with another strong season.
MOORESTOWN FRIENDS FOXES
PLAYERS TO WATCH: Moorestown Friends has a talented core of juniors who have been contributing since they were freshmen and are now ready to take their game to the next level as upperclassmen. The group includes midfielder Astin Galanis (nine goals, team-high 13 assists) and midfielder/back Evan Schlotterbeck (three goals, three assists), who both made the all-league first team. Another junior, forward Matt D'Ottavi, netted 14 goals to lead the team for the second year in a row and was all-league honorable mention. Juniors Nolan Schenk and Tyler Patton are key players in the attack, and senior leadership comes from midfielder/back Cory Dennis along with forward Jack Bader. Other returning seniors include Alex Boller, Jackson Fox and Chase Gottlieb. The defense suffered big losses to graduation but is happy to welcome back junior goalie Michael Paznokas, who recorded 72 saves. Other returners expected to play a role are juniors Kian Canelas, Brent Cohen, Aidan Connolly, Adi Fox, Carrington Mizelle and Sean Wiseman and sophomore Daniel Weinstock.
OUTLOOK: The Foxes reached the sectional semifinals and finished with an 11-8-1 record in 2018— their sixth straight season of double-digit wins. Look for the streak to continue this fall.
PAUL VI EAGLES
PLAYERS TO WATCH: Although Paul VI graduated 11 seniors, including three all-conference players, there is a promising crop of returners left to build around. That includes a pair of junior forwards, Anthony Carpinella and Matt Guerrero, who showed an ability to finish last year as sophomores and should pace the offense. Key senior leaders are Aidan Weitzel, Michael Kaderabek and Connor Buechele, while junior Luca Scotto is another talented upperclassman. Seniors Tyler McKlaine, Mark Schuhl and Sebastian Georges are also looking to be impact players. Sophomores Brad Maslowski and Liam Schmidt both contributed to the varsity as freshmen and should only get better with a year of experience under their belts, and junior Merrick Nowak hopes to earn time as well.
OUTLOOK: The Eagles went 8-11 in 2018—a six-win improvement from the season before—and notched a playoff victory. They hope to keep making progress under new head coach Fran Schmutz, a former assistant at Cherry Hill East.
SENECA GOLDEN EAGLES
PLAYERS TO WATCH: An outstanding senior class collected their diplomas at Seneca, but several talented players remain. Leading the list of returners is senior forward Luke Leach, who set a school record with 18 goals last year to go with six assists. He made the all-South Jersey and all-conference first teams and should be one of the most explosive strikers in the area in his final campaign. Junior forward Elkin Bonilla-Hernandez is another proven finisher who had 10 goals and three assists to earn all-conference second-team accolades. Returning midfielders include junior Shane Lovett and sophomore Mark Palladino. The entire starting back line, as well as goalie Jonah Mikulski, all graduated, so establishing a strong defense will be a priority. Senior Sam McHugh returns, while the goalkeeping responsibilities will be an open competition.
OUTLOOK: The 2018 season was a memorable one for the Golden Eagles, who went 18-2-4 to set a school record for wins, reached the semifinals of the Coaches Tournament, won the Olympic Conference National Division and captured the program's first sectional championship. They also defeated all three of their sister schools in the same year for the first time. That will be a hard act to follow, but Seneca hopes to have a competitive year.
SHAWNEE RENEGADES
PLAYERS TO WATCH: Senior forward Aidan Lewis has netted five goals in each of the last two seasons and made the all-conference first team as a junior. He is poised for a strong final campaign at Shawnee. Four other starters return, including senior Aidan Giquin- to (four goals, three assists) and sophomore Patrick Sipera (three goals, one assist) in the mid- field. Junior Mike Bolognone and sophomore Braden Short are back on defense and will be important pieces as the Renegades break in a new starting goalie. Juniors Jacob Borsky and Matt Longshaw and sophomore Tyler Davidson are other returners expected to have an impact, and seniors Daniel Kaighn, Jack Steel and Andrew Tecce also hope to play a role.
OUTLOOK: The Renegades had a lot of young players last year but were still competitive in most of their games and finished with a 6-7-3 record. That experience should pay off this fall.
WASHINGTON TOWNSHIP MINUTEMEN
PLAYERS TO WATCH: A special senior class at Washington Township has moved on, but several key pieces from last year's state championship team are back and hoping to keep the Minutemen among the best squads in the area. Senior forward Alex Desiderio had four goals and six assists to make the all-conference second team. He will look to step up offensively and become one of Washington Township's go-to scorers. Senior Justin Bautista was a rock on the back line as a junior and will lead the defense. He also scored a goal in the state final. Senior Ryan Cleary missed significant time with injuries last year, but returned and played very well in the playoffs. He will look to dictate play in the midfield. Senior Josh Arakelian and junior JR Cima are other returning starters in the midfield, and sophomore Matt Liss scored eight goals as a freshman after entering the lineup midway through his rookie season as an injury replacement. Forward Luca Lockhart—who also scored in the state championship game—is another valuable senior. Junior Kyle Stone could take over as the starting goalie and sophomore Aiden McGuigan will look to contribute on defense.
OUTLOOK: The Minutemen's 25-1 season included a berth in the Coaches Tournament final, their fifth straight sectional title and their third Group IV state crown in five years. While there is no replacing last year's seniors, they will continue to set the bar high.
Published (and copyrighted) in Suburban Family Magazine, Volume 10, Issue 5 (July 2019).
For more info on Suburban Family Magazine, click here.
For information about advertising in Suburban Family Magazine, click here.
To find out where to pick up your copy of Suburban Family Magazine, click here.