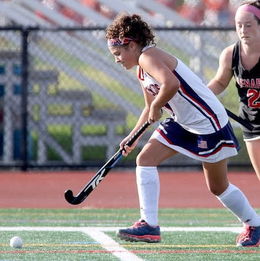 Field Hockey
High School Fall Sports Preview
BISHOP EUSTACE CRUSADERS
PLAYERS TO WATCH: A stellar senior class graduated, and Bishop Eustace also suffered a crucial loss to injury when senior forward Julia Gatelein was side- lined for the season with an ACL injury. She led the Crusaders with 31 goals and 20 assists to make the all- South Jersey and all-conference first teams last year. Sophomore Alex Senior, who entered the starting lineup midway through her rookie season and finished with 12 goals and four assists, will be looked upon to contribute on the attacking end, with senior Claire Vasell returning to lead the midfield. Junior Mia Trottie—the starting goalie since her freshman year—had 161 saves to earn all-conference second-team accolades, and senior Abby Miller is the anchor of the defense and also contributes offensively when needed. Senior Cameron Huber, juniors Rachel Sobocinski, Keira Poyatt and Jackie Smith and sophomores Alexa Ronning, Cassie Chapjian and Julia Fiola all saw time last year and will have a chance to step into bigger roles.
OUTLOOK: Last season was another memorable one for the Crusaders, who compiled a 16-3-2 record and extended their streak of sectional championships to five before falling to rival Oak Knoll in the state final. There are several important positions to fill, but they hope to be jelling by the end of the season.
CAMDEN CATHOLIC FIGHTING IRISH
PLAYERS TO WATCH: Camden Catholic is paced by two all-conference first-teamers: senior forward Kate Walsh and senior midfielder Kaitlyn Cummins. Walsh has received the honor two seasons in a row and finished with 14 goals and four assists as a junior. Cummins, who has committed to Temple, added 11 goals and assisted on five others. Other playmakers include junior midfielder Jillian Orcutt, who had five goals and three assists and made the all-conference second team; senior forward Natalie Berry, who recorded seven goals and three assists; and junior midfielder Elena Leahy, who set up six goals with her passing ability. Orcutt also contributes defensively, while senior Hailey Quicksill is a top returner in the back. Junior Laura McCann and sophomore Gianna Miller are also experienced on defense. Sophomore goalie Leah DiRenzo saw time as a rookie until getting injured and will look to earn the starting job. Incoming freshmen Olivia Bent-Cole and Ava Moore will contribute on offense and defense. Other returners who will have an impact are juniors Sophia Conte, Kyle Allison Hardy, Brynn Levins and Faith Elizabeth Hardy, along with sophomores Emily Gallagher and Payton Koss.
OUTLOOK: The Fighting Irish—who went 14-6-3 in 2018 and reached the sectional final for the second consecutive season—seem to reach double digits in wins year in and year out. Count on another successful campaign this fall.
CHEROKEE CHIEFS
PLAYERS TO WATCH: Alex Kulinski is coming off a breakout sophomore season at Cherokee and will lead the way for the Chiefs this fall. The forward/midfielder had 20 goals and 11 assists—both team-highs—and was rewarded with all-conference second-team accolades. Sophomores Isabella Mele (six goals, three assists) and Isabella Coluzzi (four goals, two assists) showed promise as rookies and should only improve with a year of experience under their belts. Junior Erin Jackson is another returning starter who is a key player in the midfield. Senior Paige Esposito and sophomore Sara Crysler are candidates for the starting goalie job. Other returners expected to contribute are seniors Gab Crysler and Kim Hazen and sophomore Alexa Antonelli.
OUTLOOK: The Chiefs got off to a rough start in 2018 but finished strong, earning an upset playoff win over Egg Harbor and pushing second-seeded Kingsway to the limit before falling in the sectional quarterfinals to end with a 7-12-1 record. Several important positions must be filled, but they expect to remain competitive.
CHERRY HILL EAST COUGARS
PLAYERS TO WATCH: Julia Cutler scored nine goals to lead Cherry Hill East last year and the forward will again be a spark for the offense in her senior season. Senior Emily DiRenzo and juniors Mary Fleischmann and Julianne Alcamo are other experienced forwards and senior midfielder Aubrey Demurjian (two goals, two assists) will be a key player at both ends of the field. Junior Rebecca Allen is another contributor in the midfield and returning defenders are seniors Naomi Abrams and Brianna Canzano. Senior Victoria Jeffery will look to earn the starting goalie job.
OUTLOOK: The Cougars' 7-13 record included five one-goal losses, and they also notched a playoff win. They hope to remain competitive this fall under new head coach Janine Zizzamia, a former player in the program who returns to her alma mater after serving as an assistant at Gloucester Catholic.
CHERRY HILL WEST LIONS
PLAYERS TO WATCH: Three all-conference players are back for Cherry Hill West, including first-teamer Isabella Sylvester, a junior midfielder. An important player at both ends, Sylvester is primed for a big season. Senior forward Gabriella Huegel led the Lions with 10 goals and four assists, and she was joined on the all-conference second team by junior midfielder/defender Caitlin King. Sophomore Emily Hazel scored seven goals as a freshman and other contributors at forward are seniors Samantha Lafferty and Olivia Hafner and junior Eila Zaris. Senior Gina Marie Bellon enters her third season as the starting goalie and will be the leader of the defense. Other returners looking to make an impact are senior Kerrigan Donnelly and junior Gianna Smitherman.
OUTLOOK: The Lions were much improved in 2018, as they posted a 4-15-1 record—their most wins in a season since 2013—and even earned a playoff victory. The progress should continue this fall.
CLEARVIEW PIONEERS
PLAYERS TO WATCH: Clearview brings back a talented nucleus that includes juniors Ali Palumbo and Grace Trovato, who lead the defense but also contribute offensively. Palumbo had 13 goals and 18 assists to make the all-South Jersey and all-conference first teams, while Trovato recorded 16 goals and a team-high 20 assists on her way to all-conference second-team recognition. Senior forward Gigi McAlpin led the Pioneers with 18 goals to go with four assists, and she was joined on the all-conference first team by junior midfielder Abby Vesey (eight goals, six assists). Sophomore forwards Samantha Johnson and Anna Bruno each scored eight goals as rookies, and junior forward Kayla Mills is also strong around the cage. Senior Sage Riso is a key player in the midfield and junior Navaeh Deichert is another experienced defender, although Clearview must break in a new starter at goalie. Several members of the incredibly talented freshman class are also expected to have an impact.
OUTLOOK: Even with a lot of new faces last year, the Pioneers still compiled a 17-4-1 record and reached the sectional final for the second straight season, losing a close game to Ocean City. They will continue to set high goals in 2019.
EASTERN VIKINGS
PLAYERS TO WATCH: Eastern was dealt a devastating blow when forward Kara Heck was lost for her senior season with a torn ACL. She made the All-America first team after recording 42 goals and 30 assists last year, and scored 156 career goals in three seasons. On the bright side, the Vikings' supremely talented roster still has four players who were named all-state last year, including Kara's sister Ryleigh Heck. A sophomore forward, she led the Vikings with 44 goals to go with 22 assists as a freshman. Already a North Carolina commit, she made the All-America third team as well as the all-state, all-South Jersey and all-conference first teams. Senior midfielder Tara Somers (14 goals, 16 assists) is a key player at both ends of the field and received several honors, including all-state second team, and senior forward Amanda Middleman (35 goals, 17 assists) was tabbed for the all-state third team. Both will play collegiately in Philadelphia, as Somers is headed to St. Joseph's and Middleman is on her way to Villanova. Riley Hudson (18 goals, eight assists) and Louisville commit Izzy Bianco (six goals, four assists) are sophomores who add to the incredible offensive depth. Defensively, senior goalie Nina Santore leads the way after garnering all-state first-team accolades. The Quinnipiac recruit made 82 saves as a junior. Experienced backs in front of Santore include seniors Kylie Zielinski, an all-conference first-teamer who is committed to Appalachian State; Elise Pettisani, an all-conference second-teamer who will move on to Rutgers; and Theresa Schmus, a Vermont recruit. Other returners who will aid the cause are senior goalie Lindsay Tripodo, senior midfielder Kendall Jung, junior midfielders Anastasia Lukasheva and Isabella Pavlides and junior forward Carlee Thompson.
OUTLOOK: The Vikings not only extended their streak of state championships to 20 last season, but they also reclaimed their spot as New Jersey's best team by winning the Tournament of Champions for the first time in three years and finished No. 1 in several national rankings. With so many elite players back in the fold, they will continue to have lofty expectations in 2019.
GLOUCESTER CATHOLIC RAMS
PLAYERS TO WATCH: Senior forward Sara Hussey was one of Gloucester Catholic's best offensive players as a junior, despite missing time with an injury. She had 11 goals and two assists to make the all-conference first team, and should be the Rams' go-to scorer this fall. Sophomore MacKenzie Kane found the cage six times as a rookie and will also aid the offense, while other contributors up front are junior Tatum Kearns and sophomore Madison Franquet. Sophomore Courtney Moore is a returner on defense and senior Olivia Blome is back as the starting goalie. Seniors Madison Baldwin and Madison Eller will look to have an impact at several positions.
OUTLOOK: The Rams had a memorable season in 2018, as they went 11-5 overall and 8-0 in the TriCounty Conference Classic Division en route to the first division championship in program history. Many of the top players from that team have graduated, but Gloucester Catholic has enough in the tank for another successful year.
HADDONFIELD BULLDAWGS
PLAYERS TO WATCH: Haddonfield saw a stellar class graduate last year, including all-state second-team midfielder Ashley Campo, who is playing lacrosse at Rutgers. Four other 2018 graduates are now playing college field hockey. The good news is that four starters return, led by senior forwards Abby Marthins and Bridget McCormick. Marthins had 14 goals and 10 assists on her way to all-conference first-team honors, while McCormick made the all-conference second team after tying for second on the Bulldawgs with 15 goals and adding four assists. McCormick, who has 45 goals over the last two seasons, will continue her career at Virginia Commonwealth. Sophomore forward Abby Reenock found the cage four times as a rookie and should play a bigger role on offense. Junior Emily Smart (three goals, nine assists) is an important player in the midfield and junior defender Katie Marthins is the final returning starter. Seniors expected to have an impact are forward Katie Warner, midfielder Rebekah Vielehr and defender Chrissy Stanton. Other returners looking to contribute are juniors Amanda Meeker, Mary Kate Murschell and Jenna Walls and sophomores Charlotte Goldman, Katie Kehner and Maddie McLister.
OUTLOOK: The Bulldawgs have been on quite a run lately, as their 19-3-2 season in 2018 ended with their fourth straight trip to the Group I state final. A lot of new faces will be in the lineup this fall, but they will be expected to carry on the winning tradition.
KINGSWAY DRAGONS
PLAYERS TO WATCH: Several impact players are back for Kingsway after a sensational 2018 season, led by senior midfielder Abbie Brown. She was second on the Dragons with 20 goals and first with 18 assists to garner all-conference first-team recognition, and is poised for a big final season before moving on to Lehigh. Sophomore midfielder Tori Griffiths, another all-conference first-teamer, shined as a rookie with a team-high 25 goals and 11 assists. Senior Emily Keene, who made the all-conference second team, is also back in the midfield and junior Devin Harkins (six goals, three assists) is a returning starter at forward. Other contributors up front are senior Natalie Ivans, junior Morgan Klaiss and sophomore Peyton Rieger. Senior Elizabeth Bennett and junior Emma Turner are back in the lineup on defense and sophomore goalie Maddy Ferry returns as the starter in the cage after recording 69 saves as a rookie. Sophomore Erin Gray also gained experience on defense as a freshman.
OUTLOOK: The Dragons went on a memorable ride last fall, posting a 19-1-1 overall record, an 8-0 mark in the Tri-County Conference Royal Division and reaching the sectional final for the first time since the early 2000s before falling to Eastern. The future looks bright for this year and beyond.
LENAPE INDIANS
PLAYERS TO WATCH: Lenape graduated several standouts but is excited to bring back senior midfielder Megan McKenna, who is looking forward to a big final season before continuing her career at Ohio State. McKenna had five goals and six assists as a junior while also making clutch plays at the defensive end of the field to make the all-conference second team. Senior Rebecca Gardiner (four goals) and sophomores Gianna Monaco (five goals) and Lina Neilson (three goals, three assists) are other scoring threats. Senior Sammy Lish is a key player in the midfield and senior Hunter Strause will look to earn the starting goalie job. Junior Olivia Rosenblatt and sophomore Bryn Iuliano are other experienced returners. Others hoping to contribute are senior Ashley Thomas, junior Allie Halfpenny and sophomore Lauren Conroy.
OUTLOOK: The Indians compiled an 11-9-1 record and fell just short of a second straight appearance in the sectional final, losing on penalty strokes in the semis. They have a good mix of senior leaders and young talent and expect to stay competitive.
MOORESTOWN QUAKERS
PLAYERS TO WATCH: Moorestown graduated a special class last year, including 10 all-conference players and first-team All-American Delaney Lawler. One of the key players returning is junior back Margaret Lawler, Delaney's sister, who made the all-conference second team as a sophomore. Senior Emily O'Donnell will join Lawler as a leader in the backfield. She was the first defender off the bench last year and logged big minutes in big games during the playoffs and Tournament of Champions. Senior forward Alivia Labetti tallied five goals—one of them in the state championship game—and is the leading returning scorer. Senior forwards Alex Pond and Leah Kellerman, sophomore midfielder Ava Cickavage and sophomore forwards Gigi Testa and Grace Lynch will also contribute to the offense. Junior Caroline Brinkman is expected to be an important contributor on defense and junior Katie Brodecki is a candidate to earn the starting goalie job. Other returners who could see time on defense are senior Georgie Wilson and junior Tess Coffey. Junior forward Olivia Trasser will also look to play a bigger role.
OUTLOOK: The Quakers were one of New Jersey's premier teams in 2018, as they went 22-2-1, repeated as Group III state champions and reached the semifinals of the Tournament of Champions. There is no replacing last year's seniors, but a new crop of leaders will seek to leave their mark on the program.
MOORESTOWN FRIENDS FOXES
PLAYERS TO WATCH: Five all-stars from the Friends Schools League are back to lead Moorestown Friends, including three first- teamers: juniors Bella McCollister and Jordan Obermeier and sophomore Ava Carlson. McCollister (five goals, seven assists), a defender, and Obermeier (three goals, five assists), a midfielder, will be counted on at both ends of the field. Carlson emerged as the starting goalie as a freshman and responded with 114 saves. Junior midfielder Lauren Phillips and junior defender Hannah Wilson are other top players who were each named honorable mention. Senior Jackie Barr scored eight goals and will be a crucial piece of the offense, while juniors Isabella Prate and Priya Shah are also capable of finding the cage. Senior Samantha Bastien adds depth in goal and other returners hoping to contribute are seniors Shelby Deibler, Ella Hanamirian and Sophie Mayser and junior Olivia Mitchell.
OUTLOOK: The Foxes followed up a strong 2017 campaign with a 12-5-1 record last fall, reaching the sectional quarterfinals. With most of the roster returning, expectations are high for this season and another year of double-digit wins seems likely.
PAUL VI EAGLES
PLAYERS TO WATCH: Erin DiSandro and Gianna Conti both made the all-conference second team last year as underclassmen, and will look to take the next step and become leaders for Paul VI this fall. DiSandro, a sophomore forward, had seven goals and five assists as a rookie and will be one of the keys offensively. Conti, a junior back, holds down the fort at the other end of the field and can also score when needed. Other experienced players include senior Karolina Kaczmarski, junior Isabella Schoettle and sophomore Emily Nelson. Junior Abbie Ealer hopes to take over as the starting goalie and other returners expected to play bigger roles are seniors Jayla Banks, Nicolette Basile, Gina Capozzoli and Ally Narolewski, juniors Lacey Maconi and Ella Van Schalkwyk and sophomore Lauren DeShayes.
OUTLOOK: The Eagles' 7-13-2 season featured two playoff wins and a trip to the sectional semifinals. With some promising talent in the program, they are optimistic heading into 2019.
SENECA GOLDEN EAGLES
PLAYERS TO WATCH: Junior midfielder Cassidy Strittmatter has been an impact player since her freshman year and should only get better as an upperclassman. A James Madison commit, she had 19 goals and seven assists last year on her way to all-conference first-team recognition. She also was named to the all-Group II and all-region first teams. Three all-conference second-teamers also return: junior midfielder Liv Quagliero (11 goals, six assists), junior forward Maddie Lawlor (six goals, five assists) and sophomore forward Sophia Abate, who burst onto the scene with 16 goals as a rookie. Junior Devon Webb—who made the allGroup II third team—and sophomore Tess Strittmatter are important pieces of the defense, which will be crucial as Seneca breaks in a new starting goalie.
OUTLOOK: The Golden Eagles welcomed in a new head coach last year in Kristina Foster, but the results were the same as they went 16-7, repeated as sectional champions and reached their second straight state final. A talented core is poised for big things again this fall.
SHAWNEE RENEGADES
PLAYERS TO WATCH: Shawnee graduated a lot of offensive firepower but is happy to welcome back two important pieces of its defense: seniors Logan Anderson and Ashley Martin. Anderson made the all-conference first team and together the duo helped the Renegades limit opponents to 1.6 goals per game. Senior midfielder Alayna Burns (six goals, three assists), an all-conference second-teamer, also aids the cause defensively while contributing to the attack as well. Junior forward Chrissy Solomen (four goals, one assist) and sophomore forward Skylar Santucci (five goals, one assist) will look to spark the offense with support from senior Riley Eck and junior Amanda Frank. Junior Julia Cavicchio is another experienced midfielder and returners hoping to step up are seniors Sydney Robinson and Ava Stielau, juniors Tori DiGennaro and Ava Lovallo and sophomore Melanie Craig.
OUTLOOK: The Renegades compiled a 13-6-1 record— with five of the losses coming against eventual state champions—and reached the sectional semifinals. As long as new go-to scorers emerge, this is shaping up as another successful season.
WASHINGTON TOWNSHIP MINUTEMAIDS
PLAYERS TO WATCH: Washington Township said goodbye to its best all-around player— Jessica Hatch, who has moved on to The College of New Jersey—and also lost all-conference second-team selections Gabby Mattia and Gab Raspanti to torn ACLs, so the roster will have a much different look. Two key returners are senior goalies Audrey Ross and Koryn Leyland, who will again share time in the cage and hope to take pressure off an inexperienced squad in front of them. Sophomore Lizzie Harrison and senior Kayla Jones will contend for starting defensive spots. Sophomores Fiona Lockhart and Taylor Knox could also make the jump to the varsity lineup. OUTLOOK: After posting a 9-10-1 record last year, the Minutemaids are in somewhat of a rebuilding phase but are counting on their tradition of hard work and hustle to put a competitive team on the field.
Published (and copyrighted) in Suburban Family Magazine, Volume 10, Issue 5 (July 2019).
For more info on Suburban Family Magazine, click here.
For information about advertising in Suburban Family Magazine, click here.
To find out where to pick up your copy of Suburban Family Magazine, click here.