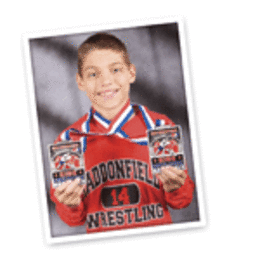 Star Athletes: October, 2010
…From the pages of Suburban Family…
Daniel Boychuck (pictured)
Haddonfield
State intermediate weight class wrestling champion 2010 Danny Boychuck, 13, had a spectacular summer wrestling season, winning the Northeast Kids Greco Roman Championship and the Northeast Kids Regional Freestyle Championship in May, qualifying him for the USA National Wrestling Dual state team in Indianapolis in June. He went on to win second place in July at the ASICS Kids Greco-Roman and Freestyle National Championships in Orem, Utah, qualifying him for the USA National team. Later this month, he enters the 2010-2011 season by competing at the Super32 tournament in Greensboro, N.C., where he was named runner-up in his class last year.
Shriya Joshi
Cherry Hill
Shirya Joshi, 15, won the gold at this year's Summer National Fencing Championship 2010 in Atlanta. Joshi is ranked 30th in the country in 16U women and has been competing at the national level for the past two years. She also placed sixth in the New Jersey State Interscholastic Athletic Association High School State Championships.
Megan Lacy
Marlton
Cherokee High School junior Megan Lacy was named Runner of the Week by NJRunners.com on Sept. 27 after placing first at the Maymont Cross Country event in Richmond, Va. Her 17:58 time was one of only two times in her classification group to dip below 18 minutes so far this year.
Anthony Dentino
Washington Township
Washington Township High School senior and cross country runner Anthony Dentino finished first in the Division 1 Boys race at the 2010 Briarwood Invitational on Sept. 18. His 16:18:5 time qualified for track's National Elite Silver status. Dentino competed against runners from Maryland, Pennsylvania, Delaware and New Jersey.
Kevin Comer
Shamong
Seneca High School senior Kevin Comer, an all-state first team player considered the region's top MLB draft prospect, has verbally committed to Vanderbilt University. Comer tosses a 90-m.p.h. fastball and a mean breaking curve. Last season, his ERA was 1.43, with 100 strikeouts in 52 2/3 innings.
Meghan Burns
Haddonfield
A member of the Haddonfield Memorial High School tennis team, Burns, 17, won the 100th match of her high school career on Sept. 17 against Moorestown High School. She entered the season with a 93-22 career record and currently has a 13-1 record for 2010.
Caitlyn Brostrand
Cherry Hill
Camden Catholic Girls' Caitlyn Brostrand, has verbally committed to play NCAA Division I lacrosse for La Salle University. Brostrand is this year's leading scorer in South Jersey with 103 goals (a CCHS single-season record). The school's scoring record for goals scored in a career is 236; Brostrand currently has 206. Brostrand is also a key player on CCHS's women's field hockey team.
Lauren Tracy
Marlton
Cherokee sophomore and tennis player Lauren Tracy took an upset victory during the finals of this year's Burlington County Open. She beat Moorestown junior Emma Allen, last year's Burlington County Open winner and this year's No. 1 seed. Tracy, who has a 6-1 record, defeated Allen 6-3, 6-2.
A.J. Pena
Mount Laurel
Mount Laurel Gold 10U District team center fielder A.J. Pena won the Outfielders Accuracy throw competition at the Cal Ripken Mid-Atlantic Regional championship in upstate New York this August. Pena's team was there competing for entry into the Little League World Series in Ocala, Fla., but lost by one game.
Phil Tannenbaum
Haddonfield
In August, Phil Tannenbaum, 16, beat competitors from around the globe, including South Korea and Chile, to win the gold medal at the World Hap Ki Do Championship in Battle Creek, Mich. It's the sixth-degree black belt's first world gold medal.
Richie Suarez
Voorhees
Richie Suarez, 18, was a second-team all-conference pitcher last season for Eastern Regional High School. He's postponing pitching on scholarship for Rowan University, having just been diagnosed with leukemia. Suarez, who struck out 10 in six-plus innings over Hamilton in a state tournament this summer this summer, says he'll be back next year.
Megan Venables
Blackwood
Megan Venables ran the 5,000-meter cross-country course in 17:39 at this year's Briarwood Invitational in Philadelphia, smashing an eight-year record of 8:26 and obtaining National Elite Silver status. Venables, who is being scouted by Georgetown and Princeton, has twice won the NJSIAA Meet of Champions.
Published (and copyrighted) in Suburban Family, Volume 1, Issue 8 (October, 2010).
For more info on Suburban Family, click here.
For information about advertising in Suburban Family, click here.
To find out where to pick up your copy of Suburban Family, click here.