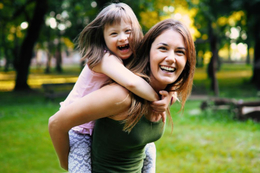 Special Services
A look at some of the local organizations helping families understand and empower special needs children.
PARENTING ISN'T EASY. From the moment your little one breathes for the first time, you know you must do everything in your power to protect and nurture him or her. You raise your kids into teenagers and later adults without the help of an instruction manual, praying you're making the right decisions and teaching the right lessons.
What happens if your child is given some sort of diagnosis? Whether it's a physical, intellectual, developmental or mental health disorder, life begins to change for your child and your family. Every aspect of parenting tends to become magnified, from setting up play dates to numerous doctor visits—even a quick trip to the store can be taxing.
These challenges can seem at times unattainable for parents and guardians, and surely there are moments when you want to throw in the towel. But with South Jersey resources available, life might become a little less stressful.
"Finding the right resources at the right time in each phase of life, I think, can be the most frustrating for families," says Karen Lindgren, Ph.D., chief clinical officer at Bancroft. "From identifying appropriate funding to finding supports in and out of the home, there are many challenges. However, we also find that families whose loved ones are living with special needs have a different perspective on life. They truly take it one day at a time and are the strongest advocates and voices for their loved ones."
There is a large spectrum of special needs from developmental disabilities to intellectual disabilities and mental health issues. Autism, Down syndrome, ADHD, cerebral palsy and Fragile X syndrome are among the many diagnoses some parents face when their child isn't developing physically or intellectually as an average child would.
Overcoming Challenges
It's common for any parent to worry about their child's future, but parents of individuals with special needs might worry if their child will ever be able to go out on their own and have a fulfilling life including a career and a family.
The Occupational Training Center of Burlington County (OTC) offers day programs, vocational programs and residential programs for individuals with all different types of disabilities. Geared toward ages 18 and older, the facility helps with the transition from high school to the working world. Karen Elliot, director of professional services at the OTC, says that funding is more available for special needs students than those in the working world, and that's why the OTC works with individuals before the transition.
"When [individuals] come out of school, they aren't necessarily feeling they're ready to go into employment or they've been in employment and it hasn't worked out very well for them," Elliot says. "We'll sit with the family and discuss with them: what have they been doing; what are their interests; do you see there's areas for them that they really need improvement; why haven't things worked out for them? We develop a plan identifying what areas that they really need to work on, and that's where we go forward with trying to strengthen those areas so they can become successful."
Specific to autism, executive director of Autism Spectrum Mandate Services Rebecca Clay says a lot of the challenges lie within the behavioral aspects of the disorder. These behaviors range anywhere from tantrums and not following directions to elopement and a lack of communication.
At Autism Spectrum Mandate Services, registered behavior technicians provide therapy for the individuals at home and the board-certified behavior analyst supervises therapy.
"We have goals in four different categories: communication, social, adaptive (personal skills) and behavior," Clay says. "All of our programs are research-based and we take data on everything we do. … Once the kid masters goal A, we go on to goal B, typically each kid will have four or five goals in each of those [categories]." Speak to Me Kids is a pediatric facility that helps children struggling with speech and language. Joyce Kaveney, speech language pathologist at
Speak to Me Kids, says she uses prompt training for kids with articulation or apraxia as well as feeding therapy, which is a sensory and behavioral approach, for kids with autism and sensory needs.
"You know everybody's obviously doing the best they can for their child, but when a child has a language disability or a speech impediment, there's different ways that you can adjust the way that you're communicating to your child. Once you do that, they typically soar," Kaveney says.
Bancroft also works with children, along with adults, who have autism and other intellectual, developmental or neurological disabilities in a variety of ways, from The Bancroft School and children's residential programs to adult services including day programs, residential care and supported employment.
"We look at each person in terms of their unique skills and strengths, and the opportunities we can help make available to them, homing in on the things that they enjoy in life," she says. "Our programs are evidence-based and clinically focused, incorporating applied behavior analysis, and we utilize these principles to enhance a person's ability to succeed in life. For those in our neuro-rehabilitation program, we have rich clinical resources in psychology, neuropsychology, speech, occupational therapy and physical therapy that utilize a team approach of looking at an individual that highlights many of their facets that one can build on."
Oaks Integrated Care offers hundreds of services for those with developmental disorders to mental health issues. Through a residential program for individuals with special needs, Oaks is able to give independence to individuals and help lower the stress on families to provide consistent care to their loved one with a disability. The facility also offers services for those with mental health issues ranging from anxiety and depression to behavioral issues.
"I know a lot of times people who have a child they adopted and the child is exhibiting some significant behavioral and mental health issues that really need to be addressed," says Michelle Carlamere, director of outpatient and community services at Oaks Integrated Care. "Sometimes these people unfortunately don't know what to do or where to get help so this could go on for months and even years before they even call."
To help get them the services needed, Oaks works with everyone through their access center and if they can't provide a service for the individual, which Carlamere says is rare, they will reach out to other facilities in the area.
At Brett DiNovi & Associates, treatment is conducted through applied behavior analysis. And although "learners"—what executive vice president of Brett DiNovi & Associates Matt Linder refers to their consumers as since we never stop learning—don't all necessarily have disabilities, most of them do. They conduct a number of assessments, but the most common is the functional behavior assessment, which is used to identify what the problem behavior is and why it's occurring.
However, it's much more than depleting the problem behavior for Linder. "You look at the quality of life for the learner and quality of life for the family, it's kind of a ripple effect too," he says. "If you can decrease problem behavior so that a couple things happen, the learner has a much greater ability to acquire new skills and learn without as many impediments as problem behavior in their way. The parents have quality of life increases as well if they don't have to spend as much time and have as much anxiety about what's occurring, they can actually have somewhat of a life. … Then you get the family members, the friends, the community, they all feel that change as well. Everything is a lot more positive, everybody is a lot happier and they can go and do things that they've never done before."
Published (and copyrighted) in Suburban Family Magazine, Volume 10, Issue 4 (June 2019).
For more info on Suburban Family Magazine, click here.
For information about advertising in Suburban Family Magazine, click here.
To find out where to pick up your copy of Suburban Family Magazine, click here.