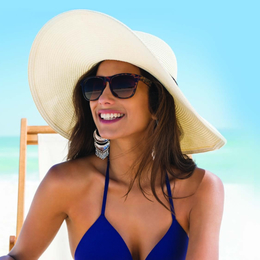 Shine On
Beauty treatments that will have you dazzling all summer long
Now that the busy school year has come to an end, many of us might see summer as an opportunity to focus on ourselves, instead of the kids. With a little more flexibility in our schedules, we can make appointments that feel like a treat, not an obligation. We asked local beauty industry experts what they recommend. From innovative body contouring and skin treatments to cosmetic dentistry, these services allow us to feel pampered while boosting confidence and nurturing our mental well-being.
KATE FILIBERTO
Owner
SKINTEGRITY
What treatments will help my skin feel healthy during the summer when I'm in the sun and swimming more often?
During the summer, the UV index is high and we need additional protection to prevent damaging our skin. My favorite treatment is LED therapy and masking. LED therapy helps to heal hyperpigmentation (caused by the sun) and decrease inflammation. At Skintegrity, we use Celluma LED panels that are FDA cleared to increase circulation, accelerate tissue repair, kill acne bacteria, decrease inflammation and improve skin tone, texture and clarity. When paired with Environ's alginate mask, the skin is rehydrated, calmer and stronger for the summer season. Environ's alginate mask contains diatomaceous earth and algae so the skin feels cool, calm and soothed. Perfect for the hot summer days and outside activities we love so much.
DR. AHKIAH SEKHON
PRECISION FACIAL
What are dento-facial aesthetics and what problem areas can it address?
Dento-facial aesthetics is the art of combining minimally invasive cosmetic techniques with traditional dental procedures to improve the appearance of a patient's face and teeth. From Botox and dermal filler injections to skin care counseling, we can now provide patients with more than just beautiful smiles. With a more comprehensive approach to care, we can consider the patient's entire face and mouth when treatment planning. We address issues with lips, gummy smiles, facial asymmetry or paralysis and the wrinkles that appear when smiling. Square jaw lines that result from years of teeth grinding can even be softened.
DR. GREGORY SCIMECA
Director
LUMIERE MEDSPA
What innovative treatments do you offer for non-invasive fat reduction and is it too late to achieve results for this summer?
At Lumiere Medspa we are so fortunate to offer our clients a wide variety of fat reduction treatments. Vanquish, often described as the heated version of Coolsculpting, destroys fat cells using radio frequency heat. Cellutone reduces cellulite using vibration and sound waves. Endymed Body contours stubborn areas. Slender Body Wraps use infrared heat to detoxify the body and reduce bloating. All of the above are affordable and require three to six sessions with results seen fairly quickly. For those needing a bit more we are the only practice in South Jersey to offer Face and Bodytite by Inmode—minimally invasive procedures with astounding results.
KARA LYONS
Medical Aesthetician
COSMETIC SURGERY CENTER OF CHERRY HILL
Can a Hydrafacial be used on other parts of my body and what effect will it have?
The Hydrafacial is used to treat back acne. The specially designed body tip deeply loosens and removes impurities deep down in the pores. A gentle acid serum is used to control oil that is then extracted by vacuuming out the stubborn blackheads. Lastly, a light antioxidant serum is applied and LED light therapy is used to make skin appear smoother, healthy and radiant. The service is about 45 minutes and has zero downtime.
DR. NERMEEN RIFAI
ALL SMILES FAMILY DENTISTRY
How can the dentist help me feel more confident in my summer family photos?
Summer is here and you are in pictures but embarrassed to show your teeth or your smile. There is absolutely no need to hide your smile. There is so much that can be done whether it be gum reshaping to increase or level out the height of your teeth, bleaching to brighten up your smile or veneering those teeth that need a little more touching up. Regardless of the procedure, we are here to help answer any questions, show you before-and-after pictures and guide you in a direction that can help show off that beautiful smile.
DR. JULIA SPEARS
METROPOLITAN PLASTIC SURGERY
What is Juvederm and how does it work?
Juvederm is a hyaluronic acid gel which is naturally produced in the body and retains water to create a more youthful appearance. It is used in targeted areas to restore volume to the skin or fill in wrinkles and folds. Juvederm injections take about 15 minutes to administer. A fine needle is used for the injection, which is given under the skin. Patients can return to normal activities after treatment as there is virtually no downtime. Results are visible immediately and can last from up to six to nine months.
ROSE MARIE BEAUCHEMIN-VERZELLA, CMI, CPCP
Founder
BEAU INSTITUTE OF PERMANENT & CORRECTIVE COSMETICS
What is microneedling?
Microneedling is a simple, minimally invasive skin rejuvenation treatment that helps to generate new collagen and skin tissue. It is commonly used to minimize fine lines, wrinkles, acne scars and stretch marks. When used in conjunction with stem-cell serums, it can deliver powerful growth factors to revitalize and rejuvenate your skin for smoother and firmer skin.
Published (and copyrighted) in Suburban Family Magazine, Volume 10, Issue 4 (June 2019).
For more info on Suburban Family Magazine, click here.
For information about advertising in Suburban Family Magazine, click here.
To find out where to pick up your copy of Suburban Family Magazine, click here.