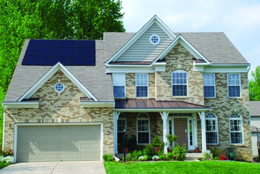 Sound Investments for Spring
Projects that increase your home's value
As homeowners consider the various upgrades that need to be made around their home, one factor that impacts the decision is return on investment (ROI). After saving up for these projects, they want their money to be well spent. This month, professionals from the home improvement industry tell us which areas of the home—inside and out—will maximize their investment.
Installing solar panels on your home can provide significant returns and those returns start as soon as you install your solar array and continue throughout your use of the system.
ORBIT ENERGY & POWER
OrbitEnergy.us
For homebuyers, a kitchen can make or break a sale. This irresistible kitchen will never be a deal breaker. Kitchen renovations are one of the most popular ways to increase home values. Get that dream kitchen, enjoy it for years to come and when you're ready to sell, know that your kitchen will make the sale.
BRINDISI BUILDERS
BrindisiBuilders.com
Decorative or vinyl fencing can increase the selling potential of your house, not to mention the fact of the added beautification and security. While the value of the home might not be increased, homebuyers are looking for vinyl fencing when they start their homebuying experience.
BLADEMASTERS LANDSCAPING
Blademasters609@gmail.com
Looking for that "wow" factor? Nothing creates the impact that a coffered/tray ceiling does. Surprisingly, it's a lot more cost-effective than most people think. Comprised mainly of trim boards and dimensional lumber, the challenge is all in the layout. Whether you are looking to add value to your home or change the look and feel, trim work in general is a great option.
RYKON GENERAL CONTRACTING
RykonGC.com
Homes with solar offer a built-in premium to your home value due to the reduction in electric costs. The solar industry is also responsible for generating locally sourced jobs for the community.
ALLSEASON SOLAR
AllSeasonSolar.net
Landscaping matters. Design, plant size, color, balance and hardscaping are all factors that give homes a bump in value. Also, homes with beautiful landscaping or "curb appeal" can really differentiate themselves from other homes with similar styles.
GILL'S LANDSCAPING, INC.
GillsLandscaping.com
According to RemodelingImage.com, the ROI for hardwood floors lands somewhere between 70 percent and 80 percent. That means if you spend $20,000 on hardwood floors (2,000 square feet at $10 per square foot), you can expect to see between $14,000 and $16,000 reflected in the sale price of your home.
A&J FLOORING OUTLET
AJCarpet.com
The kitchen is the hottest place to be—in more ways than one. Kitchens are often one of the most important rooms to potential buyers. Make the investment, enjoy your kitchen and when the time comes to sell, know that your return on the investment will be high.
MATTEO FAMILY KITCHENS AND FLOORING, INC.
MatteoKitchens.com
Vinyl replacement windows retain more of their cost in terms of increased home value than most projects. Not only do they increase value, but they add comfort and efficiency throughout every season.
WINDOW PLACE PLUS
WindowPlacePlus.com
Outdoor kitchens are extremely popular and would most definitely impress potential buyers when it comes time to sell. The options available to homeowners for outdoor kitchens are endless depending on size, scope and budget.
SLS LANDSCAPING, INC.
SLSLandscape.com
"Curb appeal" should be top of the list when it comes to ROI for landscape/hardscape items. This sets the tone and experience a potential buyer has when entering a home. First impressions are everything and should be no different with a residential property.
ELITE LANDSCAPING
EliteLandscaping.com
Connecting with your family is often challenging with so many demands for our time. Designing a pond into your landscape to create intimate spaces will give you a natural relaxing atmosphere to de-stress with loved ones.
LANDVISTA AQUASCAPES
LandvistaAquascapes.com
A new roof can increase a home's resale value by a national average of nearly $12,000. Homeowners who have new roofing installed can expect to recover an average of 62.9 percent of the installation cost through increased home value.
WORLD ROOFING
WorldRoofingNJUSA.com
Pavered patios are high on the wish list for homeowners and potential buyers, especially those made with quality materials. Relax on your beautiful patio this summer and know that someday when you put your house on the market you've made a great investment.
COUSINS GARDEN DESIGN
CousinsGardenDesign.com
Published (and copyrighted) in Suburban Family Magazine, Volume 10, Issue 2 (April 2019).
For more info on Suburban Family Magazine, click here.
For information about advertising in Suburban Family Magazine, click here.
To find out where to pick up your copy of Suburban Family Magazine, click here.