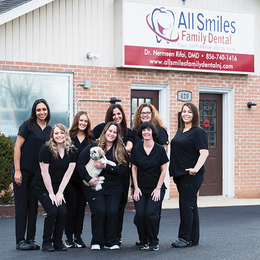 All Smiles
This year's top orthodontists are using the latest treatment methods and technology to transform teeth.
A SMILE FOLLOWS YOU THROUGHOUT YOUR LIFE, reflecting your inner happiness every time it shows. But it can also be the thing people want to hide if their teeth are crooked or gapped, and that goes for kids and adults. Fortunately, South Jersey's top orthodontists are putting their skills and the latest treatment methods to use on patients and creating smiles that give them confidence in all aspects of life. Whether it's a teenager using traditional braces or an adult using barely noticeable clear aligners, with their help, there is no reason not to smile. Read ahead to see Suburban Family Magazine's Top Orthodontists 2019.
Dr. Ross Segal., Segal and Iyer Orthodontics
Segal earned his DMD from the University of Pennsylvania School of Medicine and his orthodontic certificate with honors from Temple University. He is often called on by the media for his opinions and insights on orthodontic issues. In a 2018 competition, Segal was recognized for submitting one of the top-rated Invisalign cases worldwide. His academic writings have been cited in hundreds of publications, and he is a perennial winner of numerous "Top Doctor" awards.
What's the best way to choose an orthodontist?
Of the many factors worth considering, none matters more than results. Ask to see before-and-after pictures, and look online to see what patients are saying.
Dr. Monisha Iyer, Segal and Iyer Orthodontics
Iyer was drawn to orthodontics because it allows her to utilize both her intellect and her artistic skills. After stellar academic performances at Harvard School of Dental Medicine and the University of Michigan, she cofounded Segal and Iyer over a decade ago. For the past several years, their practice has maintained its spot among the top 1 percent of Invisalign providers nationwide.
Iyer has been widely recognized by peers for her clinical expertise, and by patients for her supportive and caring manner.
Are there major differences between Invisalign and metal braces?
Invisalign trays are removable, so you can brush and floss more effectively during treatment. They're nearly invisible too, so treatment is more discrete. Both Invisalign and metal braces require regular monitoring to ensure the best results.
Dr. Lance Articolo, Articolo Orthodontics
Articolo is an orthodontic specialist who has practiced in South Jersey for over 10 years. He attended Rutgers University, New Brunswick and went on to receive his doctorate in dental surgery at the University of North Carolina. After a fellowship in advanced general dentistry, he was accepted in the University of Pennsylvania School of Dental Medicine Orthodontic Program. Articolo has received multiple awards and distinctions in the field of dentistry and orthodontics.
What are some signs parents can look for that could indicate their child's bite is not right and orthodontia care may be needed?
Although a parent may not think they could detect a "bite" issue, knowledge of an important bite characteristic can help. Basically, all upper teeth, front and back, are just outside of the lowers, enveloping them by a few millimeters along the entire mouth. If they overlap too much where you can't see the lowers, your child has a deep overbite. If they stick too far out in front, commonly called "buck teeth," your child has an excessive overjet. If these teeth are behind the lowers, your child has a crossbite. The most obvious is when you can see a crossbite right in their smile, commonly called an "underbite."
Dr. Sarkis Euksuzian, Euksuzian Orthodontics
A native of Valence, France, Euksuzian moved to the United States at the age of 17 and just a few years later earned his undergraduate degree from Rutgers University, followed by his doctorate in medical dentistry from the University of Pennsylvania Dental School. With three years of specialty training and his residency at Albert Einstein Medical Center in Philadelphia, Euksuzian has risen to the top of the field. He has been an orthodontist in Medford for over 30 years where he feels consistently rewarded by the life-changing results he sees in his patients.
Is there new technology in orthodontics that reduces treatment time with braces or Invisalign?
Acceledent Optima uses micropulses (vibrations) to stimulate the teeth to move faster, cutting treatment time drastically. Over time, the vibrations can cause the teeth to move up to 50 percent faster than traditional treatments. Safe, simple and easy to use, this device gives beautiful, healthy smiles fast and even comes with optional Bluetooth capabilities.
Dr. James TenBrook, TenBrook Orthodontics
TenBrook, a South Jersey native, is the founder of TenBrook Orthodontics, with 11 locations in South Jersey. Harvard trained and practicing for over 20 years, he invented the T1 and T-Clear TenBrook Self Ligating Braces System, which is not only comfortable, but cuts the wear time and cost often in half. TenBrook's philosophy is: "Straight teeth should be affordable for all, not a luxury for the few."
Why are braces so expensive?
They don't have to be. My mother got a second job just so my brother and I could get braces. It shouldn't be like that. Braces can be affordable. I invented the T1 bracket, which is comfortable and cuts treatment time in half. And I am able to offer it at a fraction of the cost.
Dr. Tom Kadar, Kadar Othodontics
Having practiced orthodontics in Washington Township for over 25 years, Kadar has a reputation for being one of the "Top Docs" in the business. After earning his undergraduate degree in biology from Emory University, Kadar then found his passion at the Georgetown University School of Dentistry. He completed a year of residency at the VA hospital in his hometown of Pittsburgh, Pennsylvania, then he received his advanced orthodontic degree at Temple University.
Are companies providing mail-order braces safe to use?
Don't skimp on your smile. Most mail-order braces (clear aligner) companies do not provide an in-person evaluation or supervision by a board-certified orthodontist. Orthodontic treatment involves the movement of teeth and jaws. When done improperly, this could lead to permanent damage, including tooth and gum loss. To ensure safe, cost-effective care, trust your smile to an orthodontist.
Dr. Frank Batastini, Dr. Frank Batastini Orthodontics
Batastini obtained his bachelor's degree from Temple University and a master's degree from Loyola University. After working for a national bank, he obtained his DMD from Temple University and his orthodontic certificate from the University of Pennsylvania, where he still continues to teach on a voluntary basis. He lectures to several dental programs and public venues and is past president of several dental societies and a member of numerous organizations.
What are the most common orthodontic problems?
Well that's not so simple; the most common complaint is "crowding." The real question is why do our teeth crowd? Imagine building a house with a basement, both have to be the same size so the house doesn't collapse the basement. The upper and lower jaws must have that same relationship. The teeth are like the furniture; you can move, add or extract them. So then why don't the teeth fit in the jaw/arch? That's genetics, perhaps a small jaw from mom and large teeth from dad. Hence the reason for early treatment to expand the jaw bones, to help make room for the teeth.
Dr. Ron Saffar, My Orthodontist
Saffar earned his degree and specialty training in orthodontics at the New York University School of Dentistry and a six-month fellowship in surgical orthodontics at the New York University School of Medicine, allowing his expertise to include the management of difficult orthodontic cases. His vision drives his passion for transforming people's dentition for optimum heath and aesthetics. Currently, he is the president of the Mercer Dental Society and a member of multiple dental and orthodontist associations. Saffar has had several abstracts published and has been invited to lecture among his peers.
How does adult orthodontic treatment differ from that of children or teens?
Most people think that orthodontics is only for children and there is an age limit. The good news is that it is never too late to have perfect teeth and a beautiful smile. Orthodontic treatment significantly improves your self image and level of confidence. With recent innovations in treatment modalities such as Invisalign and clear braces, no one will even notice that you are receiving treatment. Treatment times are also much shorter and most treatments are completed within 16 or 18 months for perfect results.
Published (and copyrighted) in Suburban Family Magazine, Volume 9, Issue 12 (February 2019).
For more info on Suburban Family Magazine, click here.
For information about advertising in Suburban Family Magazine, click here.
To find out where to pick up your copy of Suburban Family Magazine, click here.