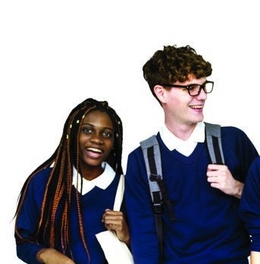 Private School Philosophy
A look at the missions and values of some of the region's most prominent private institutions.
Parents want only the best for t heir children, and a quality education is paramount. For those interested in private schooling, families will find communities built on the foundation of faith, service, leadership and more. We asked some of our area's private schools to tell us more about their mission.
Merion Mercy Academy is an independent, Catholic, college-preparatory school for girls, grades 9-12, located in Merion Station, Pa. MMA provides a welcoming, diverse community that inspires students to live Mercy. It is a place where girls with dreams become women of purpo se— confident women who positively impact the world. More than 50 students reside in New Jersey and enjoy active school lives, participating in many of the school's 70 activities and sports programs.
Merion Mercy Academy
Merion Station, Pa. | (610) 227-1006
Merion-Mercy.com
Christ the King Regional School community believes that each student is a special individual entitled to understanding, respect and lo ve. Our mi ssion is to encourage and to cultivate each child intellectually, spiritually, emotionally and morally so that he or she is empowered t o become a motivated, well-educated, responsibl e person with a compassionate commitment t o love and serve God and all God's pe o ple , always and in all ways.
Christ the King Regional School
Haddonfield | (856) 429-2084
CKRS.org
Moorestown Friends School is committed to developing students who have learned how to live an "examined life" characterized by a dedication to critical thought, openness to th e Spirit, ethical development and resilience. Committed to fostering an environment that is both diverse and inclus ive, 43 percent of students are students of color. A wide variety of religious faiths are represented as well. In keeping with the Quaker philosophy of honoring each individual, students representing different ethnic, cultural, religious and socioeconomic backgrounds are challenged daily to respect and learn from one another.
Moorestown Friends School
Moorestown | (856) 235-2900
MFriends.org
A private school family is bound together by shared values, as opposed to geography or socioeconomic factors. Students are here by choice, which empowers them. They arrive determined to make the most of their opportunity, and they bring a sense of gratitude for the sacrifices made on their beha lf. Determination and appreciation are powerful elements; Paul VI students embody that motivating combination.
Paul VI High School
Haddonfield | (856) 858-4900
PVIHS.org
At Marlton Christian Academy, we believe attendi ng a private, nurturing school will change the way a student views the world, will help him/her grow in all areas of life and will assist them in discovering their natural gifts and talents. Our mission is to provide a loving and safe environment wherein each child's academic, emotional, spiritual and physical needs can be met with excel lence. Each child is a gift from God and is treated with kindness and respect by dedicated and loving teachers; as parents and teachers partner , we provide an education second to none.
Marlton Christian Academy
Marlton| (8 56) 596-5 30 4
MCASchools.org
Catholic schools provide an atmosphere that allows children to grow in their love of Jesus Christ and demonstrate Gospel values through serv ice to others. This is combined with strong academics and a sense of self-discipline, which develops students who accept the challe nge of being Christians in today's world.
Our Lady of Perpetual Help
Maple Shade Township | (856) 779-7526
OLPHParish.com
Haddonfield F riends School students are consistently celebrated for their poise and confidence; whether speaking to teachers, parents, peers or gues ts they articulate their opinions effectively and exercise simple but powerful engagement through a firm handshake, eye contact and effective listening with appropriate responses. Intimate class sizes, depth of student engagement and varied co-curricul ar opportunities contribute to creating an environment that cultivates confidence from our early childhood through middle school programs. Upon gradua tion, HFS students make a positive impact in their high schools and achieve success in their future endeavors .
Haddonfield Friends School
Haddonfield | (856) 429-6786
HaddonfieldFriends.org
At St. Joan of Arc School we have an environment that is God-centered and encourage s our students to explore the world, to try new things and to develop a love of learning. In addition to excellent academics, we prov ide opportunities in leadership, service, athletics, art and music.
St. Joan of Arc School
Marlton | (856) 983-0774

StJoansK-8.org
Published (and copyrighted) in Suburban Family Magazine, Volume 9, Issue 8 (October 2018).
For more info on Suburban Family Magazine, click
here
.
For information about advertising in Suburban Family Magazine, click
here
.
To find out where to pick up your copy of Suburban Family Magazine, click
here
.