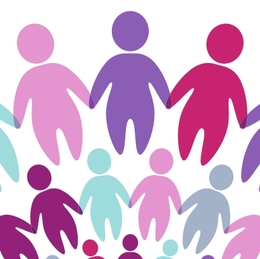 A Lifelong Commitment
Why generations of families are staying connected with their private school.
HIGH SCHOOL HAS A LASTING IMPACT ON STUDENTS leading them to their interests and showing the way into their future. But when generation after generation of parents have attended the very school their child is enrolled in, it gives students more than a beneficial education; it makes for a lasting bond that will be cherished between family alumni.
For private schools in the area, the education and values each school provides are tailored to their beliefs as an institution. Graduates show where their loyalty lies and for decades each school has had their own way of keeping in touch with previous students. Many schools believe the alumni connection is more than keeping in touch through social media, emails and newsletters. It all goes back to the beginning with how each of these schools instilled valuable ideals, following the former students into their careers and beyond.
Merion Mercy Academy
As an independent, all-girls Catholic college preparatory school in Merion Station, Pa., and supported by the Sisters of Mercy, Merion Mercy instills its core values of academic excellence and spiritual growth along with compassion and service. The school continues its traditions so that girls can experience customs their mothers followed when they attended, including the satisfaction of living through Mercy years after graduating.
Eileen Everly, a 1991 graduate, active member of the Alumnae Association at Merion Mercy and a pediatrician in Philadelphia, uses her values from Merion and practices them in her career. The "Live Mercy, Seek Justice" tagline is forever etched in her heart, and she hopes her daughters—elementary level students yearning to attend Merion Mercy—take away the same values from the school.
"I trust that they are going to come out of this with all the same things that I came out of it with. … When I was in [Merion Mercy], I valued it, but I didn't realize how it was going to color and support the rest of my life's ambitions," Everly says. "So now, as a mother, I know that it isn't just now for them—that they're not just getting a wonderful education and a wonderful basis in character and humanity now, that they are going to have Mercy throughout their life because it gets in your blood."
Merion Mercy cherishes the love their alumnae have for the school. Barbara Harrison, alumnae relations coordinator at Merion Mercy, says that keeping in touch with former students gives alumnae the opportunity to speak with current students and become role models for the students at Merion Mercy Academy.
St. Joseph's Preparatory
St. Joe's Prep has been based in Philadelphia for nearly 170 years and continues its mission in teaching young men to grow their hearts, minds and souls and act in the greater glory of God. Being based in the city gives students and their families a chance to change the scenery.
Students all enter St. Joe's Prep at the same time, and under the same circumstance of being in a new school in a new area, giving each student the ability to grow together and become a family. Graduation isn't the end for most of the students, becoming an alumnus means having the connection with other former graduates for years to come.
To keep in touch with graduates, St. Joe's Prep doesn't merely send out newsletters and emails but also holds alumni events in other parts of the country for those who don't live near Philadelphia. Additionally, the school has a Prep Professional Network allowing alumni to connect when looking for a job or event within their community. This type of connection is what draws families in year after year.
Bill Avington, director of communications and 1990 graduate at St. Joe's Prep sees firsthand how strong and reliable the alumni connection is with St. Joe's graduates. "I moderate a club [at St. Joe's Prep], the broadcasting club, and one of our students needed to do a shadow day and [plans] had fallen through," he says. "I take the phone and call an alum I knew who works at a local radio station and say, 'Can he come in tomorrow?' Yup, worked it out; next day [at] 6 a.m. the kid is over at the radio station doing a shadow day."
Our Lady of Mercy Academy
Our Lady of Mercy Academy (OLMA) welcomes every young woman with open arms from day one into the OLMA Sisterhood which places a lasting ond in faith and friendship. While leaving high school might be a wave to the past for some, graduates of OLMA come back to not only visit, but to teach and get involved with school associations, committees and panels. Even during graduation alumnae mothers are encouraged to participate in handing their daughters a high school diploma.
"OLMA graduates leave here as informed, self-confident, service-orient ed and resilient young women prepared with the competence and knowledge necessary to lead and succeed," says Mary Jane Kinkade, director of marketing and admissions at OLMA. "They consider their OLMA education to be a gift—one that many alumnae want to share with their own daughters."
Alumna and advisory board member Dana Catalana from the class of 1978 devotes her time and support into the school and has two daughters attending OLMA. Out of all her experiences at the institution, she can't pinpoint one aspect she values most. But the educat ion she received is one that helps young women discover who they are and find their voices.
"I believe that OLMA is a place like no other and feel a responsibility to the young women who are coming into the school many years after me," Catalana adds. "I'm also grateful for t he women that came before me as I believe there's a common thread that runs through us that makes up the fabric of what we call the OLMA Sisterhood."
Paul VI High School
The co-educational college preparatory school in the Diocese of Camden has been encouraging students for just over 50 years to be open to the truth, to be changed by it and proclaim it through action. Paul VI is dedicated to the Gospel of Jesus Christ and the excellence of its students.
"Our educational philosophy, drawn from the fabric of our Catholic faith, is one that recognizes the value and dignity of every person and offers them the responsibility and freedom to grow strong in faith," says Mary Anne Yeager, director of institutional advancement at Paul VI.
"I appreciate being an [alumna] of Paul VI High School because it set the foundation for many aspects of my life including my faith, my family, my career and my core value system," says Bernadette Mulligan Janis, graduate of 1985. "I had excellent educators, athletic coaches and extra-curricular leaders who encouraged hard work and discipline in a caring and faith-based community. Along the way, I forged many friendships that are still thriving today."
Mulligan, who has six children, all of whom attended, are currently attending or will attend Paul VI, sees the school's strong tradition of success even in her kids who she says have grown personally and academically with a great preparation for college. The school pushes for success and helps students strive to develop their own personal excellence; hence the mission statement "Excellence in learning; Excellence for life."
Her children are among the 179 legacy students at Paul VI who will join passionate alumni coming back to the school.
Moorestown Friends School
After three Quakers contributed to buying an open lot in the early 1780s, they built a small, one-room Religious Society of Friends School that still sits on Moorestown Friends School's (MFS) property today. The campus has grown to 48 acres since t hen and is home to a diverse student body from grades K-12.
Faculty and staff at MFS include 10 alumni and 30 parents of alumni with a total of 33 legacy students. The loyalty shows in the amount of participation MFS receives from their alumni. Stephen Zakroff, director of development at MFS, says that alumni have been mentors, given opportunities to those involved in the summer co-op program and younger alumni have welcomed students visiting prospective colleges.
The reasoning behind the strong connection lies within the walls of MFS. " MFS is known for its terrific academic program, its strong sense of community and its commitment to developing the spiritual and ethical side of its students," Zakroff says. "Alumni who have experienced the terrific teachers at MFS, the opportunities to excel in both the athletics and the arts and the school's dedication to Quaker values want to see their children have a similar educational experience at MFS."
Ivy Brown, a 1989 graduate, spent 13 years of her life at MFS and developed a bond toward the school as an alumna. She says the alumni culture at MFS is vibrant and engaged with the school community. Additionally, Brown serves as a member on the board of trustees—not to m ention her two children are students at the school.
"[My children] have grown and been supported by a warm, nurturing, intelligent and caring set of educators. These educators want my children, as well as each MFS student, to succeed on his/her own terms, and they are rooting for them day in and day out not just in academics but also in the arts, athletics and community service," Brown says, happy that she can share her experiences with her children.
Roman Catholic High School
Roman Catholic High School (RCHS) opened in 1890 as an all-boys high school within the Archdiocese of Philadelphia. Being the first diocesan Catholic high school, RCHS continues to set the standard for all other diocesan schools in the area, according to Chuck Taylor, 2012 graduate on the alumni board of directors and alumni executive committee.
The mission of RCHS is to provide students with a comprehensive academic curriculum within a Catholic atmosphere. Graduates will leave knowing they received a great education, morals based on Christian values, respect for others' cultures, race and religion and individual integrity.
RCHS has full support from alumni for several reasons, one being the ability RCHS has to act as an influencer to other archdiocese schools in the area. The institution puts into practice new learning initiatives such as iPads and forming a board of direct ors, says Taylor.
"I think that the alumni association there is definitely tighter than I would say most in the area. … It's just a tight group of guys that really care about the school still," Taylor says. "It's about the impact that the school had on us in general and the family connections. My brother is a senior there this year and just cousins, grandparents, parents that went through the school, it kind of just keeps it in the family."
Alumni who stay connected are both young and old and Taylor sees a lot of alumni attendance at basketball games and other sporting events. RCHS also hosts many events such as a communion breakfast and annual reunions to make sure both the school and alumni hold a connection.
Gloucester Catholic High School
Founded in 1928, Gloucester Catholic High School (GCHS) is a co-educational school providing education to students in grades seven through 12. Presently, GCHS has four generations of legacies which the school considers their family. To continue these legacies, executive director of development at GCHS Joe Calabro says GCHS keeps a consistent connection through newsletters, emails, social media and small publications. It's easy for the school to keep in touch when so many spirited alumni want to be involved.
Patrick Peyton, 1977 graduate, was affected by his time at Gloucester Catholic and decided to make an impact of his own. One of his teachers encouraged him to go to college even thought it wasn't his intention. Peyton was fortunate in his career and he owed it all to the teacher who gave him a vision.
After taking a 20-year sabbatical from school involvement, Peyton reconnected to the school with the determination to pass down the good deed his former teacher granted him. He helped raise money for Gloucester Catholic's first baseball field; he didn't stop there.
Peyton started a scholarship in the name of his high school teacher named the Fred Webb Scholarship which gives eight to 12 students the chance to attend GCHS for four years who otherwise wouldn't be able to financially afford tuition. Peyton gets a chance to meet with the students he helped attend GCHS and says the outcome is very rewarding.
"To have an education at Gloucester Catholic is, I think, one of the best foundations that you can have moving forward," Peyton says. "I mean it took a kid like me who was the first in my family to go to college, and Gloucester Catholic gave me the foundation to go to college and b e successful in life."
Elementary Legacies
While private high schools are keeping their former students connected, they aren't the only ones bringing back generations of legacy students. See why families are choosing these private elementary schools time and time again.
Sacred Heart Elementary School
"I think a lot of it comes back to value. Of course there's always the sentimental factor of this is where I went, I had a positive experience and I want that for my children, but I think one of the reasons parents come to us generation after generation is because we support what the parents are trying to do at home here at the building. And I think that's really wha t draws them in." —Kathryn Besheer, principal
Haddonfield Friends School
"Our diverse learning community inspires curiosity and challenges students to engage in service and learn how to solve problems to create change. We are honored that parents want to partner with us an d be a part of a learning community that is joyous and centered around their child, not a chain or a pre-written road map, but a school t hat allows kids to have a role in their educational journey." —Matthew Sharp, head of school
Resurrection Catholic School
"The RCS faculty are outstanding and committed educators who know, love and challenge our students. Our graduates go on to do wonderful things in their high school careers and beyond both academically and in the arts." —Mike Scannell, vice principal
St. Joan of Arc
"We believe our families continue the St. Joan of Arc School tradition because they are rooted in our mission statement and our commitment to educating the whol e child. Our God-centered environment creates a culture of respect, and provides opportunities for our children to embrace a love of learning in a changing world. Having these lasting legacies strengthens our commitment and dedication to providing quality Catholic education for generations to come." —Mary Clare Brandt, marketing and advancement
Published (and copyrighted) in Suburban Family Magazine, Volume 9, Issue 7 (September 2018).
For more info on Suburban Family Magazine, click here.
For information about advertising in Suburban Family Magazine, click here.
To find out where to pick up your copy of Suburban Family Magazine, click here.