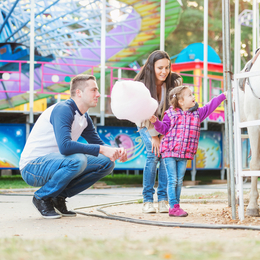 Family Bulletin
August 2018
Star Citizen
AVA DUCHINI
BORDENTOWN
Duchini was the first child to complete the Burlington County Library System's "1,000 Books before Kindergarten" challenge. BCLS rewarded the 3-yea r-old with a con gratulatory book plate inside the book Dear Zoo, which is available at the Bordentown Library. The program encourages children to start reading and developing their literacy skills early on, preparing them for school.
Star Students
MOORESTOWN FRIENDS SCHOOL
MOORESTOWN
Mariana Goldlust, Andrew Rowan, Dakota Chambers, Matthew Granito, Devin Horn, Alexis Kasper, Andrew Lin, Andy Pang, Kayleigh Schweiker, Lizzie Cohen, Kendall Connolly, David Dai, Serena Lin, Maddie Mininno and Dylan Zhou were inducted as members of the Cum Laude Society, a national honors society. These 15 students we re honored based on their cumulative record of academic excellence in all subject areas.
School Dates
Aug. 29: Washington Township Public Schools First Day of School
Sept. 5: Cherry Hill Public Schools and Haddonfield Public Schools First Day of School
Sept. 6: Voorhees Township Public Schools First Day of School
Sept. 11: Medford Township Public Schools First Day of School
Sept. 24: Washington Township Board of Education Meeting, 7:30 p.m., Eileen Abbott Central Administration Building, Sewell
Sept. 25: Cherry Hill Public Schools Board of Education Action Meeting, 7 p.m., Malberg Board Room, Cherry Hill
Bulletin Board
Updates and announcements about your local schools
Edited by Alexandria Brooks
The Mount Laurel school district will be hosting a bond referendum on Oct. 2 to ensure that there will be enough funding for different projects throughout the district. The district does not plan on revealing the exact details surrounding the projects until late August. The Board of Education for Haddonfield voted to devote $318,014 to the general fund for the school district on July 26. The money came from additional state aid and will be used for various facets of the general fund such as special education programs, the curriculum and facility upgrades.
Community Connection
News from around South Jersey
Edited by Alexandria Brooks
Virtua acquired the physical therapy company Rehab Connections which has six locations in the South Jersey area. As a result of this acquisition, Virtua now has 17 outpatient physical therapy locations. The amount that Virtua paid is undisclosed.
Chief Pat Gurcsik announced that the Washington Township Police Department was aw arded a $60,000 grant that came from the New Jersey Office of the Attorney General Safe and Secure Communities Program which helps pro vide funding to municipalities to address crime.
Next Voorhees Planning Board Meeting: Sept .12 , 7:30 p.m. at the Voorhees Courtroom
Next Medford Town Council Meeting: Sept. 18, 7 p.m. at the Public Safety Building
Next Moorestown Township Council Meeting: Sep t. 24, 7 p.m. at the Moorestown Council Chambers
Police Blotter
Edited by Kristen Treude
The Evesham Township Police Department arrested a man and a woman from Camden who intended on selling 40 bags of heroin to a Marlton resident. The couple was incarcerated on July 19 after a narcotics investigation.
A resident of Cherry Hill has been indicted on charges claiming that he abandoned a man who was suffering from an overdose last year in Burlington County. This incident inspired police officers to remind residents of the Overdose Protection Act which allows those to report an overdose while being protected from prosecution themselves.
Police are on the search for a suspect who stole two credit cards from the purse of a woman who was eating at Panera Bread in Mount Laurel.
Star Student
EMMA DI GESU
MEDFORD
In April, the Shawnee High School s enior published her first book, a heartwarming children's story titled Dandy's Discovery about a dandelion that dreams of being in a garden. The book, which Di Gesu wrote and illustrated herself, encourages a healthy journey to self acceptance. She hopes to make the book available on Amazon and share it with local libraries and elementary schools.
Star Student
COLIN MCCASLIN
VINELAND
This dedicated teen from Vineland was accepted into the Pittsburgh Ballet Theatre. McCaslin previously trained at the Atlantic City Ballet School and the Pittsburgh Ballet Theatre School, which aided him in his growth as a professional dancer and provided a seamless transition into the Pittsburgh Ballet Theatre. McCaslin practices ballet all day long and encourages other young people to follow their dreams like he did.
Star Student
LIZ SPEISER
MEDFORD
Speiser, a student at Shawnee High School, won the skate deck contest which was organized by the Lenape Regional High School District and Med- for d's Curbside Skate Shop. The contest challenged art students to think like an art director and design for a specific audience. Speiser's winning design, "Life's Rose," was printed on 50 skate decks, which she also autographed. The items were made available for purchase at Curbside. There are plans to make this an annual event.
Star Team
WEDGEWOOD SWIMMING
HADDONFIELD
The Wedgewood swim team, based in Haddonfield, captured the team title at the Tri-County Swimming Championships, reclaiming the crown it won from 2 013 to 2016. Audrey Derivaux earned two individual victories in the 8U division, including a meet record in the 2 5-meter freestyle. The boys 11-12 200 medley relay and 200 free relay, along with the girls 13-14 200 medley relay and 200 free relay, also set meet records.
Star Team
By Matt Cosentino
SWEDESBORO-WOOLWICH SOFTBALL
SWEDESBORO-WOOLWICH
The Swedesboro-Woolwich Junior Division softball team claimed the state championship for its age group and went on to compete in the East Regional Tournament in Connecticut, taking seventh. The 14U team consisted of 13 girls from Swedesboro, Woolwich, Logan and South Harrison and was led by manager Melanie Grubb.
RosterBeat
Team, player and coach news
By Matt Cosentino
The first-ever United States U20 women's ball hockey team took part in the World Cup this summer in the Czech Republic, and a host of South Jersey players helped the squad reach the bronze medal game before the Americans were edged by Slovakia, 2-1. Players from Marlton, Medford and Cherry Hill competed in the tournament, including Cherry Hill's Julia Cutler, who had a hat trick in a 4-0 win over Great Britain.
Renowned South Jersey boys basketball coach John Valore has found a new home at Holy Cross Academy in Delran. Valore, who is sixth on the South Jersey all-time wins list and has a career record of 673-422, spent 35 seasons at Cherry Hill East, where the court is named in his honor. He also coached Cumberland for one year and spent the last five seasons at Camden, leading the Panthers to four straight Group II state finals.
Ryan Casinelli, a member of the Carl Lewis Stars Track Club, headed to Iowa earlier this summer to match up against the nation's best track and field athletes. The Moorestown resident, who is going into eighth grade, is a top-notch sprinter who qualified for the Games in both the 100- and 200-meter races along with the 4x100 and 4x400 relays.
Jermaine Donaldson, a senior on the Eastern football team, made a commitment earlier this summer to continue his career at Temple University. The 6-foot-5, 320-pound offensive lineman was an all-conference first-team selection last year as a junior.
Published (and copyrighted) in Suburban Family Magazine, Volume 9, Issue 6 (August 2018).
For more info on Suburban Family Magazine, click here.
For information about advertising in Suburban Family Magazine, click here.
To find out where to pick up your copy of Suburban Family Magazine, click here.