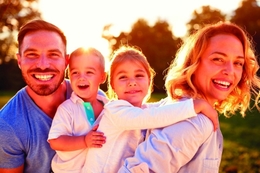 Keep Your Family Smiling
Local dentists offer up their best dental care advice for all ages.
WHEN IT COMES TO KEEPING TRACK of the family's health, there are plenty of variables. Between your children's pediatrician appointments and flu shots to checkups for mom and dad, there's always the chance that something will get overlooked. However, dental health is just as important to keep up with, no matter if you're 5 or 45, and many people still have questions about when to see a dentist or orthodontist, or what the difference is between traditional braces and Invisalign. Suburban Family wanted to clear a few things up, and the local dental community was happy to help. Read on to hear what they recommend for keeping your family's smiles as bright as can be.
Q&A
Dr. Fred Van Istendal Jr.
Acorn Dental
What are the benefits of Invisalign over traditional metal braces?
"Invisalign clear aligners take a modern approach to straightening teeth, using a custommade series of a ligners created for you and only you. These aligners are made of smooth, comfortable and virtually invisible plastic that you wear over your teeth. Wearing the aligners will gradually and gently shift your teeth into place, based on the exact movements your dentist plans out for you. There are no metal brackets to attach and no wires to tighten. You simply pop in a new set of aligners approximately every two weeks until your treatment is complete and you achieve the confident smile yo u've always wanted. The best part of the entire process is that most people won't even know you're straightening your teeth. Because the aligners are removable, you can continue to eat your favorite food and brush and floss normally to keep your teeth and gums healthy. Teens and adults benefit from Invisalign treatment for simple straightening issues as well as crowding, spacing, over- and under-bite conditions."
Dr. Marc Albano
Pediatric Dentistry of Mullica Hill
When should a child first see a dentist?
"According to the American Academy of Pediatric Den- tistry guidelines, a child should visit the dentist 'when the first tooth appears, or no later than his/her first birthday.' Our office typically recommends coming no later than 18 months in order to identify and prevent any dental problems or concerns, as well as establish a dental home. At this visit we provide an examination, cleaning and fluoride application and advise the parents or g uardians about proper diet, oral hygiene, brushing technique and discuss various oral habits. Our goal is to develop positive dental experiences at a young age in a fun atmosphere."
Dr. Sonny Sekhon
Growing Smiles Pediatric & Family Dentistry
How do you help a patient conquer fear?
"This is our strong suit. Recognizing the reason for fear is the first step. We cater our approach to each patient. But some things are universally applicable. We design our offices with calm, soothing colors and try to make the environment as relaxing as we can. Each of our team members knows that going to the dentist can be scary. So we are patient and calm, we don't pressure our patients to complete procedures they are not comfortable with. Our treatment rooms are equipped with televisions to help take your mind off of the dental work; we offer blankets, pillows and hot towels—anything we can do to make you feel comfortable. Our offices are equipped with nitrous oxide to reduce anxiety, and if needed, we offer other forms of sedation as well. But most importantly, we strive to perform painless dentistry. That works better than any other trick."
Dr. Frank Batastini
Frank Batastini Orthodontics
Should a child see an orthodontist only if he or she may need braces?
"Waiting for all the teeth to erupt is sometimes too late. The American Association of Orthodontics reco mmends that children should consult an orthodontist at age 7. This doesn't mean that a child needs to be treated this soon. Think of the mouth as a house and basement. You need a good upper and lower jaw foundation. At a young age, we can influence positive jaw growth, harmonize width of the dental arches, improve eruption patterns, lower risk of trauma to protruded upper incisors, correct harmful oral habits, improve aesthetics and self-esteem, simplify or shorten treatment time for later corrective orthodontics, reduce likelihood of impac ted permanent teeth and preserve or gain space for erupting teeth. It's best to see an orthodontist early to be placed in a recall system to follow their structures. We are a conservative practice and would rather recall patients for the right time when necessary."
Dr. Gary Sapienza
Leading Smiles
What are dental implants and why does one need them?
"Dental implants help an individual recover normal chewing f unctions, aesthetics, comfort and/or speech after tooth loss. The modern-day dental implant is a bio-compatible material, primarily composed of surgical grade titanium. Shaped like a tooth's root, implants are used as the foundation to replace a single tooth or multiple teeth. Additionally, implants can help aid in the retention and stability of an existing full or partial denture, thus restoring lost chewing efficiency. On average, one year after a tooth is lost, the bone left behind undergoes trauma, resulting in a 4-millimeter decrease of bone height and a 25 percent decrease of bone width. The dental implant acts to maintain the height and width of the jaw bone because the implant stimulates the bone and maintains these dimensions in a manner similar to healthy, natural teeth."
Dr. Laurence Articolo
Articolo Orthodontics
Why is it important to maintain a good relationship with your child's orthodontist?
"These days an orthodontist should not be considered an 'occasional' specialist that a select few see. Orthodontists should be considered an integral part of the optimal development of a young child in their formative years. While children are advised to regularly visit the pediatrician and pediatric dentist, it is the orthodontist that has the most advanced training, experience and knowledge of the development of a child's facial structure and teeth. Therefore, orthodontists are best suited to evaluate whether a child is ready for any kind of treatment. The best tim e to start seeing an orthodontist is at age 7 because changes can still be made to the facial skeletal structure which can reduce or eliminate the need for braces in the future. Early treatment starts between the ages of 7 and 11; braces are normally worn at age 12 and above. Establishing an early relationship with your orthodontist will prove to be an invaluable asset that you'll reap the rewards from well into adulthood."
Published (and copyrighted) in Suburban Family Magazine, Volume 9, Issue 6 (August 2018).
For more info on Suburban Family Magazine, click here.
For information about advertising in Suburban Family Magazine, click here.
To find out where to pick up your copy of Suburban Family Magazine, click here.