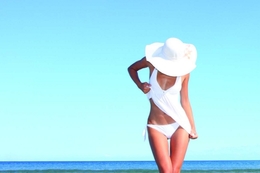 Embracing Your Beach Body
Experts answer the most FAQ about the non-invasive treatments that are helping you get ready for the summer season.
Before we know it, summer will replace our dreary days with sunshine and tan lines—and less clothing to curb the hot weather. But with that sometimes comes insecurities about our bodies. Stubborn fat, cellulite and aging skin are often on our minds when we put on our swimsuits, but what if they didn't have to be?
Attaining your ideal version of "beach body" ready just got easier. Suburban Family brings you local medical professionals you can trust with your body—and your insecurities—as they answer the most frequently asked questions about the n on-invasive treatments they specialize in.



Ingrid P. Warmuth, M.D.
WARMUTH INSTITUTE OF DERMATOLOGY
What other non-invasive procedures are out there in addition to CoolSculpting?
"The primary non-invasive, zero-downtime procedures we offer at the Warmuth Institute of Dermatology are CoolSculpting, Ultrashape, VelaShape III and Ultherapy. CoolSculpting is a treatment that freezes fat cells away through a painless process called cryolypolosis. Ultrashape utilizes ultrasound technology to eliminate stubbo rn fat deposits in as little as three treatments. Velashape III utilizes radiofrequency technology to target stubborn cellulite and r educe the appearance of dimpling on the skin. Ultherapy uses ultrasound energy to lift skin and improve lines and wrinkles on the face, neck and chest. "These four innovative treatments are exceedingly effective and have led to high patient satisfaction rates. They can all be performed in conjunction with one another and complement each other. All treatments exhibit natural results leaving our patients feeling youthful and improved. To determine which modality may be best suited for [each patient], a complimentary assessment is provided for every patient upon request."
Dr. Demetri Karanzalis & Dr. Donna Wilcox
A MEDICAL SPA AT RIZZIERI
Does CoolSculpting work?
"Everyone wants to know if CoolSculpting really works and the answer is yes, it really does. CoolSculpting is the world's No. 1 noninvasive fat reduction procedure with six million treatments performed worldwide. It is an innovative way to contour your body by freezing unwanted fat away with no surgery or downti me. Once treated, fat cells are frozen and the body naturally processes the fat and eliminates these dead cells. Most patients see result s between eight to 12 weeks.
"Our practice has done well over 500 treatments and loves to customize treatment plans to help patients ac hieve their personal goals."
Amy Articolo, D.O. & Suzanne Mackey
M.D. SALVÉO WEIGHT MANAGEMENT
What makes SculpSure different from other body contouring treatments?
"SculpSure has been clinically proven to reduce the number of fat cells in the treated area in just 25 minutes. Treatments take just 25 minutes per treatment area and can be customized for a variety of shapes and sizes. C ontact cooling technology keeps the skin comfortable during treatment. Side effects are mild and temporary in nature, with the most common being tenderness. No painful post-treatment massage is required. Treatments can be done over a lunch hour with a quick return to work.
"The application of laser heat to the surface of the sk in allows for a gentle 'feathering' effect so the final result is a smooth contour with a natural look. Treatments can be applied to many areas of the body. Clinical studies have shown an almost nine out of 10 Patient satisfaction.
Daniel DePrince III
D.O. DR. DEPRINCE COSMEDICAL
What are the benefits of Bioidentical Hormone Replacement Therapy?
"Bioidentical Hormone Replacement Therapy is anti-aging from the inside out. Keeping your hormones at optimal levels keeps your skin from aging as it prevents the loss of collagen so it remains tight and full. It also helps with weight gain because as our estrogen le vels drop, our bodies cannot process sugar and women (specifically) will start gaining weight in the midsection. It also helps with mood swings, loss of libido and gives you back your youth."
Kate Meyers, CMA Certified CoolSculpting specialist
CAVALLARO FAMILY PRACTICE
Is CoolSculpting just limited to women?
"No, not at all. The C oolSculpting procedure is used to spot reduce areas of unwanted or stubborn fat. Both men and women deal with these issues, and this is the best non-invasive way to help them reach their desired wants and goals. My male percentage of patients has si gnificantly increased over 20 percent just this past year alone, so men are receiving treatments now more than ever and are continuing t o receive great results."
Published (and copyrighted) in Suburban Family Magazine, Volume 9, Issue 2 (April 2018).
For more info on Suburban Family Magazine, click here.
For information about advertising in Suburban Family Magazine, click here.
To find out where to pick up your copy of Suburban Family Magazine, click here.