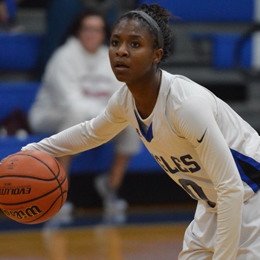 2017-18 Girls Basketball Preview
Winter Sports
Bishop Eustace Crusaders
Players to watch: After getting just a glimpse of Katie McShea last season, Bishop Eustace is excited to see what she can do over a full season in black and white. McShea, a 5-foot-11 senior forward, was already one of the best players in South Jersey when she transferred from Rancocas Valley to Eustace last January. She had to sit out 30 days per NJSIAA transfer rules and averaged 20.5 points in four games for the Crusaders. Senior Meghan McLaughlin and sophomore Lauren Punk are other key players in the frontcourt, while seniors Jenny Falconiero and Julia Radley and sophomores Sophia Cross and Madison Grubb are returning guards. Freshman guard Katie Kempter is also expected to have an impact.
Outlook: The Crusaders went 17-11 and reached the Non-Public South A quarterfinals last year. With a full season of McShea, they should be a team to watch in South Jersey.
Camden Catholic Fighting Irish
Players to watch: Camden Catholic has a strong returning core that includes senior guard/forward Kate Deutsch, who averaged about 15 points per game last year to lead the team. She can shoot from the outside or get to the basket and has a competitive drive at both ends of the floor. Junior forward Eliana Santana and senior guard Maggie Bednarek are other important contributors.
Outlook: The Irish went 20-7 and reached the Non-Public South A semifinals last season. They have the potential for another successful year and hope to reclaim the Olympic Conference National Division title they surrendered to Paul VI.
Cherokee Chiefs
Players to watch: Cherokee graduated South Jersey Player of the Year Izzy Therien, who was not only its star but also the heart and soul of the team. On the bright side, however, many of the key players around her are back and ready to take over leadership of the team. That includes Ava Therien, Izzy's sister, an athletic junior forward who could emerge as the new go-to scorer. Senior guard Katie Cummiskey is a terrific outside shooter and sophomore guard/forward Kennedy Wilburn is a contributor at both ends of the floor who should thrive with a year of experience under her belt. Senior Lyndsay Craig is another returning starter who will again run the offense at point guard. A tough break was the loss of junior Lauren Fowler for the season due to a torn ACL. Others vying for playing time include seniors Kelsey and Sarah Wallace and Maggie Rowan; juniors Alexis Armstrong and Alyssa Gerdes; sophomores Olivia Kessler, Christianna McFadden and Katie McKeffrey; and freshman Alexa Therien, the youngest sister.
Outlook: In a memorable 27-3 season, the Chiefs won a share of the Olympic Conference American Division, the South Jersey Invitational Tournament and the second sectional championship in program history. There is no replacing Izzy Therien, but count on another successful campaign from a deep and talented team.
Cherry Hill East Cougars
Players to watch: Cherry Hill East graduated just three seniors from last year's team and has a solid nucleus led by senior center Kiara Bell. She led the team in scoring with 13.9 points per game as a junior and should once again be one of the top inside players in the conference. Forward Nicole Hammerquist is another senior leader, and returning juniors are Maya Drayton and Erica Brunson. A strong sophomore class also returns led by Yanelli Villegas, who averaged about eight points per game and hit a 3-pointer at the buzzer to beat Wildwood Catholic. Maggie Balderstone is also a talented sophomore.
Outlook: After losing in the first round of the South Jersey Group IV playoffs and finishing with a 7-19 record, the Cougars have a chance to make progress under new coach Chris Corey.
Cherry Hill West Lions
Players to watch: Cherry Hill West graduated leading scorer Mya Lewis but has a promising returner to build around in senior Trinity Huff. Sofia Russo and Melani Stokes are other senior leaders. Juniors who saw playing time as sophomores and could take on bigger roles include Meghan McGlinn, Meghan Davis and Alexa Caputo.
Outlook: The Lions have been rebuilding over the last several seasons but hope to keep moving in the right direction as a program.
Clearview Pioneers
Players to watch: Senior forward Elaina Hansen has been a valuable player at Clearview since her freshman year and it will be exciting to see what she can accomplish in her final campaign. She averaged 14.3 points and led the team in rebounds as a junior. Senior Julia Michael is a top 3-point threat who averaged 9.1 points last year. Junior guard Nina Freda and senior guard Alyssa Martin are other key returners, while junior forwards Lynaisa Jones and Gina Rucci hope to see extended minutes. Sophomore point guard Olivia Marchei, a transfer from Gloucester Catholic, brings excellent court vision and quickness and will push for playing time as well.
Outlook: The Pioneers went 17-10 and reached the South Jersey Group IV quarterfinals in their final season under coach Neil Bress. The success should continue under new head coach Casey Heitman, who played at Clearview and also was the head coach at West Deptford for three seasons.
Eastern Vikings
Players to watch: Despite graduating 3-point specialist Alyssa Bentz, Eastern has a lot to be excited about. Junior forward Gabriella Payne leads the returners after averaging a team-high 12.9 points per game last year. Sophomore guard Kelli McGroarty averaged 8.8 points in a standout rookie campaign, while senior Leah Manchel and junior Anna Accardo are other talented guards. Senior center Danielle Jackson is a presence in the paint and led the team in rebounding, and junior Tori Accardo is a junior guard who will contribute. Sophomore Kara Heck, one of the top field hockey players in the state, adds strength to the defense, and freshmen Gianna Rhullo and Kaitlyn Henry could also see varsity action.
Outlook: The Vikings have made great strides in recent seasons and posted a 14-13 record last year after losing a close game to Shawnee in the first round of the South Jersey Group IV playoffs. Look for them to contend for a winning record again this winter.
Gloucester Catholic Rams
Players to watch: Gloucester Catholic graduated four starters, including all-South Jersey forward Dani Sanderlin, but the lone returning starter is one of the top players in the area. Junior guard/forward Azana Baines averaged 14.8 points in her first season with the Rams after transferring from Highland. Just as important as her scoring is her defensive presence on the Rams' press and her ability to make her teammates better. Sophomore guard Bella Steidle saw important minutes off the bench as a freshman and will be a key player on the perimeter. Senior forward Kaitlyn Racobaldo is a returner in the frontcourt, while senior Mikaela Neilio and sophomore Inyzie Eggers add depth in the backcourt. Freshman Jada Williams is also expected to have an impact, and sophomore guard Mycala Carney, a transfer from Camden Catholic, will also look to contribute after sitting out the first 30 days of the season.
Outlook: Gloucester Catholic's 21-7 season featured the Tri-County Conference Classic Division title, a runner-up finish in the South Jersey Invitational Tournament and a close loss in the South Jersey Non-Public B quarterfinals. With Baines leading the way, the Rams will be a contender as they move into Tri-County Diamond Division this year.
Haddonfield Bulldawgs
Players to watch: Haddonfield graduated leading scorer CC Mooney and point guard Meghan Smart, but has a key returner to build around in senior forward/center Mary Kelly. A varsity player since her freshman year, Kelly averaged 11 points last season and has committed to Catholic University. Senior guard Annie Stanton is another four-year varsity player who will anchor the backcourt. Juniors Ashley Campo, Sophie Kohs and Natalie DePersia could also take on bigger roles.
Outlook: The Bulldawgs' impressive 2016-17 season included a 26-3 overall record, a perfect 10-0 mark in the Colonial Conference Liberty Division and a berth in the South Jersey Group 2 semifinals. Expect them to stay competitive behind the senior duo of Kelly and Stanton.
Kingsway Dragons
Players to watch: Kingsway graduated leading scorer Maddie Hahn and two other starters, but is happy to welcome back the orchestrator of its offense. Junior Morgan Robinson, a 5-foot-8 point guard, can create shots for herself or her teammates and is also a strong defender. Junior center Rebecca Blaszczyk is a talented scorer in the paint, and other key returners are senior forward Kaiya Jenkins and junior guard Kelci Jenkins, the daughters of head coach Felicia Jenkins.
Outlook: The Dragons' 20-8 record last year included a perfect 12-0 mark in the Tri-County Conference Royal Division, and they also reached the South Jersey Group IV semifinals. They should be in store for another solid season.
Lenape Indians
Players to watch: Lenape is paced by one of the top players in South Jersey, senior guard Kendall Keyes. A varsity contributor since her freshman season, Keyes emerged as the Indians' go-to scorer last year, averaging 14.9 points. She is an excellent 3-point shooter and can also create her own shot, and has committed to the University of Sciences to continue her career. Junior guard Shannon Mulroy is another key returner who averaged 8.6 points per game. Juniors Nevaeh Sutton and Emily Breuninger were valuable reserves and will look to break into the starting lineup.
Outlook: The Indians followed up their state championship season with another terrific campaign last year, as they went 24-4, earned a share of the Olympic Conference American Division title and reached the South Jersey Group IV semifinals. Another successful season appears to be on the horizon.
Moorestown Quakers
Players to watch: Moorestown brings back many of its top players, including the terrific duo of guard Grace Hill and forward Faith Bonett. Hill, a junior, averaged 12.8 points to lead the team and is a threat from the perimeter. Bonett, who led the team in rebounding and averaged nine points per game, recently accepted a full scholarship to the University of New Hampshire, a Division I program. Senior forward Colette Smith is another returning starter known for her hustle and relentless work on the boards. Senior guard/forward Jazmine Carter can drive the lane and shoot the 3, and sophomore guard Kerri O'Sullivan will look to follow up a promising freshman campaign.
Outlook: The Quakers had another solid season last year, posting a 16-10 record and advancing to the Central Jersey Group III quarterfinals. Expect Hill and Bonett to spark them to more success this winter.
Moorestown Friends Foxes
Players to watch: Moorestown Friends has high hopes after graduating just two seniors and bringing back three players who were recognized by the Friends School League. Senior Charlotte Stern, a 6-foot forward/center, averaged a team-high 18.7 points and scored the 1,000th point of her career on her way to all-Friends League first-team honors. This past summer she traveled to Israel to compete in the Maccabiah Games, and she is primed for a strong final season at Moorestown Friends. Senior guard Alyssa Runyan is another key returner and, like Stern, is a four-year varsity starter. Runyan was named honorable mention by the Friends League along with her sister, sophomore guard Bella Runyan, who averaged 11.7 points as a rookie. Senior guard Alexis Watson and junior forwards Meghan Roberts and Kayla Golas will also contribute.
Outlook: The Foxes posted a 21-5 record last year—the best mark in their history—and earned the program's first playoff win in 20 years on their way to the South Jersey Non-Public B quarterfinals. They have the potential for another memorable campaign this season.
Paul VI Eagles
Players to watch: There is no replacing Aliyah Stephens, who graduated last year as Paul VI's all-time leading scorer. On the bright side, six players who saw important minutes for the Eagles are back to build on the momentum from a memorable season. That includes sophomore guard Maniya Custis, who averaged nine points as a freshman, and junior forward/center Carly Stroemel, who led the team in rebounding and chipped in about eight points per game. Senior guard Sekya Campbell is a team leader who contributes with scoring and rebounding. Other key returners are junior guard Naomi Shorts, junior forward Amanda Gosweiler and sophomore guard Abaigeal Babore.
Outlook: The Eagles went 23-6, claimed the Olympic Conference National Division title and reached the South Jersey Non-Public A final to cap a tremendous 2016-17 season. It will be exciting to see what they can do for an encore with a young core in place.
Seneca Golden Eagles
Players to watch: Seneca brings back an experienced roster led by senior guards Natalie Mileszko and Rachel Roseboro, who both averaged more than eight points per game last year. Key players in the frontcourt are senior forwards Jenna Daunoras and Jenna Birnbohm-Kaminski, and seniors Kaitlyn Birnbohm-Kaminski and Megan Glenn add depth at guard.
Outlook: The Golden Eagles' 10-17 record featured a playoff win over Delsea. With a senior-laden lineup, it would not be surprising to see them add to their victory total this season.
Shawnee Renegades
Players to watch: Shawnee has a talented nucleus led by senior Lauren Lodge, who averaged a team-high 11.1 points per game. Junior Cameron Morgan runs the offense from her point guard position and chipped in 10 points per game, while sophomore Ciana Viccharelli will look to build on a promising freshman season. Other key returners are senior Erica Barr, a terrific athlete who will play lacrosse in college, along with senior Erin Wicker, junior Sierra Sanson and sophomore Gia Flamini.
Outlook: The Renegades went 16-11 and reached the South Jersey Group IV quarterfinals before falling to eventual champion Cherokee. With a strong crop of returners, they look like contenders in the Olympic Conference Patriot Division.
Washington Township Minutemaids
Players to watch: Washington Township can't wait for the season to start after graduating just two players from last year's promising team. Leading the way is senior forward Kiley Gelston, who averaged 12.5 points and contributed with defense and rebounding as well. Sophomore center Emily Johns is a dependable scorer in the paint who averaged 12.7 points as a freshman, and it will be interesting to watch her progress this winter. Although junior point guard Natasha Munro will miss the season with an injury, other key veterans include senior Deanna Balsama and juniors Maddie Dulude and Noelle Gasper. Sophomores Julia Marino and Gabrielle Turco both saw time off the bench as freshmen and will contribute again.
Outlook: The Minutemaids went 14-12 with a playoff victory last year in a transitional season. Now that their young players are another year older, look for big things.