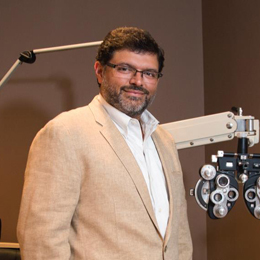 An Eye for Care
Briggs Eye Specialists
photography by ALISON DUNLAP
IT'S NO SECRET THAT OUR EYES ARE ONE OF OUR BEST FEATURES. As the old adage goes, they are the windows into the soul. But for people who wear glasses, contact lenses or have medical issues, like cataracts and dry eyes among others, the eyes are seen as so much more than just a pretty facial feature. Our eyes provide one of our strongest senses and when they don't perform as well as they could, we become worried and even fearful that our vision may be at risk.
Luckily for the residents of South Jersey, Dr. Sanjay Kamat (NJ 25MB08531100), a wellestablished ophthalmologist with a practice in Yardley, Pa., has expanded south with a new location in Mount Laurel. Briggs Eye Specialists has been open for a little over a year now and is focused on providing the community with top-notch eye care while making sure each and every patient who walks through their door feels like family.
Moving into the large, spacious commercial building, Dr. Kamat has revamped the entire office. With all new carpet, paint, a waiting area and an optical shop to boot, patients will feel welcomed in the clean and open environment. Whether being pre-tested by one of the technicians, or examined by the doctors, patients will experience exam rooms that are equipped with state-of-the-art electronic medical records and digital displays in every single room.
While the makeover and technology is certainly a plus for Briggs Eye Specialists, Dr. Kamat and his associate, Dr. Cindy Chhedi (NJ 27OA00599600, Certification: 27OM00035500), are hoping to do away with large waiting rooms, long wait times and short, impersonal doctorpatient interactions.
"I think we are really trying to take the same business model that I applied to the Yardley practice when I began that venture over almost nine years ago," explains Dr. Kamat. "We want to practice the old school way where we get to know our patients; we talk about more than just the eye exam and instead look at them as people."
Providing patients with an array of services, it seems there isn't anything Briggs Eye Specialists can't do for their patients. Offering general eye exams, routine exams, contact lens exams, and the entire gamut of medical exams like macular degeneration screenings, diabetic evaluations, cataracts, double vision and the full service medical list goes on. "We are offering a full range of surgical care options as well," says Dr. Kamat, "like cataract surgery—the newest latest and greatest laser-assisted cataract surgery with premium multifocal implants, astigmatism implants, Lasik [surgery using] all laser Lasik [that is] blade-free. We now also offer novel, cutting- edge dry eye therapy in the office."
Dr. Kamat's practice even has a clinical lab license from the government that allows the office to do eye-related lab testing on the premises. This is similar to getting blood work done right at your internist's office.
"We had to get approved and certified by the government in order to provide laboratory testing for dry eye. This helps us direct therapy for patients instead of diagnosing dry eye and merely giving patients tear drops or Restasis®," Dr. Kamat says. "Now we can actually test for the three elements that contribute to dry eye symptoms and then try to steer the therapy a bit more personalized for our patients."
Dr. Kamat explains keeping his treatment options open with this analogy: If you are a fruit vendor and all that you sell are apples, you are always going to assume someone wants apples. But maybe they want a banana. "It's nice to have an extensive armamentarium of treatment so we have everything to offer," says Dr. Kamat. "It's nice to have all of the testing available and all of the treatment available, so that everybody receives a tailored approach as to what is an appropriate treatment for them. We want to be able to help them the best we can."
And while Dr. Kamat does have another private office in Yardley, Pa. and practices at both locations, he says the real leader in South Jersey is his right hand woman.
"My associate, Dr. Cindy Chhedi, is really the backbone of the practice I have to say," explains Dr. Kamat. "She handles more of the day to day operations here at Briggs and does very well."
Having been at the practice since the beginning, Dr. Kamat compliments Dr. Chhedi when he says she is superbly trained and a very competent eye doctor. "She has a knack for making sure patients feel welcomed and comfortable in the environment. Dr. Chhedi is excellent at diagnosing and treating a lot of medical diseases, as well as co-managing surgical patients," says Dr. Kamat.
"We want to provide a more comprehensive examination. I think if we can provide that personalized type of environment and techniques, and still have all of the bells and whistles of technology that you need in 2017," Dr. Kamat continues, "I think it will become a real nice hybrid practice model that patients will appreciate."
Briggs Eye Specialists
2026 B Briggs Road | Mount Laurel
(856) 235-1211
Info@BriggsEyeSpecialists.com
BriggsEyeSpecialists.com
Published (and copyrighted) in Suburban Family Magazine, Volume 8, Issue 8 (October, 2017).

For more info on Suburban Family Magazine, click here.
For information about advertising in Suburban Family Magazine, click here.
To find out where to pick up your copy of Suburban Family Magazine, click here.