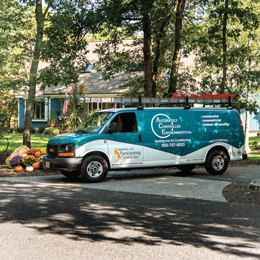 We Sell Comfort
Accurately Controlled Environments
FAMILY-OWNED AND -OPERATED FOR OVER 28 YEARS, Accurately Controlled Environments (ACE) is the expert in our area when it comes to keeping your family warm in the winter and cool in the summer months. ACE combines 50 years of experience within their team, giving them a profound knowledge of every HVAC system that could possibly be in your home, making them your go-to heating, air conditioning and ventilation service company.
Suburban Family spoke with Operations Manager Karl Botterbrodt about how homeowners can prepare for this winter season by keeping both costs and health in mind.
How can upgrading to a high-efficiency heater produce energy savings and when should a homeowner upgrade?
Upgrading your existing heating system to a high-efficiency system can save you money on your utility bills, specifically where gas and electric are concerned. Our Amana high-efficiency systems have an AFUE rating of over 96 percent, meaning it is outputting as much heat as possible instead of wasting it up to the chimney. Built with ECM motors, highefficiency burners as well as exchangers, the system is optimizing its total energy used.
I wouldn't say there is a specific time to upgrade. Systems over 15 years old should start to be considered for an upgrade to a new system that is high-efficiency at that point. You want to replace it with a high-efficiency and not what you have. You wouldn't buy a new car this year with the same gas mileage as your car from 1990.
How can a homeowner save money when they upgrade their system?
There are rebates available through the state when upgrading to a high-efficiency system. The amounts vary but when you do upgrade your furnaces, it is a good idea to look at your water heater as well because it provides higher rebate availability. Additionally, customers who have upgraded have seen their utility bills drastically reduced.
How can homeowners improve the air quality in their homes?
By having their filters changed regularly, their systems checked every year by professionals and by having us come out and give them a quote about installing a humidifier. During the dry and cold winter, humidifiers in the home can prevent spreading airborne viruses, help to prevent snoring [and] dry skin, make your home 'feel' warmer, relieve allergy symptoms and even prevent static that increases in the winter months.
What is the difference between a two-stage and single-stage system?
Which is better?
Single-stage equipment is going to give you the full power of the system all at once. A twostage is going to give you the energy that is needed at that time to increase the temperature of your home. The two-stage is the system that is going to give your home the better efficiency. It's only going to deliver the heat requirements that are needed. If you are trying to heat up the house very quickly, it is going to kick in to second-stage and give you the full power of the furnace. It's going to be a more consistent comfort with the two-stage equipment and it's going to be more energy efficient, on both the electric as well as the gas.
Why should homeowners choose ACE?
We've been the professionals in the region for upgrading people to high-efficiency systems and have been installing those systems ever since they have been on the market. We are not late to the game when it comes to installing high-efficiency systems, we've been doing this for many decades while a lot of other companies have only recently been installing them in the last five or so years. We are very familiar with how to install these systems and a lot of times we have customers come to us saying they were told by other companies that they can't do it because of x, y and z and we have found ways to make it happen. Our owner, Eric Botterbrodt, will always find a way to get our customers the high-efficiency equipment they need.
Accurately Controlled Environments Inc.
465 E. Taunton Ave., Suite 304 | Berlin
(856) 767-6053 | ACENJ.com
Published (and copyrighted) in Suburban Family Magazine, Volume 8, Issue 8 (October, 2017).

For more info on Suburban Family Magazine, click here.
For information about advertising in Suburban Family Magazine, click here.
To find out where to pick up your copy of Suburban Family Magazine, click here.