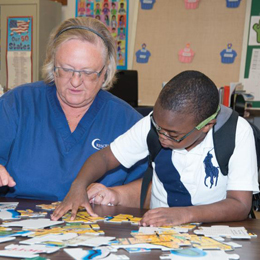 Educating the Whole Student
Crescent Hill Academy
Photography by Gary Mattie
FOR PARENTS OF SPECIAL NEEDS CHILDREN, there is a long list of qualities they look for in a school. From the academic curriculum and therapy to the life skills program and social environment, it all must be top-notch. All of these things can be found right here in South Jersey at Crescent Hill Academy.
Founded nearly 40 years ago, Crescent Hill Academy has been a vision come to life for the Minicozzi family. When his daughter Rose Ellen was diagnosed with cerebral palsy shortly after birth in 1965, Alfred (Fred) Minicozzi and his wife Theresa sought care for her at Pennsauken's Cerebral Palsy Treatment Center. Since Fred's background was in education, he joined the center's board and expanded it to include a school. In 2005, the center was renamed Crescent Hill Academy and now cares for medically challenged children, teens and young adults between the ages of 3 and 21.
Fred's son, Al Minicozzi, is now the school's executive director. Minicozzi has two degrees in special and elementary education from Rowan University and a master's in school administration from Rutgers University. Crescent Hill Academy is fully accredited by the New Jersey Department of Special Education, offering a range of programs and services, from education— which includes general subjects as well as life skills—to speech, language and physical therapy. The school boasts an almost-unheardof 3:1 student-to-teacher ratio.
"We have the best student-to-teacher ratio of any school," says Al Minicozzi. "This allows students to get the attention they deserve. Our curriculum is geared toward each individual child's needs, building on their strengths and working on their weaknesses. It's a well-rounded program that covers all the needs of the student."
This includes intellectual, physical ability, communication and even medical. "We have a full-time nurse on staff and we also allow medically needy students to attend with their own nurses. We're one of the only schools in the area to allow that," says Minicozzi. The school will soon be adding an applied behavior analysis (ABA) certified teacher who will work with students on the autism spectrum.
Classrooms include advanced technology like smartboards and every student has the opportunity to be screened for an augmentative communication device to help speak for any student who cannot. Crescent Hill Academy also offers a wheelchair clinic and puts a lot of emphasis on life skills to prepare students for independence as they get older.
"Basic skills have gone by the wayside. We want them to have these skills because once you miss a step you can't go back," Minicozzi says. For daily living skills, the school has set up a bedroom where students can learn and practice making a bed, brushing their teeth and going about a daily routine, and another room is set up like an office for a job setting. Through partnerships with Goodwill and ShopRite in Cinnaminson, students can take part in a vocational program and work there a few days a week.
Crescent Hill Academy also has an adult activity center in Collingswood and is considering an expansion into group homes for a continuum of care not found in other schools.
Students are also given the chance to explore the world around them and field trips to the zoo, aquarium, bowling and local farms are some of the most popular activities. Minicozzi says every kid deserves these experiences.
"We are a world apart from the rest," says Minicozzi. "We are a small school yet we are big in heart. Our motto is, 'Education and therapy as exceptional as your child,' and we care for the students just as their own family would."
In everything they do the people at Crescent Hill Academy focus on the nurturing environment. "We all want to be nurtured, even as adults and we aim to bring that back to these kids in a way that is not about dollars and cents," says Minicozzi. "My family has dedicated their lives to doing something good for others and we make the best for the children we have in our care."
Crescent Hill Academy has an open-door policy, and parents are welcome to visit their child anytime to see their classroom or speak with teachers. Peace of mind is top of mind for Crescent Hill Academy, and families interested in finding out more can tour the school at any time.
Crescent Hill Academy
Pennsauken
(856)662-7300
CrescentHillAcademy.com
Published (and copyrighted) in Suburban Family Magazine, Volume 8, Issue 8 (October, 2017).

For more info on Suburban Family Magazine, click here.
For information about advertising in Suburban Family Magazine, click here.
To find out where to pick up your copy of Suburban Family Magazine, click here.