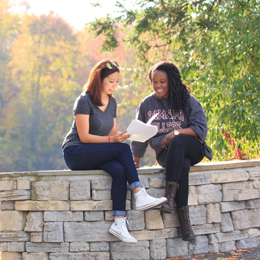 Best of Both Worlds
Ramapo College of New Jersey
IN THE HEART OF RAMAPO COLLEGE of New Jersey's picturesque campus in Mahwah sits the Havemeyer Arch, a majestic structure that every student steps through as a freshman during a special ceremony to signify the beginning of his or her college journey.
Four years later, the students again pass through the arch during graduation, prepared to the fullest to embark on the next chapter of their lives.
In between these two Ramapo traditions, they experience firsthand many of the features one associates with a private college education, only at a public institution that won't put them into crippling debt before their careers even take off.
"Most of the qualities that people look for in private colleges—small classes, personal attention, one-on-one mentoring relationships with the faculty, a beautiful, safe, tree-lined campus—can all be found at Ramapo," says Peter Rice, the college's director of admissions. "Students get an elite education at the value of a public college."
Founded in 1969, Ramapo is a liberal arts college with approximately 6,000 students. That translates to an average class size of about 23—and no classes larger than 35—with an 18:1 student-to-faculty ratio, meaning professors know their students by name, not as a number. Those same perks usually come at a hefty price at private schools, but not at Ramapo, which is an annual staple on the Kiplinger's Personal Finance list of top value schools in the country.
"The Consumer Protection Bureau tells us that student debt in this country is now over $1.1 trillion, with a T," Rice says. "Families are struggling to pay for college, and it's reassuring that we offer the same qualities as a private college at a fraction of the cost."
For those families looking for an affordable option while not skimping on the level of education, Rice and the rest of the admissions office at Ramapo are there to help throughout every step of the application process. They will visit almost every high school in New Jersey during this academic year, along with many others in neighboring states, to provide detailed information about the college, answer questions about the common application and help with FAFSA forms.
Ramapo also holds three open houses in the fall that are well attended, along with daily private tours on campus. "We are very much available to meet with students and talk about various topics," Rice says. "It's very important for them to visit our campus and see for themselves the wonderful facilities and learning spaces, as well as the beautiful mountains and landscape. Many people remark when they arrive here that our campus is breathtaking in all aspects."
As for the type of students Ramapo is looking for, Rice offers some helpful tips.
"The No. 1 thing we look at are your grades throughout high school, and it's very important that you took the most challenging schedule for yourself," he says. "We also look at your extracurricular engagement to see that you are spending your time productively outside of the classroom, through activities like community service, student media, theater, music, athletics or a part-time job.
"We require a standardized test, we review each essay submitted with your application and we require at least one letter of recommendation that usually comes from your counselor. We use a holistic review process and try to find the folks who are well rounded and well prepared to be successful both academically and socially on the college level."
Those who are accepted will receive an education focused on experiential learning and student engagement. The proximity of New York City also provides invaluable opportunities for internships and co-ops.
"Here at Ramapo, you can walk right outside of your residence hall in our suburban environment and jump on a bus that will take you to New York City," Rice says. "We have over 250 companies alone in New York that come to campus to recruit students for internships and real-life job experiences, and many graduates go on to take jobs at those companies."
With more than 530 course offerings and 36 academic programs, Ramapo has no shortage of paths for students to take. But no matter what major they choose, they will gain the real-life skills in demand today.
"The qualities that you get in a liberal arts education are the same qualities that employers are looking for when they go to hire people," Rice says. "You become a problem solver, a data analyzer, you are someone who works very well with people from other cultures, you write extremely well, you speak publicly very well. These are the hallmarks of every single class at Ramapo College and they are the hallmarks of the liberal arts education. This approach makes you very employable, not only for your first job but across the spectrum of your career changes."
Ramapo College of New Jersey
505 Ramapo Valley Road
Mahwah
(201) 684-7500
Ramapo.edu