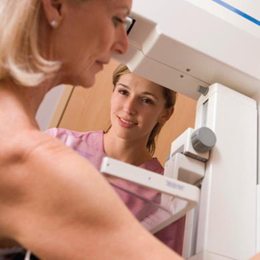 Battling Back
October 2017
Every October, we are reminded that breast cancer is becoming more and more common in women all around us. Stories of survivors flourish and give those diagnosed with the disease a glimmer of hope that they can beat what's known as one of the most common cancers among women. October stands as National Breast Cancer Awareness Month and we are not only celebrating women who have beaten this disease and raising funds to help find a cure, we are also educating those who may face this disease in years to come.
Suburban Family spoke with the medical professionals in our area to see what technology is available today to help detect and treat breast cancer and why this is only furthering the survival rate increase among women.
Detecting & Diagnosing
For most women, the first real step to detecting any sort of issue relating to breast cancer is through a breast exam or annual mammogram after age 40. But for those who believe they may have some sort of mass, they seek out a trusted professional for advanced screenings.
Dr. Sherrill Little, co-director of women's imaging at South Jersey Radiology, says they have the gamut of breast cancer screening tools available.
While they have a standard mammogram machine, the 3D mammography (breast tomosynthesis) is what is proving to be most ground-breaking in the early detection of breast cancer in patients, specifically those with dense breast tissue.
"The 3D mammography takes thin slices through the breast tissue, kind of like a CT scan, and it reconstructs them into this kind of video loop that we can look through and it scrolls through the breast in thin slices and it allows us to see more clearly through dense tissue to help decide if there's a mass hiding in the dense tissue that we don't see on the standard [mammogram]," Little explains. "So we can see masses more clearly and we can also keep people from having to get called back for additional views because we can usually figure out a little bit better whether it is a real mass or not.
"It has been shown to find more cancers, particularly in those with denser breast tissue. We label the density of the breast tissue from one to four. One is mostly fatty breast tissue, two to three is in between, three is dense and four is extremely dense," says Little. "The more dense tissue you have the more difficult it is to read your mammogram and the more likely it is that something is hiding."
And while getting a yearly mammogram may seem like another item on your todo list, Chief of Breast Imaging at Lourdes Health System, Dr. Kathleen Greatrex tells us that it is the most important message that she tries to drive home every day.
"The message [we've] got to give women is that there are no other screening tools that have had the success of dropping the death rate for cancer like screening mammography. Getting a mammogram is imperative," explains Greatrex. "When you look at the statistics out there of one in eight women are getting breast cancer in this country, we have to stay on top of this. Women need to understand if they are vigilant, if they get a mammogram and they do it every year after the age of 40, their chances of survival are much better if we find the cancer at a stage where we can treat it. The best way is through a screening mammogram."
Getting Treatment
Treatment for breast cancer can vary depending on the person and the stage the breast cancer is in but primarily, the things people think about when they hear "breast cancer treatment" are lumpectomy, mastectomy, chemotherapy and radiation. Dr. Kristin Brill, director of the Janet Knowles Breast Cancer Center at MD Anderson Cooper, says there has been quite a lot of change in the way patients receive radiation.
"For someone who undergoes a lumpectomy, for instance, if they are a candidate to keep the breast and they have a lumpectomy, typically radiation is part of the treatment when we are doing a lumpectomy for invasive cancer which is run of the mill," explains Brill. "Radiation has changed a whole lot, it used to be external beam radiation for six weeks, the breast would kind of shrink up and you would get some skin changes, now there are all sorts of options for tailored radiation. It might be partial breast radiation done from a little device placed inside the breast like the Savi device. That's radiation from inside out given over a five-day course instead of six weeks."
Brill says they also have a technique to do the radiation from external beam but over a shorter course like three to four weeks and others even shorter like five days.
"For women undergoing mastectomy, one of my favorite techniques—especially for prophylactic—for someone who is doing risk reduction or even outside of that is the nipple sparing mastectomy. Often the incision for that mastectomy goes in that natural fold at the base underneath the breast," Brill says. "So that sort of smiley face incision at the crease of the breast and then the skin and nipple is lifted up and the breast tissue is removed from underneath and then that pocket that is created can be filled in with implants like silicone implants or one of my very favorites, [using] a woman's own tissue from the belly called DIEP flap.
"It's taking that fat pad from under the skin on the belly and removing that on its blood supply, an artery and a vein, and then reconnecting that blood supply under the breast bone in the breast area and then that fat pad becomes the filler for that pocket that was created from the mastectomy," Brill continues.
Dr. Kahyun "Kay" Yoon-Flannery, medical director at Kennedy Health Comprehensive Breast Center, says their team is always examining new innovations to target breast cancer in the most efficient manner.
"We have intraoperative specimen imaging to help ensure our patients are not kept on the operating room table one minute longer than they need to be. We also now offer intraoperative sentinel lymph node biopsy injection, a much less painful process than undergoing an injection while awake," Yoon-Flannery explains. "We can offer patients access to the latest clinical trials through the Sidney Kimmel Cancer Network at Jefferson. Things are always evolving in breast cancer care and our team is truly dedicated to delivering top-notch care right here in South Jersey."
Feeling Like Family
While breast cancer—along with all cancers— can be very scary and stressful, the medical professionals we spoke with share the sentiment that their patients aren't just a number in their hospitals, they are like family.
Greatrex explains that Lourdes has a nurse navigator who goes through the entire process beginning with diagnosis and finishing with treatment so each patient always has a friendly face throughout the process.
"We are very compassionate and empathetic to [our patients'] plight. No matter what walk of life our patient is, we treat them like a family member. And I think that's what sets us apart," explains Greatrex. "It's a really loving, kind atmosphere and I think that's the mission and that's what we would like to continue to do here."
Yoon-Flannery says in addition to offering their patients access to support groups, yoga and art classes through their Hope & Healing program, they take the time to let each woman know that she is not fighting this disease alone.
"Patients are not alone in their journey through breast cancer diagnosis, treatment and beyond," explains Yoon-Flannery. "Our team is truly dedicated to not only providing excellent medical care, looking beyond only the medical aspect of the experience. I hold my patients' hands as they drift off to sleep in the operating room, and our team offers support classes to both our patients and their caregivers. They don't have to feel like a number, and they certainly won't feel alone when they are at our Comprehensive Breast Center."
Published (and copyrighted) in Suburban Family Magazine, Volume 8, Issue 8 (October, 2017).

For more info on Suburban Family Magazine, click here.
For information about advertising in Suburban Family Magazine, click here.
To find out where to pick up your copy of Suburban Family Magazine, click here.