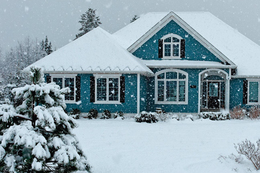 Prepping & Planning
October 2017
WINTER—AND THE FIRST SNOWFALL OF THE SEASON—are just around the corner. While you may not be ready to think about the cold, it can be helpful to ensure your property is prepared for the elements in order to be able to survive the cold months ahead. In addition to winterizing, fall is also a great time to start thinking about projects you'd like to have completed for the summer season. It's never too early to start planning and the earlier you start the process, the less rushed you'll be when spring rolls around.
Suburban Family recently caught up with some of the region's home improvement experts who filled us in on their best tips for winter preparation and spring planning.
Making Preparations
Some of the best advice that was offered can be summed up in two words—be prepared. Being prepared for the winter season can save you in the long run by preventing costly problems. Doing a little bit of preventative maintenance and checking on things around the house like gutters, siding or roof shingles can ensure that your home is prepared to weather the winter storms. As you do a walkaround of your home, make sure that nothing is loose or hanging—and if it is, call in a professional to have it fixed before windy weather and snowfall strike.
Prior to winter, you might also want to take the time to examine your doors and windows and make sure you're not losing any heat. Caulk windows and doors and even add insultation where it might be needed to prevent heat loss and keep your home warm.
Karl Botterbrodt, operations manager at Accurately Controlled Environments, suggests having a professional perform a checkup on your home heating system to ensure that it is running safely and efficiently before the winter rolls around.
As the weather starts to change and temperatures drop, people will find themselves spending more time inside. Botterbrodt says that you also want to ensure that the air quality of your home is optimal—especially since you're going to be spending so much more time indoors away from winter's harsh elements.
"Change your filters," he urges. "Air filters should be changed every two to three months in order to maintain a healthy environment." Botterbrodt says a whole-home humidifier is another option that homeowners may want to consider to improve the air quality and health factor of their home.
"Adding a whole-home humidifier has many benefits including softer skin, more comfortable sinuses and reducing the ability of viruses and bacteria to travel through the air, leading to a healthier home," explains Botterbrodt.
Lori Topiel, owner of COIT Cleaning and Restoration of South Jersey, shares Botterbrodt's sentiment and says that routine cleaning needs to be done, especially this time of the year.
"Fall is a beautiful time of year but it can bring on seasonal allergies for many [and last into the winter season]. One project that can help with allergies inside the home is to have the air ducts professionally cleaned," Topiel explains. "This can improve a home's indoor air quality and make for a clean, healthy living environment."
Topiel explains that if air ducts aren't cleaned regularly, the ductwork becomes a breeding ground for mold, bacteria, fungus, mildew and other microbes over a period of time. And think about it like this: If it's in your ductwork it is then being circulated throughout your home.
The fall season is also a great time to check up on your chimney. It's a fact that clean chimneys are less likely to catch fire than dirty ones. Topiel says, "By using seasoned woods, smaller structures, hotter fires and not burning things like cardboard, paper, trash or the leftover Christmas tree, fires can be prevented."
When you are looking over your chimney before starting your first fire of the season, look for fire evidence. Topiel says a fire may have occurred in your chimney if you see puffy or honeycombed creosote, creosote flakes or pieces on the roof or ground, cracked or collapsed flue tiles or tile with large chunks missing, a discolored or distorted rain cap or cracks in the exterior masonry.
Thinking Ahead
In addition to winterizing your home, you might also want to consider any of the upcoming projects that you want completed by the summer. Are you planning to have a deck or patio built? Are you revamping your entire landscape? Though it's too cold outside to start these projects over the winter, it's a great time for planning them out.
"Many people may not realize that winter is a great time to begin designing your spring project and getting it down on paper," says Mark Marias, owner of Sherwood Landscape, Lighting & Design. "We will hand draw a unique hardscape design to suit your needs and budget. This way as soon as the weather breaks, we begin work and you are enjoying your new outdoor space all summer long."
The winter is typically a slower season for landscape companies, which makes it the opportune time to meet with them as well as get on their schedule for anticipating projects before they get busy. If you're planning to have a patio built and wait until spring to call your landscape professional, their schedule may already be booked. You'll also feel like you have to rush through the project rather than take your time planning exactly what you want. If you begin the planning process over the winter, you have a lot of time to put thought into it. Plan ahead and the entire process will go smoother.
Being prepared can go a long way in keeping you safe this winter season. Though the winter weather might not be the most fun to bear, it shouldn't cause you extra hassle— or damage—if you've prepared your home. Preventative maintenance and some forethought can help prevent a catastrophe. And while you spend more time inside, take advantage by getting a head start on outdoor plans to increase your curb appeal and have a new space to enjoy once the weather gets warmer.
Published (and copyrighted) in Suburban Family Magazine, Volume 8, Issue 8 (October, 2017).

For more info on Suburban Family Magazine, click here.
For information about advertising in Suburban Family Magazine, click here.
To find out where to pick up your copy of Suburban Family Magazine, click here.