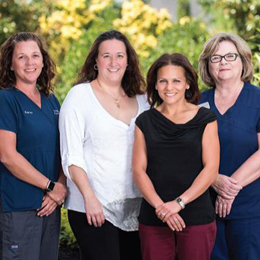 Takes a Village
Village Eyecare
OUR EYES ARE ONE OF, IF NOT THE, MOST PRECIOUS OF OUR SENSES. Experiencing the world and its magnificent features through sight is a privilege for most. While some of us need glasses or contact lenses to help us see clearly, that does not mean those with 20/20 vision shouldn't be seeing their optometrists annually for routine check-ups.
Dr. Sally Halim, owner and optometrist of Village Eyecare in Woolwich Township, took the time to speak with Suburban Family about the most common issues she sees at her practice like ill-fitting glasses, contact lens overwear and abuse, not protecting your eyes from UV rays and dangers of viewing the solar eclipse without proper eye protection.
Finding the Right Fit
For those of us who need a little extra help when it comes to our sight, there are a lot of variables to consider when it comes to the right pair of glasses or contact lenses, especially cost and convenience.
Dr. Halim points out that while it seems easy and inexpensive to buy a pair of eyeglasses online, this could put your eyes in jeopardy. "If you purchase a frame that is too big or too small for your particular prescription, your vision can be completely blurry," Dr. Halim says. "I can give a patient the same prescription in various sized frames and that will affect the thickness of their lenses, which in turn, will affect how they see. In other words, a patient can see far worse just based on the size of the frame."
In addition, if your eyes are not centered in the frame, your vision can be distorted and you can get headaches and even double vision.
There are also various lens materials—with varying thicknesses and optical/visual clarity— and treatments that can be put on your lenses to reduce glare and eye fatigue. Purchasing your glasses from a reputable source, specifically an optical expert, who can discuss these details with you and tailor the glasses to fit your needs, is critical in providing you with the best vision possible. "Simply uploading a picture of yourself to an app and placing a pair of glasses on 'virtually' cannot ensure the glasses will suit your needs," notes Dr. Halim.
And when it comes to contact lenses, Dr. Halim reminds patients to always clean and replace their contacts based on their optometrist's recommendations. "Contact lenses are like a sieve: the more you wear them, the 'looser' they get, which in turn, increases your risk of lipid/protein buildup, oxygen deprivation and infections," explains Dr. Halim. "Severe contact lens overwear, especially sleeping in your contacts (if they are not approved for overnight wear), can cause corneal ulcers and even permanent scars. Some scars are so severe that patients have to discontinue wearing contacts altogether."
While there are a lot of different options when it comes to contact lenses, Dr. Halim says daily disposables are the optimal choice. You simply put them on in the morning and throw them out at the end of the day. There is very little risk of overwear since you're replacing them daily and handling them very minimally. "You change your clothes every day, and ideally, you should be replacing your contacts every day," compares Dr. Halim.
Shades On
Everyone knows the sun's UV rays are harmful to our skin, but it's important to remember to protect our eyes from the sun as well. Wearing the right pair of sunglasses all year round is essential to good eye health.
Dr. Halim says overexposure to UV rays can cause premature cataracts and even macular degeneration.
"All patients, including children, should protect their eyes from the sun, even in the colder months," says Dr. Halim. "Also keep in mind, there are very strong UV rays on cloudy days so make sure you are wearing polarized sunglasses to cut back on the glare."
The Effects of the Solar Eclipse
If you took the risk of viewing the eclipse last month without certified solar eclipse glasses, you may have done serious damage to your eyes.
Dr. Halim says viewing the eclipse, even for a few seconds, without solar eclipse glasses, can cause vision loss equivalent to a welder's flash. The loss won't happen right away, but will show up within one to two weeks.
"Patients with solar radiation will permanently lose a portion of their central vision," explains Dr. Halim.
If you looked at the solar eclipse for any amount of time without certified protective eyewear, make an appointment with your optometrist for a check-up.
Village Eyecare
120 Center Square Road
Woolwich Township
(856) 832-4950
SJVillageEyecare.com
Published (and copyrighted) in Suburban Family Magazine, Volume 8, Issue 7 (September, 2017).
For more info on Suburban Family Magazine, click here.
For information about advertising in Suburban Family Magazine, click here.
To find out where to pick up your copy of Suburban Family Magazine, click here.