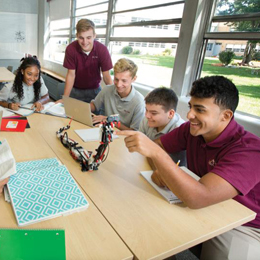 With an Eye on the Future
Holy Cross Academy
Photography by Alison Dunlap
POPE JOHN PAUL II ONCE SAID, "Let us remember the past with gratitude, live the present with enthusiasm and look forward to the future with confidence." Although he wasn't speaking about Holy Cross Academy, no quote better sums up the approach to education that the only Catholic high school in Burlington County is taking into its 60th year.
While Holy Cross Academy is honoring its past, at the same time it is stressing 21st century instructional methods for its current students. "We surveyed both our parents and students to identify courses and interests that they have," says Robert DiMedio, the school's associate principal. "We then used that data to ensure our academic offerings are relevant and appealing to our student body. With the objective of developing our students' creativity and problemsolving skills in a fun way, Holy Cross has added a Robotics Club, in partnership with Drexel University, to ignite our STEM program."
With the addition of this partnership, Holy Cross Academy has begun the process of adapting classrooms to allow students to work in a more collaborative and projectbased environment.
STEM education creates critical thinkers, increases science literacy and enables the next generation of innovators by including courses focused on science, technology, engineering and math. Holy Cross Academy sets itself apart by replicating collegiate scheduling, issuing individual laptops and incorporating virtual snow days. All students are encouraged to sit together in small groups to foster collaborative learning, rather than lecturing from the teacher. This type of learning creates responsibility that allows students to become self-advocates for their education and future careers.
Holy Cross has also partnered with Drexel, Seton Hall and Rowan College at Burlington County on a college credit program. Beginning their sophomore year, students can take courses and earn college credits while attending high school.
"The college credit classes are our most popular courses," DiMedio says. "They allow our students to be more proactive with their college education and it really helps with their career guidance. In addition, it helps the students adjust better to college life while offsetting the price of college tuition.
"We're moving in the right direction," DiMedio continues. "We're marking our 60th anniversary by celebrating what we've already accomplished, while embracing the changes millennials have created in today's modernized society."
While there are plenty of exciting developments happening on the 78-acre campus in Delran, the inclusive foundation that has been built at Holy Cross Academy since its opening in 1957 should not be forgotten. To that end, the school is commemorating its 60th anniversary with one of its most anticipated events, a fundraising gala hosted at the school. The festivities will take place on Nov. 11 from 7 p.m. until midnight. Timothy Durkin, who is spearheading the 60th anniversary celebration along with the Holy Cross Alumni Association, is excited to announce the opportunity to transform Holy Cross Academy for one night into an entertainment venue filled with music, food, laughter, community and 60 years of memories.
Gregg Murphy, a 1989 graduate of Holy Cross who serves as a field reporter during Philadelphia Phillies telecasts, will serve as master of ceremonies for the event. "We're also thrilled to announce live music from the popular local band, Don't Call me Francis," says Durkin. In addition to memories and stories being told, the gym will be filled with vibrant sounds from the high energy, get up and jam type of band. The courtyard will be transformed into a beer garden to host a corporate sponsorship happy hour from 6-7 p.m. before the event.
The Judge Group and Mac's Janitorial Services have already signed on as corporate sponsors for the event by each donating $1,000 or more. Local craft breweries including Tonewood, Double Nickel and Broken Goblet have graciously donated their time and products to the event.
The gala will feature catering from Silver Spoon in Westmont, which has made a personalized menu guaranteed to please. The event will feature butlered hors d'oeuvres and a variety of made-to-order stations catering to all palates and dietary needs.
"As soon as ticket sales became available, they started selling and the reception has been positive," says Dennis Guida, who joined Holy Cross as a teacher in 1979 and has been president/principal since 2006. "We're looking at this as a Burlington County community event."
"Over the years, we've been very successful in academics and athletics," Guida says. "But to me, our students are what make us special. They always rise to the occasion and represent Holy Cross well. Those values are reflected in every class that has graduated from Holy Cross for 60 years and counting.
"I am thankful for the many years of continued support the community has invested in Holy Cross Academy. We take our Catholic identity very seriously, but continue to warmly welcome students regardless of religious affiliation. I see us as a beacon for faith, respect and diversity in South Jersey."
The Alumni Association, faculty and staff welcome alumni and all community members to be a part of this momentous fundraiser on Nov. 11. Tickets can be purchased for $60 at HolyCrossAcademy.org/sixty.
Holy Cross Academy
5035 Route 130 S. | Delran
(856) 461-5400 | HolyCrossAcademy.org
Published (and copyrighted) in Suburban Family Magazine, Volume 8, Issue 7 (September, 2017).
For more info on Suburban Family Magazine, click here.
For information about advertising in Suburban Family Magazine, click here.
To find out where to pick up your copy of Suburban Family Magazine, click here.