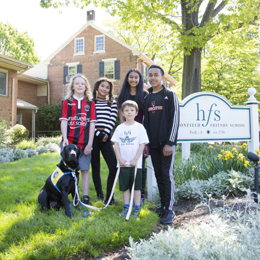 Beyond the Classroom
Haddonfield Friends
photography by Alison Dunlap
As the world evolves, so does education—and schools in our area are taking notice and advancing their curriculum to better serve their students for the world that awaits them. At Haddonfield Friends School (HFS), their programs go one step further as they extend outside the school walls and offer students, pre-K through eighth grade, a plethora of hands-on experiences and programs.
"We implement a curriculum that is progressive, timely and relevant to today's world," explains Head of School Matthew Sharp. "Students act out our curriculum (beyond the classroom walls) via service, environmental studies, presentations and expos, hands-on projects and travel. Our engaging teachers and ideal class sizes enable students to wonder, explore and ask challenging questions via teaching, query and scientific process."
Some of those programs include the school's participation with the Coriell Science Fair, which features students, grades six through 12, from Burlington, Camden and Gloucester counties showcasing their science projects ranging from biochemistry, botany, computer science, medicine and health, physics and more.
"Unlike some schools, all students from our seventh and eighth grades attend the Coriell Science Fair. We do this by preparing them with excellent presentation skills and practice in using the scientific method and design thinking," explains Sharp. "Our students work together with our trained middle school science faculty to learn to present innovative and engaging hands-on science presentations."
In the classroom, the focus behind HFS's curriculum is "authentic learning," as opposed to high-pressure testing. "In the absence of test preparation and testing, we can explore concepts deeply and enrich all students," says Sharp. "For example, in third grade all students receive violin instruction, in fifth grade, recorder and in sixth grade, guitar—not to mention that students receive Spanish instruction every day in sixth, seventh and eighth grade. Our Spanish instruction culminates with an eighth grade trip to Costa Rica where Quaker education comes to life via service, bonding and new friendships."
As for after-school programs, HFS offers an extensive range of clubs and activities students can take advantage of during the year. Whether it's cross country, yoga, soccer or chess, Lego robotics and cross stitch—not to mention a novel writing club, which is escorted to a local coffee shop for discussion and writing—Sharp explains the students' interests take the forefront in these activities. "Our students are able to come as they are and pursue their interests while finding their voice," he explains. "Students are able to practice self advocacy and we utilize reflection, coaching, meditation and mindfulness techniques instead of shaming and punishment."
Yet, with all of these programs and more, education starts at a young age and HFS takes advantage of that with their kindergarten classes. The full-day program—which also offers both before- and after-care—is staffed by two teachers and the curriculum includes hands-on science and math lessons. "Our students utilize microscopes and hands-on math activities to boost confidence and inspire curiosity," says Sharp, adding the kindergarten program also raises a dog, a practice that goes hand-in-hand with raising Canine Companion service dogs, a program HFS has implemented since 2012.
"Our kindergarten class raises a puppy so the children can learn about patience and routine," he adds. "First, they get an understanding of service—the puppy they take care of and love is not theirs. They have to try to make this puppy wonderful, in fact, life-changing for someone else. They, even at age 5, are taking responsibility for making sure the dog has water. They have to respect boundaries and know when they can and cannot play with the pup," continues Sharp. "Haddonfield Friends School has successfully raised four dogs and is currently [raising] the fifth."
While the curriculum is enough to entice, parents themselves praise HFS's programs. Eric Mills and Kristin Carberry's two sons, who are students in fourth and second grades, have both attended HFS since kindergarten and the decision is one they're proud of.
"We were looking for a school with a strong value system and were impressed with the school's real sense of community from the moment we first visited," the parents explain. "HFS has an incredibly diverse population compared to the rest of the region and that was also vitality important to us. Its academic reputation for a rigorous and engaging curriculum was a major factor in our decision.
"From the moment our children walk in the door they are provided innovative experiences that challenge them to learn on multiple levels, which span academics, community and spirituality. Through a rigorous program of academics our children are prepared to thrive in any environment.
Haddonfield Friends School
47 N.Haddon Ave. |Haddonfield
(856)429-6786 | HFSfriends.org
MSharp@HFSFriends.org
Published (and copyrighted) in Suburban Family Magazine, Volume 8, Issue 7 (September, 2017).
For more info on Suburban Family Magazine, click here.
For information about advertising in Suburban Family Magazine, click here.
To find out where to pick up your copy of Suburban Family Magazine, click here.