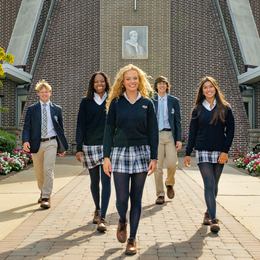 Sharing the Good News
Paul VI High School
Many adults look back on high school as some of the most crucial years in their personal development. While education was at the forefront of everyday life, it was also a chance to try new activities and form bonds with peers. Paul VI High School is an environment focused on academic excellence and inspiring students to pursue their interests both on and off campus.
Founded over five decades ago, Paul VI High School, located in Haddonfield, is part of the Diocese of Camden. Its mission is to provide an education inspired by the Gospel of Jesus Christ while building the spiritual, intellectual, physical and social development of its students. Between the foundational college prep classes and more than 35 cocurricular clubs, Paul VI students have no limits to the opportunities at hand.
One such program is the communications program, which has experienced tremendous growth since its inception eight years ago. Beginning in their sophomore year, students can choose from five electives: digital photography, film production, documentary production, TV production and advanced TV production.
Expansion of this program has been significant, according to Richard Daniels, communications instructor. "Thanks to the support and vision of our school leadership, Principal Sister Marianne and President Mike Chambers, we've been able to expand yearly, both in terms of instruction and technology," he says.
The facilities and equipment rival those you'd find at a professional TV studio. "Our TV studio is very large for a high school facility," says Daniels. "The equipment is extremely sophisticated—equal to or sometimes even surpassing what you'd find at a local university, and approaching the level of a local TV studio." Students are handling professional equipment regularly, much of which has automatic features, but Daniels says students quickly master the operation of these tools and prefer manual operation.
As for content, students in the communications program are sharing the world of Paul VI with the community at large. Last year students produced a 30-second commercial to promote the school's open house, and it aired during Monday Night Football and Flyers games. "Many schools would have to hire an agency to produce something with production values that high, but we have the capabilities right here at Paul VI," says Daniels.
Live streaming has expanded from graduation to include sporting events. This year, all Paul VI sports games played on school grounds will be live streamed, all managed by students in the communications program.
It's not hard to see how this skill set will benefit students for years to come. "Within our program, students develop a strong sense of community," Daniels says. "The structure of the program lends itself to bonding, and it brings out selflessness in our students. Plus, it's fun."
Bonding over faith and shared interests is another unique piece of the Paul VI community. This was a motivating factor to bring the Kairos retreat to the school. According to Fr. John Rossi, director of Catholic identity, Kairos is available to upperclassmen to get them away from the busyness of everyday life—academics, sports and work. "It refocuses them on what is most important in life—their relationships with God and others," he says.
Kairos translates to "eternal time" or "God's time," and is the opposite of the chronological time we follow on a day-to-day basis. "Everything in Kairos is a complete surprise since students do not have access to cell phones, TV or even clocks and watches," says Fr. Rossi.
The retreat is largely student planned and student led, with teachers present for support. The retreats take place four times a year over the course of four days. The response to Kairos has been overwhelmingly positive. "Students come back from retreat on fire with their faith and excited to share the good news with others," Fr. Rossi says. "I also think the closeness students experience with their classmates and teachers over the four days really helps remove barriers and helps them feel like family."
Clare McNamee, director of campus ministry, says the energy from Kairos is contagious. "The desire to share this experience is real," she says. "Many want to be part of the next retreat as leaders. Smallgroup student sharing, experienced at retreat, continues for many and a new club has been formed to keep alive the Kairos feeling."
McNamee says it's uplifting to see high school students excited for their faith and they can't wait to share it.
For information on admissions, programs or tours of the campus, visit PVIHS.org.
Paul VI High School
901 Hopkins Road, Suite B | Haddonfield
(856) 858-4900 | PVIHS.org
Published (and copyrighted) in Suburban Family Magazine, Volume 8, Issue 7 (September, 2017).
For more info on Suburban Family Magazine, click here.
For information about advertising in Suburban Family Magazine, click here.
To find out where to pick up your copy of Suburban Family Magazine, click here.