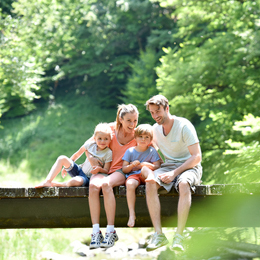 Family Bulletin
September 2017
Oct 4 Cherokee High School Back to School Night,
7 p.m.
Oct 4 Seneca High School Back to School Night,
7 p.m.
Oct 5 Eastern Regional High School Back to School Night,
6:30 p.m.
Oct 5 Lenape High School Back to School Night,
7 p.m.
Oct 5 Shawnee High School Back to School Night,
7 p.m.
Oct 5 Washington Township High School Back to School Night,
7 p.m.
Updates and announcements about
your local
schools
The Moorestown Public School District received high marks from the New Jersey Department of Education's staff evaluations based on the 2015-2016 school year. Out of 306 teachers, 246 were found to be "highly effective" and another 60 were found to be "effective."
Eastern Regional High School continued the 2017-2018 school year with last year's implementation of a "common lunch" period, where students are offered more personalized learning opportunities. All of Eastern's students eat lunch during the same time, but they also have the ability to work in the science lab or schedule a study hall. New this year is a music technology lab where students can produce full compositions, and new technological courses, such as advanced robotics.
News from around South Jersey
The Animal Welfare Association and the Voorhees Animal Orphanage, as well as One Love Animal Rescue in Mount Laurel have joined forces with animal welfare rescues across the country to help save dogs that were left behind during the massive floods caused by Hurricane Harvey.
Rowan's first-ever, on-campus food pantry and resource center, The Shop, received several hundred pounds of non-perishable food items from the South Jersey Dream Center (SJDC), a local nonprofit that reaches out to low-income and struggling families in Gloucester County. The Shop was founded by students Rbrey Singleton and Daniel Cardona for students without the financial means or resources to purchase food or personal care supplies.
Next Cherry Hill Council Meeting:
Sept. 25, 7:30 p.m., N. John Amato Council Chambers, Room 208
Next Washington Township Planning Board Meeting:
Oct. 3, 7 p.m., Washington Township Administration Building
Next Mount Laurel Council Meeting:
Sept. 25, 7 p.m., Municipal Court Room
Next Haddonfield Zoning Board Meeting:
Oct. 17, 7:30 p.m., Borough Hall Auditorium
A Mount Holly woman was struck and killed
while standing outside of her vehicle
on the New Jersey Turnpike. She was parked
near milepost 30.3 in Cherry Hill after she
exited her car to inspect a tire on the right
lane of the roadway when she was struck
by a van.
A Pennsauken man allegedly ingested several bags of heroin
in an attempt to
destroy drug evidence before he and a
Camden man were arrested by Evesham
Police. The Evesham Police Investigative
and Proactive Unit was conducting a
proactive narcotics investigation into the
illegal sale of heroin in Evesham
Township at the time of the arrests.
A Mount Laurel man was arrested for allegedly exposing himself to a female employee at the Super 8 Motel in Mount Laurel. He was charged with two counts of lewdness and was released pending a court hearing.