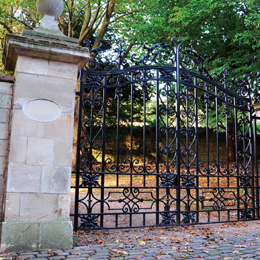 Lasting Legacies
September 2017
Growing up in a family with such a strong bond to a high School only makes education that much more important in a young person's life. Listening to family members talk about their experiences at the same private high school and reminisce about how much they achieved and learned has a larger impact on younger generations than some may realize. When those younger family members finally take their first steps through the halls of the school they have heard about their entire lives, they are only that much more comfortable and are aware of the opportunities ahead of them.
Suburban Family spoke with some of the fam ilies whose legacies go on for decades and even centuries in their respective private high schools to find out what keeps them coming back. We even spoke to school officials to get their outlook on these loyal families. Taking it a step further, we took the time to talk to a few private institutions serving younger students about their family legacies.
PAUL VI HIGH SCHOOL
A co-educational Catholic college preparatory school in the Diocese of Camden since 1966, Paul VI in Haddonfield has been providing an education to its students that will actualize their potential while being committed to the Gospel of Jesus Christ. With such a strong sense of faith and bond to their communities, sending their children to Paul VI is an easy decision to make for alumni.
Bridget (Coulter) Sanchirico is a 1988 Paul VI graduate who has a legacy dating back to 1968. While her brothers, sisters, nieces and nephews have all continued their family's legacy.
The tradition, respect for academic and spiritual growth, intangibles and even uniforms (representing solidarity) are large reasons why Sanchirico's family keeps choosing Paul VI year after year.
"The Paul VI legacy has remained a strong component in our lives since 1968 and will continue through 2021 and hopefully beyond," Sanchirico says. "Our dedication to Catholic schools continues with many of the grandchildren and great grandchildren [in our family] continuing the tradition of attending Catholic schools in their own communities."
President Michael Chambers tells us Paul VI currently has approximately 250 legacy students in its school this year. And while he has heard alumni families tell him the importance and impact of their past teachers and mentors, it's the faith-filled community that keeps them loyal.
"Parents say they would like to see their children encounter a similar nurturing environment and experience achievements and moments like those they had encountered at Paul VI," Chambers explains. "We continue to strive to help all of our students grow as individuals, preparing them to connect and contribute to the larger world."
HOLY CROSS ACADEMY
Located in Delran Township, Holy Cross Academy has a mission to develop young men and women to become well-informed citizens and life-long learners in their communities. A Catholic high school empowered by the Gospel message of Jesus, the school envisions itself as an innovative academy preparing their students for success in their future colleges and beyond.
With such a strong Catholic education, that is only one of the reasons why alumni like Lisa (DiVece) Taylor's family continues to choose Holy Cross. "Holy Cross offers not only a Catholic education, but a strong academic curriculum as well as many clubs and sports programs, and we love the family atmosphere," Taylor explains. "Fortunately, my husband and I stayed local and as our oldest child was approaching high school age, Holy Cross was an option but we didn't want to pressure him to go there. We wanted it to be his choice."
And deciding to follow in his mother and father's footsteps—as well as aunts, uncles and cousins—Taylor's son, Zac, chose Holy Cross and will be a 2018 graduate followed by his sister, Ava, in 2021.
"Our kids have heard many stories over the years from us as well as their aunts and uncles. As a family, we volunteer our time when we can. Right now, we're helping plan the 60th anniversary celebration," Taylor says. "I have helped plan my class reunions for the past 30 years and my husband and I still keep in touch with many of our Holy Cross friends."
Timothy Durkin, director of alumni/facilities, notes if you make a positive impact on a student's life while they are at a school like Holy Cross, they will then think positively about their time and want to send their children there.
"Obviously for sustained enrollment [legacies are] important but more importantly, when you have a family that ends up sending their children here, there's always that special connection for that entire family," Durkin explains. "Holy Cross is not only where they went to high school, it becomes a part of their entire lives."
OUR LADY OF MERCY ACADEMY
Founded and operated by the Daughters of Our Lady of Mercy, Our Lady of Mercy Academy (OLMA) in Newfield opened in 1962. Known as South Jersey's premier, private Catholic high school for young women, there is an undeniable sisterhood that resides within the walls of OLMA and with its alumnae and faculty.
"Family legacies are extremely important at Our Lady of Mercy Academy as they are living proof of our success, staying power and special connection that we maintain with our students once they graduate," says Director of Admissions Mary Jane Kinkade, an OLMA alumna. "We treasure our alumnae and consider it both an honor and privilege to also educate their daughters."
Kinkade says this line of mothers and daughters continues because they have experienced the benefits of being an OLMA student first-hand. Benefiting from a rigorous academic curriculum, a wide variety of extracurricular activities, 12 competitive sports and the spirit of sisterhood that forever bonds them in faith and friendship is what, Kinkade explains, keeps the OLMA legacies continuing.
Paula McCormick, OLMA Class of 1982, says she was so excited and proud when her daughter Allyson made the decision to attend OLMA, saying that she wanted her to spend her high school career at an institution that would prepare her for college and beyond while nurturing her on a personal level. "OLMA helps its students discover themselves academically, socially and spiritually," McCormick explains.
"I took Allyson to an OLMA open house when she was in seventh grade [and] despite the fact that I hadn't been back for several years, I felt right at home," McCormick continues. "I credit that to the spirit of sisterhood that we all share. I'm glad Allyson is part of that. Because of the bond we share through OLMA, she is both my daughter and sister."
MOORESTOWN FRIENDS SCHOOL
Founded in 1785, Moorestown Friends School (MFS) is a co-educational Quaker school serving not only high school-aged students in their Upper School, but all the way down to 3-yearolds. Maintaining a low student-to-faculty ratio, MFS's Upper School offers 18 rigorous Advanced Placement courses to get students prepared for higher education. Committed to offering an environment that is both diverse and inclusive to its students, families feel a strong connection to MFS long after their graduation.
Director of Marketing and Communications Mike Schlotterbeck says there are 34 legacy students currently enrolled at MFS in grades K- 12. And their family legacies go all the way back to the beginning of the school's creation.
"In 1781, 33 Friends families pooled their resources to purchase the land and fund the building of a stone schoolhouse which became Moorestown Friends School," Schlotterbeck explains. "For over 225 years, families keep returning to benefit from rigorous academics combined with a spiritual and ethical education program which develops students with tough minds and tender hearts."
"I had a wonderfully nurturing and enriching experience at Moorestown Friends School for 13 years of my early life and I wanted to provide that for my children," explains Ivy Brown, a 1989 graduate.
Beginning her education in 1976 at MFS in kindergarten, Brown and her two brothers all went to school together for K-12. It was an obvious choice that Brown's two children would do the same.
"I believe that my life experiences have been, in a large part, due to the foundational approach that Moorestown Friends School provided me; instilling a love for learning and developing one's sense of curiosity in addition to recognizing the role one plays within a broader community— making a difference, giving back and enabling others around you to grow," Brown explains. "The MFS community is one that is highly supportive, personal, diverse and one that has high expectations of each another."
High schools aren't the only private institutions with family legacies dating back generations. Check out why families with younger students keep coming back to these private institutions:
Our Lady of Perpetual Help
"Our Lady of Perpetual Help School has been serving the Maple Shade and surrounding communities since 1929, serving generation after generation of families from all walks of life. Our legacy families continue to send their children to Our Lady of Perpetual Help because of our commitment to excellence in education, service to others and family atmosphere."
—Carl Jankowski, principal
Marlton Christian Academy
"I believe families keep coming back to Marlton Christian Academy because we offer a safe and secure Christian environment where their children are nurtured by sincerely caring staff. Parents consistently see our commitment to excellence in everything we do and our desire to partner with them to develop their child's full potential."
—Miriam Wegner, principal
Friends School Mullica Hill
"Legacies are a vital part of our school community. They come back to Friends School Mullica Hill because they believe in the values of the school and they wish for their children to have the same kind of experience that they enjoyed when they were students here."
—Matt Bradley, head of school
St. Mary of the Lakes School
"Families continue to return to St. Mary of the Lakes School because of our supportive faith community, rigorous academic tradition and enriching co-curricular activities. St. Mary of the Lakes School prepares students to be leaders in high school and beyond. We are proud of our alumni and look forward to seeing the accomplishments of many more generations of St. Mary of the Lakes students and graduates."
—Amy Rash, principal
Haddonfield Friends School
"Families continue the tradition of Haddonfield Friends School because of our learning community; our students can present, apply the scientific method to solve problems, think outside the box and show compassion in their community."
—Matthew Sharp, head of school
Published (and copyrighted) in Suburban Family Magazine, Volume 8, Issue 7 (September, 2017).
For more info on Suburban Family Magazine, click here.
For information about advertising in Suburban Family Magazine, click here.
To find out where to pick up your copy of Suburban Family Magazine, click here.