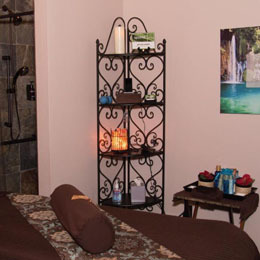 Relax. Escape Thrive
August 2017
THERE'S REALLY NOTHING LIKE A SPA DAY during a vacation or getaway to a beautiful exotic place. The memory of a relaxing massage, the sounds of peace and quiet, even the scent from a luxury resort experience may be memories that get you through those cold and blustery days, working overtime in the office as you count down the months until your next trip.
The best news is that a resort-like spa experience is available right at home. Thanks to Spavia in Moorestown, operated by Aaron and Danielle Katzoff. Spavia Day Spa is part of a national brand that is currently the No. 1 fastest growing franchise in the world, according to Entrepreneur Magazine. Spavia brings those national resources into an intimate, luxury setting, creating a spa retreat and an exceptional experience right in Moorestown. "The founders, Allison and Marty Langenderfer, wanted to create a resort-like spa with resort-like amenities at affordable prices so that our guests could enjoy spa treatments more often in our community," explains Aaron Katzoff. "We want to deliver an experience that our guests can't live without and make a positive difference in the lives of others, one guest at a time."
Spavia's mission and vision is what attracted the Katzoffs to Spavia. "Spavia as a franchise really jumped out to us," explains Danielle Katzoff. "We flew out to tour the Spavia locations in Denver and Boulder and I was blown away. It had the feel of a high-end resort spa and I knew we had to bring this day spa concept back to the East Coast."
"[My husband and I] experience resort spa treatments when we travel, but we never found that real experience at home. To visit and just receive a massage locally, always felt rushed and a little uncomfortable," says Danielle Katzoff. "So, when we received that resort- like experience at Spavia we thought, 'People need to experience Spavia' and it's affordable— a treat that people won't feel guilty about indulging in." It is no wonder that they have had some high profile athletes from Philadelphia sports teams frequent their spa.
The Spavia resort-like experience begins when you walk into the reception area and are greeted by one of their friendly guest advisors. Each guest begins with a welcome form, where they may customize every aspect of their spa treatment from music to an exotic lotion scent.
Spavia offers many options to deliver an experience they can't live without. Some of Spavia's offerings are Swedish, deep tissue, sports and maternity massages, along with a line of results-driven skin care facials, waxing, body wraps, body scrubs, paraben-free spray tans and make-up.
After completing your welcome form, a guest advisor will personally escort you to the changing areas where you are greeted with a spa robe and spa sandals. Once you are dressed, enjoy a warm aromatherapy neck pillow, tea and inspirational readings in their men's and women's retreat areas to truly relax and escape. It is the retreat rooms where your specialist will greet you and escort you into your private treatment area for your luxurious spa treatment.
"In a traditional massage experience you'll walk into the lobby, go into your room, get changed and receive your treatment all in one room. Then you change quickly, leave the room and you're done," says Danielle Katzoff. "With Spavia, you experience so much more to relax, escape and thrive in a tranquil setting and leave feeling amazing."
All treatments are performed by professionally licensed estheticians and massage therapists. The expert estheticians provide results-driven facials customized to your skin care needs. Spavia also offers corrective skin care such as restorative peels as well as hydraderms. "Our hydraderm treatment is one of the most popular skin care treatments at Spavia, which is a microdermabrasion with serum infusion for maximum results," says Aaron Katzoff. "We are also excited to introduce eyelash extensions, which are in high demand in the spa industry."
"Guests most appreciate the luxury resortlike experience at an affordable price. Our goal is to deliver an exceptional experience to help you relax, escape and thrive. Spavia is what you need more often," says Danielle Katzoff.
Spavia features three wellness membership programs that include special offers available only to members. "We find people return again and again and eventually realize that a membership just makes sense to them," says Aaron Katzoff. "We never want to pressure someone into a membership, but after such a relaxing experience and offering the options to our guests, it's just what they want to do and be a part of our membership and the Spavia family."
Spavia also has spalebrations™. "We love to celebrate and host spa events for your special occasion," says Danielle Katzoff. "From bridals parties, birthday parties to corporate events, Spavia would love to host your spalebration™."
"Spavia is truly a special getaway in your town. Our treatment rooms and retreat areas offer the resort-like experience and amenities, all at affordable prices," says Danielle Katzoff. "We invite you to visit and relax with us soon."
Published (and copyrighted) in Suburban Family Magazine, Volume 8, Issue 6 (August, 2017).
For more info on Suburban Family Magazine, click here.
For information about advertising in Suburban Family Magazine, click here.
To find out where to pick up your copy of Suburban Family Magazine, click here.