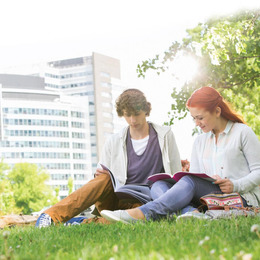 The Pursuit of College Funding
August 2017
Going the Extra Mile
Brooke A. Coyle, head of school at Our Lady of Mercy Academy (OLMA) in Newfield, says the importance of extracurricular activities is a huge aspect of getting scholarship money. "Colleges and universities are looking for well-rounded students who not only perform well academically, but contribute to the school community in some way," Coyle says. "They also want students who know how to manage their time—a skill that you can't help but develop when juggling both academics and outside activities."
Here are four ways Coyle says extracurricular activities help you stand out from the crowd:
TIME MANAGEMENT: Students juggling both academics and additional activities will develop this skill which is exactly what colleges and universities are looking for.
LEADERSHIP SKILLS: Extracurricular activities are a great way for students to discover and demonstrate these natural abilities and talents that they didn't know they had before.
SHOWING PASSION: Being involved in one activity wholeheartedly demonstrates your commitment, passion and involvement more than doing 10 activities with limited involvement.
EXPERIENCE: Extracurricular activities not only allow students to discover themselves and their talents, it allows them to gain valuable experience—the kind of thing institutions look for in scholarship essays.
Starting the Search Early On
"Scholarships are defined as gifts of money for educational purposes that do not have to be paid back," says Carol Basara, assistant principal at Paul VI High School in Haddonfield. "There are many sources of scholarship money, most coming from the colleges and universities themselves. Scholarships offered by colleges or universities may be merit- or need-based." Whatever the case may be, Basara says it is best for students to start their research early on to locate scholarships and decipher their requirements.
Below are three tips Basara says will leave students most productive when applying for scholarships:
BE EQUIPPED WITH YOUR OFFICIAL SCHOOL DOCUMENTS: Your high school transcript, SAT/ACT scores and financial aid information may be requested when applying for scholarships. Have them at the ready so the process isn't slowed down.
FOLLOW INSTRUCTIONS WHEN IT COMES TO ESSAYS: Scholarship essays usually have a clear cut-and-dry topic that is to be written about. Focus on this and stick to the word count they set. No one wants to decide if you deserve scholarship money after eight pages past the word count limit.
PAY ATTENTION TO DEADLINES: Remember that all of the necessary materials need to be submitted by a certain date. If your scholarship application requires a letter of recommendation, you will have to be sure to give the writer enough time to turn this around before your deadline.
Scoring High
It's no secret that SAT scores weigh heavily on college applications, but they also help divvy-up scholarship money. Rich Bernstein, owner of Huntington Learning Center in Cherry Hill, says, "Many colleges have a number that they look at where they compare SAT/ACT scores and GPAs on an x and y axis and determine what the scholarship is based on the combined scale." He says it's usually never just one or the other, so it's best to focus on succeeding in both areas.
For parents, here are three ways investing in a tutoring center like Huntington can benefit your search for college funding for your student:
GAINING AN EDGE: For students who are specifically looking for scholarship money, investing money into a tutoring center can boost their scores up to give them an edge over the competition.
CHOOSING BETWEEN SCHOOLS: Getting high SAT/ACT scores can be the determining factor between choosing the private institution that is the first-choice or the state school that is more affordable. Higher test scores can lead to scholarship money making the private school more affordable.
GETTING TO THE TOP: From Bernstein's experience, most schools are looking at the top 20-30 percent of SAT/ACT scores when it comes to giving out scholarship money. The higher your student's score, the better chance of getting money to afford their higher education.
Investing Now
Of course parents are thinking about how they are going to pay for college when their children are born, but there could be another outlet of where to invest their money to pay for college in the long run. Timothy Durkin, director of alumni/facilities at Holy Cross Academy, says investing in a private high school education will ultimately earn them college money in the long run.
Following is how you are benefiting from a private high school education for college:
AP COURSES: Offering 46 courses currently, Holy Cross Academy is on the cusp of 52 courses in the coming year, making them established as an associate degree program with Rowan College at Burlington County and Seton Hall University.
BEING ABOVE AVERAGE: The statistics at Holy Cross show that the average student is walking into college with more money than the average public school student.
GETTING A RETURN: Parents get a return on their investment based on the scholarship money those private school students get upon graduation. That money can go right to college to equal savings.
Finding Other Options
While scholarship money is definitely something that every child and parent wants, there are other ways to get money for college. Stan Molotsky, president and CEO at SHM Financial says, "You need to start planning [for college] as soon as the child is born, otherwise it gets progressively harder and harder." And there are other options out there than relying on your child to get their own scholarship, many of which can begin when the child is born.
These are three other options for college funding outside of scholarship money:
529 PLAN: This plan delves out money to a variety of investment vehicles to grow. When the money comes out for use, as long as it is utilized for higher education, it is not taxed. Putting away this money early allows it to grow and bounce back in case of a negative reaction to the markets.
ASSETS, STOCKS, MUTUAL FUNDS AND ETFS: Setting up these kinds of accounts where parents act as a custodian for the child, using the child's social security number, so that they are at a lower bracket for tax implications.
JUNIOR COLLEGE: Save the money from a four-year institution by going to a junior college. Earning the credits you need for your basic required courses and transferring them to a four-year college or university after will save more money in the long run.
Published (and copyrighted) in Suburban Family Magazine, Volume 8, Issue 6 (August, 2017).
For more info on Suburban Family Magazine, click here.
For information about advertising in Suburban Family Magazine, click here.
To find out where to pick up your copy of Suburban Family Magazine, click here.