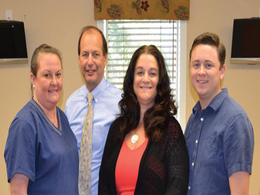 Alex Colallilo Orthodontics
Profile
AS THE NEW SCHOOL YEAR APPROACHES, we are all reminded of the class pictures that come along with it. We know our children face so many other pressures in school, feeling insecure about their smile shouldn't be one of them. To ensure our kids are always smiling confidently in these pictures, consulting an orthodontist from an early age is important and helps detect and correct issues early on.
Dr. Alex Colallilo has more than two decades of experience in delivering the latest orthodontic treatment to children, teens and even adults. You might even say he was raised in the practice of orthodontia, as he followed in his father's footsteps. "I have had a passion for my career since I was young," says Dr. Colallilo. "My father was an orthodontist and from an early age I was able to see the difference he could make in a person's life."
A beautiful smile is truly a boost of confidence for a person, no matter what age. According to Dr. Colallilo, the American Association of Orthodontics recommends children first see an orthodontist at age 7. "At this age, children have a mix of baby (primary) teeth and their adult (permanent) teeth," he says. "Early treatment for some patients may avoid the possibility of tooth extractions and more serious complications." Each individual child's jaw growth and other factors will determine the ideal time for braces.
Treatment options have also come a long way in recent years, which is another reason seeing an experienced and qualified practitioner is so important. "Good communication about treatment options is essential as new technology offers the patient a variety of choices including early treatment, clear plastic retainers (commonly known as Invisalign) and more traditional braces which are available in ceramic (tooth colored) and traditional metal finishes," Dr. Colallilo says.
His offices offer all of the traditional treatments, as well as some of the more advanced options. "We provide all options including clear aligners, traditional braces, self-ligating, ceramic braces and metal braces. Each option has pros and cons depending on the patient's needs, so it is important for the patient to discuss the details with his or her doctor," he says.
And you can always count on Dr. Colallilo to make time for these discussions. He prides himself on the patient-centered atmosphere and provides personal attention to every patient. "I see every patient on every visit," he says. "Patients receive a detailed treatment plan explaining their dental problem and recommended treatment. We want our patients to succeed. At the initiation of treatment with braces, all patients are provided with a complimentary electric Sonicare toothbrush and cleaning aids to assist in maintaining healthy teeth and gums. Working together, gaining the confidence of the patient helps to produce beautiful, healthy smiles."
But orthodontic treatment goes beyond smiles. It can also impact other areas of a person's health, says Dr. Colallilo, and can be particularly beneficial to adults.
"Problems reflected in a person's mouth are often related to allergies, conductive hearing problems, earaches, sleeping and breathing disorders. These problems develop and increase in life and manifest in adults; some of these problems can be reduced or perhaps eliminated through orthodontic treatment," he says. "Recently these issues, such as airway management, have come to the forefront in orthodontic discussions. In my orthodontic residency, I was able to do research that indicated to me that orthodontic problems represent symptoms of larger health concerns; I have continued this focus on the larger picture throughout my career."
Patients who suffer from these issues may consider treatment options like snoring or sleep apnea appliances.
No matter what treatment you are receiving, Dr. Colallilo believes in recognizing each patient's efforts as part of the plan he's set them on, since there is a lot of responsibility placed on patients in between visits. His offices regularly recognize a patient of the month. "It gives us a chance to make someone feel special in the way that they are participating in the treatment plan. Recognition in the form of gift certificates to the patient is always well received," he says.
He is also spreading the word about smart oral health throughout the community, and even visits local schools for educational outreach. "We have enjoyed meeting students, parents and teachers, sharing our expertise and helping others to understand the importance of making good healthy choices throughout life through our program 'Thumbs Up for Good Dental Health,'" Dr. Colallilo says. "Being part of the community helps to demystify 'what happens when you need braces' and helps patients become more comfortable with the process."
It's clear Dr. Colallilo was meant to follow this career path, and not a day goes by that he isn't rewarded with a smiling patient. "The impact that good dental health and a beautiful smile can have for a person is priceless," he says. "The best part of my day is seeing the satisfaction and pride that my patients have when they have finished treatment."