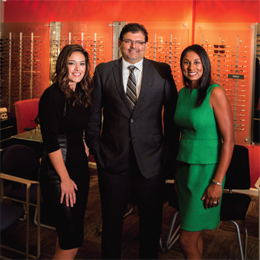 Bridging the Gap
Health care services are ever expanding, especially in South Jersey, where new, large medical facilities seem to be opening all around us. Yet despite this, people still yearn for a personal touch in their treatment.
Dr. Sanjay Kamat has sought to provide that personalized attention to his patients throughout his impressive career. For seven years he worked at Einstein Medical Center in Philadelphia performing complicated cataract, oculoplastic trauma and anterior segment surgeries. Dr. Kamat is also a clinical instructor at Wills Eye Institute in Warminster, Pa., and is on staff at Aria Jefferson Bucks County campus and Campus Eye Group in Hamilton, among others.
In 2008, Dr. Kamat transitioned into private practice in the very Bucks County neighborhood where he lives. It was perfect timing for a dream he never thought would come true."When I found out that my own family's ophthalmologist was planning to retire, it was an appealing opportunity to be a small business owner in the community where I live," Dr. Kamat says. Eight years later, Bucks Eye Specialists in Yardley, Pa., has grown physically through office expansions, as well as technologically, by offering the latest in vision treatments.
His reach into New Jersey came just last year when he opened Briggs Eye Specialists in Mount Laurel, a practice he acquired from a retiring colleague at Campus Eye Group. Dr. Kamat renovated the 7,000-square-foot building, which has four exam rooms, a full-service optical shop and an on-site lab where an optician crafts eyewear while patients wait.
Dr. Kamat says he felt South Jersey was in need of a small, private and personally oriented practice offering optometry, ophthalmology and optical services under one roof. "We wanted to apply our methodology from Yardley here in Mount Laurel, which is concentrating on personally oriented exams and a lot of chair time with the doctor," he says. "In some larger group practices you can have long wait times or the exam is done by a technician and then the doctor sees you for a matter of minutes. We don't operate like that. We're more old-fashioned."
In Mount Laurel, Dr. Kamat is joined by Dr. Cindy Chhedi, a lifelong New Jersey resident with more than 10 years of experience practicing optometry. She is trained in the detection and management of ocular diseases such as glaucoma, macular de- generation and diabetic eye disease. She's also adept at fitting various types of contact lenses, including soft, multifocal, toric or astigmatic.
Dr. Kamat says they approach each patient individually and present them with their best courses of treatment to achieve as close to 20/20 vision as possible. "Our job is to objectively inform a patient of all their options and answer questions, but not sell them something," he says, adding that many come in asking for Lasik surgery without thinking of alternatives that could be more effective.
"Lasik is wonderful, but it's not a permanent fix. We'll see a lot of younger patients in their 30s who want to get away from glasses, but in 30 years they could develop a cataract, requiring surgery again that Lasik won't fix," Dr. Kamat says.
He names the new Abbott Tecnis Symfony intraocular lenses, the only lenses in the U.S. to pro- vide a full range of continuous high-quality vision following cataract surgery, which also have the ability to mitigate age-related farsightedness and can be fitted for those with astigmatism.
"I've been a fan of Abbott Medical implant lenses for a while. With the Symfony lenses, even those with astigmatism, can undergo this relatively short surgery and within days they are seeing 20/20," he says. "It's exciting to be able to do that for anybody."
Dr. Kamat says cataract patients will also benefit from these lenses. Both the Yardley and Mount Laurel offices have all the equipment to conduct a thorough exam to determine who is a candidate for the lenses.
And if dry eye is a concern, Briggs Eye Specialists is on the cutting-edge with treatment for this surprisingly common problem—suffered by approximately 40 million people in the country. Dry eye is most common in postmenopausal women due to hormone changes, but other issues like gland dysfunction, diseases, environmental factors and even the use of tablets and computers can cause dry eye.
Five years ago, Dr. Kamat was the first practice in the Philadelphia area to introduce IPL—Intense Pulsed Light—treatment for dry eyes. IPL delivers short, powerful bursts of light at specific wavelengths to the eye. Along with IPL, he offers what he calls "sister therapy" through Lipiflow, an FDA-approved procedure that is like a massage for the eyelids.
Offering these state-of-the-art treatments connects with the root of Dr. Kamat's vision to provide a diverse array of options to fit each individual patient. "Our push is to try to practice medicine with personalized attention but still offer all the latest technology," he says.
Patients will feel welcome from the moment they step through the front door all the way until they finish their visit. "Dr. Chhedi is so compassionate and knowledgeable," Dr. Kamat says. "Every- one contributes to the warm and inviting feeling in the office, and there is a lot of open communication between all of the doctors in both offices."
Dr. Kamat says he is hoping to expand Briggs Eye Specialists' office hours, as well as bring on cornea and retina specialists in the near future.
Briggs Eye Specialists
2026 B Briggs Road
Mount Laurel
(856) 235-1211
BriggsEyeSpecialists.com
Photo courtesy of Jody Robinson
Published (and copyrighted) in Suburban Family Magazine, Volume 7, Issue 12 (February, 2017).
For more info on Suburban Family Magazine, click here.
For information about advertising in Suburban Family Magazine, click here.
To find out where to pick up your copy of Suburban Family Magazine, click here.