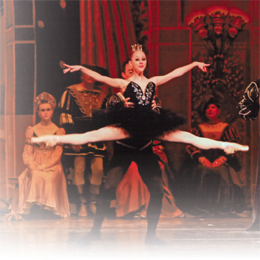 Shall We Dance?
The beauty of a ballet performance is not without many dedicated hours of practice, honing techniques and learning just the right movements to accomplish the perfect finale. David and Rosemary Gallagher understand this very well. As the couple behind BalletNj, the Gallaghers work with some of the area's most dedicated ballet students to master their skills in ballet, preparing them for a bright future.
We spoke with David Gallagher about BalletNj's summer intensive program, a five-week schedule designed to give ballet students a focused look at their craft. Gallagher—whose resumé includes seven years of professional ballet, certifications from the Jacqueline Kennedy Onassis School at the American Ballet Theatre, a position as Outreach Coordinator at the Pennsylvania Ballet and much more—explained what sets BalletNj's summer intensive program apart from the rest.
Why is a summer intensive program important?
Students are free to concentrate on their training full-time without the demands of school. They'll be taking a lot more classes, doing what usually takes 10 weeks of lessons during the school year in just five. They are able to really focus on that training, which is usually when you see the greatest progress being made.
Is there an end-of-summer performance?
The summer intensive is focused on honing their skills, so there is no focus on an end-of-year program, because you could spend so much time focusing on a specific project that you lose the focus on the skill set. We will be working on the vocabulary from the repertoire of BalletNj and other classic ballets such as Sleeping Beauty and La Bayadere. It expands their view of the possibilities of dance and allows you to attack certain technical challenges that are designed in each ballet. During this program we will focus on those challenges with the emphasis on the vocabulary that defines those classic ballets.
Do you have a lot of students go on to dance professionally?
Compared to the size of our school we do have a lot of dancers go onto the professional world in ballet companies, Broadway and contemporary dance. We have dancers all over the country dancing in ballet. But our primary focus for parents is to prepare your child to be successful, to teach them to set goals and to attack those goals. They are intrinsic values that appeal to all students, whether they go on to dance professionally or not.
What's new with this year's summer intensive?
The faculty is new. We'll have Bill DeGregory here, a former principal dancer with the Pennsylvania Ballet and former director of the School of the Pennsylvania Ballet, who will be joining our full-time faculty. He's bringing 40 years of experience to our older dancers. Max Baud, the director of the Joffrey Elite, will also be joining us, teaching a Broadway dance class to the older dancers. We'll also have Jordan Martin, a principal dancer with the Louisville Ballet and BalletNj alumnus, with us for the summer.
Is this a good program for younger dancers?
Starting them young is so important. We have weekly programs for 3-, 5- and 6-year-olds, where they will focus on the initial ballet training. In a disciplined, ballet-only program they can decide on their own and decide if that appeals to them. And a summer course is a great way of testing the water because it's only five weeks. It's a great amount of time to learn if this is something they want to do or want to embrace.
Is the summer intensive program available to all students, or just BalletNj students?
We have many people come into our program who aren't a part of BalletNj already, ranging in all ages. We also have children come in from other local dance schools looking for that intensive program that they can't get at their yearly dance school. Strict ballet choreography is the foundation of all dance, from hip hop and modern to jazz. So to understand the technical side of dance, to learn the formatting of dance, it really helps to have the full-time ballet experience of a summer intensive program. We don't recruit students, make them sign contracts or pressure students to stay. But we also have students finish the ballet intensive and enjoy the program so much that they'll take it throughout the year alongside their other program, or join us for the rest of the year.
What sets BalletNj apart from other schools?
We focus entirely on ballet. There aren't many ballet- only schools in New Jersey. We only offer ballet, and it gives students the foundation for other dance. This is a very accessible school. Our children come for the summer to experience our amazing faculty. And this is intense and affordable ballet training. You are gaining accessibility to world-class teachers and mentors in a ballet-only focused environment.
BalletNj
401 Bloomfield Drive
West Berlin
(856) 768-9503
BalletNj.org
Facebook.com/BalletNj
Published (and copyrighted) in Suburban Family Magazine, Volume 7, Issue 12 (February, 2017).
For more info on Suburban Family Magazine, click here.
For information about advertising in Suburban Family Magazine, click here.
To find out where to pick up your copy of Suburban Family Magazine, click here.