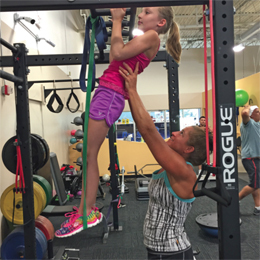 The Whole Package
Walking into a new gym for the first time can be extremely intimidating and give new clients anxiety about working out. At ProSwim Fitness, the trainers take into account the feelings of new clients and do everything they can to make them feel as comfortable as possible working out at ProSwim Fitness.
"We are definitely geared toward one-on-one interaction," says owner Bernie Finch. "It is a non-intimidating environment where your goals are our goals. We set up programs together and we keep you accountable, we keep you committed and we keep you motivated."
The 6,000-square-foot facility of ProSwim Fitness is broken into 4,000 square feet of dry training and 2,000 square feet of wet training.?
Their dry training programs are personalized to each client to promote performance, strength and flexibility. Their programs include: Functional Movement Train- ing, Performance and Strength Training, High Intensity Interval Training (HIIT), Circuit of the Day (COD) and group classes.
But what really makes ProSwim Fitness a unique exercise facility is their wet training aquatic center. Their aquatic fit- ness classes include: Aqua Circuit Overload, Wet Barre and Sports Aquatic Cross Training. They also offer Aquatic Therapy that can benefit neck and back pain, sports in- juries, arthritis, post- operative conditions and many more.
"We know that folks want to stay active longer and it's harder for you to run as you get older with knee is- sues and hip issues," says Finch. "So we have a water facility that helps people get back into fitness using water treadmills to get them back into shape and then into our land-based program and get them back into an active lifestyle."
The aquatic center also offers swimming lessons and swim stroke analysis and instruction. Their endless pool allows swimmers to work on their strokes by utilizing bottom and front mirrors, an in-water video system and real time video feedback that allow swimmers to see themselves and work on corrections.
The family-owned and operated business does not believe in memberships that people buy and don't use. Instead, they believe in purchasing packages specifically geared to each individual's needs and goals. Your success is linked to being committed and motivated while using your personalized program. Programs include wet and dry training packages up to 12 sessions per pack that do not expire for six months. They have various specials and discounts based on usage and number of sessions per pack.
"I started going to ProSwim Fitness about a month ago after searching for a way to exercise despite acute pain from arthritis in both knees. From the moment I walked in the door for my first visit, I knew I was in the right place. The atmosphere was incredibly welcoming which was important to me, as the thought of going into a gym to work out with a trainer was something fairly intimidating. The friendliness and professionalism of the staff, their willingness to help me set goals and create a customized program to achieve them and the remarkable resources of the ProSwim's Endless Pools and other state-of-the art equipment combined to make this a no-brainer for me. My experience so far has been absolutely fantastic, and I've already increased my weekly visits from two half-hour sessions to four one-hour sessions as a result of the success—and the fun—I'm encountering on my journey."
– Bob Jacobs, 53
"We had the opportunity to talk with Bernie and the [swim with video analysis] is something we have always wanted to do and [ProSwim Fitness] is so convenient. His setup there is perfect because it gives immediate feedback to the swimmer so we are able to give corrections. Our coaches are working with his people and basically we are looking at immediate corrections from the coach for the swimmer. The swimmer sees it, gets back in, works on the correction and if there is still a need they do the process again. If they get [the correction] at one stroke then they move on to the other three strokes. If it takes one swimmer several sessions to do one stroke [correction] then that's what we do. It's perfect in terms of immediate feedback and the swimmer is happy and we are happy. We are scheduling swimmers as we speak."?
– John Carroll, head coach and manager at Jersey Wahoos Swim Club
Published (and copyrighted) in Suburban Family Magazine, Volume 7, Issue 9 (November, 2016).
For more info on Suburban Family Magazine, click here.
For information about advertising in Suburban Family Magazine, click here.
To find out where to pick up your copy of Suburban Family Magazine, click here.