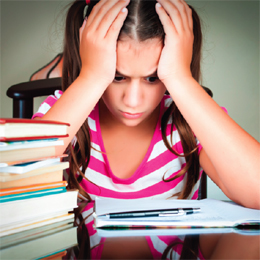 Mastering Study Skills
While there are many tutoring services out there, one thing that sets I.C.E. (Innovative, Collaborative, Educational) Tutoring apart from the crowd is that founder Shirley Allen has spent numerous years in the classroom as well as a district administrator before launching her tutoring business. Full of knowledge and helpful advice, Allen knows she can make an impact with students by offering her personalized tutor- ing services.
We sat down with Allen, a Best of Family winner for strategic tutoring, to find out a bit more about her tutoring services.
Do you have any specialties that can really benefit students??
Organizational and study skills are just a couple of the specialties offered that students often need. During my years in the classroom, I found that students had to be taught how to organize them- selves. In many cases, it's an area where students become more productive achievers. In this day and age of high technology, I still like to start each session with a monthly calendar where students can look ahead at everything they have due within that month.
How has planning out a calendar helped your students??
Whether it's reading several chapters or studying for tests, we get everything plotted out on the calendar. If it's reading that's due at the end of a week, we will take the total number of pages or chapters and divide them up over the number of days, so each day the student completes that reading without being overwhelmed by it the day before it's due. Oftentimes, students may have more than one test on the same day. To avoid panicking the day before, we break up the studying days before, so the night before it's more of a review of just the material that needs more reinforcement.
Who do you believe can benefit from tutoring services??
It is not just students who are weak academically. I have students who are almost always "A students" but really need those organizational skills so they can be productive in all aspects of their lives. I have students who seek support in turning a mundane college application essay into a "wow" essay. I see students who have difficulty balancing their studying with sports and extra-curricular activities. I see students who need additional support in reading or writing skills. It is very important that students are proficient in all formats of nonfiction reading and writing, so I provide sessions to boost their skills in those areas.
What else can you suggest to keep busy students from getting overwhelmed??
In previous group study skills sessions, I've talked with parents and their children about a brief family meeting every Sunday to kick start the week on a positive note. I highly recommend keeping a family calendar in a central location that has everyone's activities, including doctors' appointments, etc. available so students know when those appointments are so they can plan around them instead of finding out right before they occur. Knowing the week ahead of time is important be- cause changes still can occur so then adjustments can be made more easily.
What can parents and students expect from a session with you??
Initially, I always like to speak with the parent(s) and the student(s) together. It's important to find out exactly in what areas support is needed from each of their perspectives. Then I'll work one-on- one with the student, and then talk with the parent again at the end of the session. The focus of the session will determine the materials needed. If I'm working on study skills, I like to see previous tests to determine where the student went astray. Perhaps it was more than just ineffective studying. Maybe it was pacing or uncertainty of what the question was asking. Numerous factors can impact poor scores on a test. Once we understand the issues, we can work on solutions.
Here's what parents and students are saying about Shirley Allen and I.C.E. Tutoring…
"Shirley is an amazing person, tutor and mentor who helped me learn the true meaning of studying. I have always been an excellent student but lacked the tools needed to understand how to study, manage my time, prepare for tests and properly organize my materials. Shirley taught me all the skills needed to succeed not just in school but in my life."
—Carlie
"In eighth grade our daughter was struggling with school work for the first time in her academic career. It wasn't her ability or intelligence but that she never learned how to study. Shirley Allen was recommended to us. With Shirley, Becca learned how to study, to juggle her work load and we hoped she would transition to high school on a more positive note than how middle school ended. And it was a success! Becca says: 'Everyone needs a Ms. Shirley! She is helpful and I'm more organized and less overwhelmed.'"
—Paula, Dave and Becca
"Shirley is the key to success and the perfect accessory to a student's life."
—Melissa
I.C.E. Tutoring
Mount Laurel ?
(609) 230-0775 ?
ICETutoring.com
Published (and copyrighted) in Suburban Family Magazine, Volume 7, Issue 9 (November, 2016).
For more info on Suburban Family Magazine, click here.
For information about advertising in Suburban Family Magazine, click here.
To find out where to pick up your copy of Suburban Family Magazine, click here.