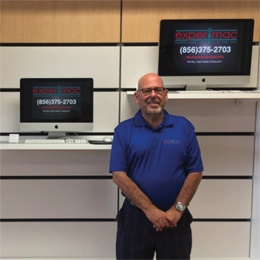 Tech Expert
Just when you thought there was no hope for your broken Apple product, Glenn Trommer opened a new store full of options ranging from buying, selling, trading to repairing pre-owned Apple equipment. In other words, Experimac, a franchise store located in the Lee Newman Plaza in Cherry Hill since July 2016, is the only store of its kind in the Philadelphia metropolitan area that offers such services.
We just don't only do repairs, we also have the product here," explains Trommer, owner and operator and former e-commerce director at Office Depot. "We provide a 90-day warranty on all of our products, whether it be purchasing a piece of hardware or on a repair, a lot other companies don't do that. ...if anything goes wrong with the machine or anything goes wrong with the repair, we'll replace it at our cost," Trommer adds.
"We are really unique because we're the only ones in the area that do this buy, sell and trade portion of it and have a showroom full of equipment. The warranty, as well as the return policy that we provide, is unique to us within this industry. ...There's really a large secondary market for Apple products. They tend to maintain their value a lot better than PCs do and tend to per- form better as well."
The equipment Experimac works on and sells ranges from the iPhone©,iPad©,MacbookPro©and Macbook Air © to desktop iterations. His staff—whose backgrounds range from computer science and sales—is ready to evaluate any piece of equipment in-store and even make an offer right on the spot.
"We'll do a whole evaluation process on the actual computer [or product] itself, taking a look at the memory, the storage, how much life is up in the battery, how the screen looks and so forth," explains Trommer. "It's really a whole device appraisal process that we go through and then based upon that, we'll make an offer for the product and we'll pay you right there if you accept the offer."
Another option for customers selling products is Experimac's value trade, which can be used to trade for another item in-store. "We provide financing so people can afford to buy the product right away," says Trommer. "We work in conjunction with Mariner Finance on financing customers' purchases and it's worked out very well.
"We sell really high quality products at a very reasonable price," he adds. "People can actually save up to 60 percent off retail off the original Apple retail price for the product that they're buying."
In regards to turnaround time for repairs, Trommer explains it depends on the type of damage incurred on a product. "If it's a computer problem with a board issue, that could take as long as a week, but if it's an iPhone © with a broken screen, that could be finished in as little as 30 minutes."
As far as recycling services goes, Trommer assures customers every piece of equipment is completely wiped clean of its data to avoid any breach of information. "We wipe every single piece of equipment that comes in here or somebody sells to us so that there is no traceable data and data is totally secure," he says.
"We can [also] recycle by donating [products] to Goodwill and they take care of the recycling. With respect to the battery, we take the batteries someplace that is qualified as a recycling [location]."
With all the services available at Experimac, Trommer is quick to add the franchise has already embedded itself in the fabric of the community. "We're sponsoring two scholarships at Rowan College at Burlington County; one for technology and computer science, the other ones are for entrepreneurs. We've [also] provided support for cancer fundraising events through Cooper as well as blood drive at Cherry Hill High School East. ...We're doing very well so far. We're really happy with getting our name out into community."
Experimac
2076 Route 70 E., Cherry Hill
(856) 375-2703
Experimac.com
Published (and copyrighted) in Suburban Family Magazine, Volume 7, Issue 9 (November, 2016).
For more info on Suburban Family Magazine, click here.
For information about advertising in Suburban Family Magazine, click here.
To find out where to pick up your copy of Suburban Family Magazine, click here.