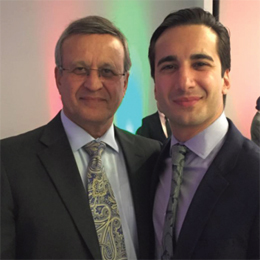 Right at Home
A truly healthy lifestyle involves many different components, from staying on top of well visits and your medical needs to eating right and exercising and everything in between. For many outside of the medical field, that checklist may seem overwhelming, especially when it means darting from one doctor's office to the next, making appointments, hunting down referrals and sticking to a hectic schedule in the process.
The father and son duo behind Voorhees Medical Home understand how tough that can be, which is why they committed their practice to becoming a single stop for their patients. The Voorhees Medical Home is a revolutionary medical facility that provides traditional medical care for adults and children alongside a full-service medical spa and a nutritional and healthy lifestyle specialist.
"We have a medical space that provides an all-encompassing level of care that you can't get anywhere," explains Dr. John Mirmanesh, who runs the practice in cohesion with their two other medical offices in Marlton and Sicklerville alongside his father Dr. Jay Mirmanesh. "You aren't bouncing around to get the expert care that your family deserves."
Advocare Mirmanesh Pediatric & Adult Medicine—which operates across their three locations—has become a trusted name in pediatric and family medicine in South Jersey. And while treating children and adults has become synonymous with the Mirmanesh name, Dr. John Mirmanesh says they noticed a need to provide more for their patients. "There just isn't enough time in a traditional doctor's visit to hit all the important points related to weight loss, health and nutrition, and it's so important to focus on that," he says. "We really care about making a difference in the overall life, not just seeing a patient for an office visit."
With that in mind the office Drs. J & M Healthy Lifestyle was born, a multidisciplinary approach to health and wellness. Combining the traditional medical office visit alongside a full-time nutritionist, who works with patients to understand nutrition while also crafting a customized lifestyle plan to fit patients' needs.
"There is a huge issue with appropriate nutrition in our society, so this was a way for us to provide the type of care that we might not be able to provide during a standard office visit," explains Dr. John Mirmanesh. "The nutritionist will look at your specific goals, whether it be weight loss, a new mom who is breast feeding or an athlete looking to make the most of their workout. From there he will go over a customized care plan just for you."
The location also houses The Garden Medical Spa, a fully loaded suite featuring top-of-the-line skincare treatments for all ages. From microneedling scar removal and HydraFacial MD treatments for teenagers and adults with acne, to beautifying options like IPL laser therapy for hair removal and rosacea treatment, Botox, chemical peels and more, patients can relax knowing they are being treated by specialized, trained aestheticians and medical professionals.
Dr. Mirmanesh is excited for the future of The Garden Med Spa, as his youngest brother Dr. Michael D. Mirmanesh, prepares to finish his plastic surgery training at University of California, Davis. "He will be joining us on the East Coast soon and we will have so many more resources for our patients," says Dr. Mirmanesh. "We have been working with skin conditions for quite some time, so we created the medical spa to help people with their beauty needs while also helping our patients looking for more specific medical attention.
"People are coming to us because we incorporate everything they could really need and more into their medical visit," says Dr. Mirmanesh. "We take a look at their medical health, then they can build their visit around nutrition and the medical spa."
The result? Quicker appointment times, less stress for patients and a close relationship that both patients and doctors can appreciate.
"The point of medicine—of our medicine—is to be there for patients and make their lives easier and healthier," says Dr. Mirmanesh. "We don't want to toss people into the medical abyss, we want people to be able to get the help they need in a space they are comfortable in. We strive to have relationships with our patients, and while we have a comprehensive medical practice we still maintain that closeness that people appreciate with their doctors."
Voorhees Medical Home
Advocare Mirmanesh Pediatric & Adult Medicine
The Garden Medical Spa
Drs. J & M Healthy Lifestyle
100 Route 73, Voorhees
(856) 753-7374
VoorheesMedicalHome.com
Published (and copyrighted) in Suburban Family Magazine, Volume 7, Issue 9 (November, 2016).
For more info on Suburban Family Magazine, click here.
For information about advertising in Suburban Family Magazine, click here.
To find out where to pick up your copy of Suburban Family Magazine, click here.