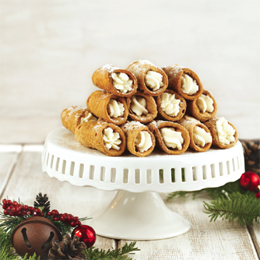 Twelve Days of Desserts
With the holiday season in full swing it's time to embrace all things sweet. No. 1 on our list is, of course, dessert. When it comes time for gifting or entertaining, these 12 tasty treats are our go-to picks for making merry during the most wonderful time of the year.
Salted Honey Pie
Constellation Collective, Collingswood
This eclectic café serves snacks and treats all made fresh to order from locally sourced ingredients. Check out their seasonal menu for the honey pie, a sweet and creamy pie based with—you guessed it—local honey. Finished with nutmeg and cinnamon and sprinkled with a dash of sea salt, this unique pie is made to brighten up chilly winter days.
Christmas Cookies
Sweetsboro Pastry Shoppe, Swedesboro
It just isn't the holidays until someone breaks into a plate of crispy, crumbly cookies. Sweetsboro pays homage to holiday tradition with classic Christmas cookies, stuffed with jellies, topped with sprinkles and dunked in chocolate. They come plated and wrapped in cellophane, ready for gifting.
Shoofly Pie
Beiler's Bakery, Mullica Hill
Sweet shoofly pie is our favorite from this bakery tucked into the Mullica Hill Amish Farmer's Market. A dark molasses mixture is oozed into a crunchy pie crust and topped with buttery crumbles for this dish. As the story goes, this Pennsylvania Dutch classic was named for the sweet aroma that could attract flies to brush away—but you'll be shooing anyone who tries to touch your dessert.
Cinnamon Rolls
Cake Stand Bakery, Voorhees
Cozy up for breakfast on a wintry morning with these freshly baked cinnamon rolls. A mix of cinnamon sugar and a drizzle of icing go together like Santa Claus and his reindeer. Available every weekend, they make for the perfect way to warm up your holiday mornings.
Cannoli
Cipolli Cannoli, Collingswood
You'll feel like you're walking into your grandparents' kitchen at this cute Collingswood bakery. Made fresh to order, each crispy shell is stuffed with rich ricotta filling then sprinkled with a light dusting of powdered sugar. For the ultimate dessert at your holiday party, try the do-it-yourself cannoli kit—fun for both kids and grown-ups.
Chocolate Covered Pretzels
Desserts by Design, Audubon
Let's be honest: Who doesn't gravitate to- ward the box of chocolate covered pretzels at an office or family party? It's one of our top choices for housewarming gifts during the holidays, and one of our favorite things to open each year. They can be purchased in small packages or gift trays, so you can spread the holiday cheer and have some for yourself, too.
Butter Pound Cake
DiBartolo Bakery, Collingswood
Baker Al DiBartolo Jr. recently took top prize in the Food Network's Halloween Wars decorating competition, but don't overlook his skills with the classics at this beloved bakery. Topped with a light dusting of powdered sugar, this buttery dessert is great with a steaming mug of hot chocolate by the fireplace.
Dinner Rolls
Del Buono's Bakery, Haddon Heights, Marlton and other locations?
Lining up for the fresh-baked dinner rolls at Del Buono's as they pop out of the oven is as much a part of the holidays as trimming the tree. Light and crispy on the outside and soft on the inside, these dinner rolls are the perfect complement to any holiday dinner—and even better with leftovers the next day.
Classic Cream Doughnuts
McMillan's Bakery, Haddon Township
You've heard of open-faced sandwiches, but this South Jersey gem serves open-faced doughnuts. Soft, cakey powdered doughnuts are sliced in half and stuffed with creamy vanilla filling for a treat you're sure not to forget. If one or a dozen handheld doughnuts aren't enough, McMillan's makes its classic cream doughnut in a supersized version, so there is plenty to share with loved ones or party guests.
Pumpkin Pie
Pie Lady Café, Moorestown
Christine McHale, aka "The Pie Lady," began baking out of her Moorestown home years ago and now runs her own bakery where specialty pies, cakes and pastries are baked fresh daily. Enjoy a slice of this classic holiday treat on the wraparound porch or take home the perfect pumpkin pie for your family dinner.
Salted Caramel Cheesecake
Sunflour Bakeshop, Mount Laurel
This from-scratch bakery takes a rich, creamy cheesecake and tops it with a thick layer of caramel sauce for a dessert that will warm your soul. It's sprinkled with a dash of sea salt to balance out the sweetness and give it that extra special flavor. Topped with a crown of homemade whipped cream, it's no wonder this decadent cake is the bakery's signature.
Champagne White Chocolate Salted Caramel Cupcakes?
Sweet T's Bakeshop, Haddonfield?
Celebrate the season and treat yourself with these champagne cupcakes. Vanilla cake gets baked with champagne and covered in a fluffy, white chocolate mousse, then drizzled with creamy caramel topping and finished off with a dusting of sea salt. Try one off the baker's rack or take home a dozen from this cozy Haddonfield bakery.
Published (and copyrighted) in Suburban Family Magazine, Volume 7, Issue 9 (November, 2016).
For more info on Suburban Family Magazine, click here.
For information about advertising in Suburban Family Magazine, click here.
To find out where to pick up your copy of Suburban Family Magazine, click here.