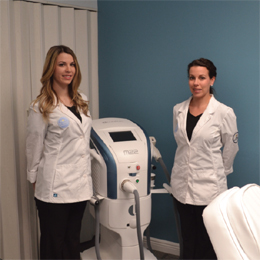 Rave Reviews
For more than 20 years, Dr. Jay Mirmanesh has been committed to providing comprehensive care for the entire family, and the doctor-patient relationship has always been at the heart of the personalized services he offers.
When Dr. Mirmanesh was considering expansion for his medical practice, preserving that dynamic was of the utmost importance. Now Dr. Mirmanesh and Dr. John Mirmanesh bring the same approach to two exciting new components of Voorhees Medical Home: The Garden Medical Spa and Drs. J&M Healthy Lifestyle Program.
"Before embarking on these projects, the staff and I wanted to make sure we could continue to prioritize the importance of the doctor-patient relationship we have built over the years in our pediatric and adult care practice," Dr. Mirmanesh says. "Once we were sure we could maintain this, we designed programs that are transformative, research proven and here to help patients be the best versions of themselves."
Both of the programs are open to patients of all ages and provide more overall health and wellness options to families.
The Garden Medical Spa is run by manager and skin specialist Brenda Starke and also includes medical aesthetician Ashley Hibbs. It is a pristine space decorated in cool, soothing colors to make patients feel at ease and expands on their traditional approaches to the treatment of acne, vascular lesions, warts, rosacea and other skin problems.
"We've created innovative new protocols that combine the traditional approaches with the best tools in medical aesthetics," Dr. Mirmanesh says. "The results are like nothing we were able to obtain when using only a traditional approach. Our patients are raving about their results."
The procedures performed at The Garden Medical Spa are free of harmful ingredients, clinically tested and shown to be effective. They include a variety of skin rejuvenation services, such as:
• IPL laser therapy: Intense pulsed light (IPL) is a broad spectrum light beam which is applied to the patient's skin and absorbed by the old or damaged collagen. This leads to healthy new skin and collagen formation, making this therapy an essential treatment for anti-aging.
• HydraFacial MD: This procedure cleanses and exfoliates the skin while replenishing vital nutrients. It helps treat sun damage, acne and fine lines.
• Dysport: This is a prescription injection that helps smooth the appearance of frown lines between the eyebrows. Dr. Mirmanesh says it can show results in as little as two to 10 days and can last up to four months.
• Microneedling: Dr. Mirmanesh is especially excited about the results from microneedling, a minimally invasive procedure that helps reduce wrinkles, scarring and stretch marks.
"Almost all of the treatments can be performed in under 30 minutes," he says. "The 'lunchtime lift' with Dysport and the 'lunchtime laser' are already favorites amongst our patients."
At the Drs. J&M HealthyLifestyle Program, the focus is on educating patients about nutrition, weight management and the importance of exercising properly. Dr. Mirmanesh is a firm believer in the benefits of preventative care, and this program certainly reflects that.
"We truly believe that preventative care is the key to a long, healthy and prosperous life," he says. "We are excited to share what we know and what innovative research has shown about leading a healthy lifestyle. Many chronic illnesses such as diabetes, anxiety, depression and obesity can be avoided or ameliorated by making healthier choices."
Along with The Garden Medical Spa, the Drs. J&M Healthy Lifestyle Program offers levels of care not typically found in a medical practice.
"Each patient is given a personalized plan and ongoing support," Dr. Mirmanesh says. "It can benefit a variety of individuals, from those suffering with obesity to the physically active athlete of any age. In addition to close physician monitoring, patients get a full nutritional analysis by our staff nutritionist. Having nutritionists, dieticians and aestheticians on staff is part of the commitment we make to our patients for comprehensive health care and a better 'you.'"
Dr. Mirmanesh is eager to see more and more patients benefit from these innovative new programs offered at Voorhees Medical Home. "Seeing our patients look and feel healthier," he says, "is one of the most gratifying things about being a physician."
Published (and copyrighted) in Suburban Family Magazine, Volume 7, Issue 8 (October, 2016).
For more info on Suburban Family Magazine, click here.
For information about advertising in Suburban Family Magazine, click here.
To find out where to pick up your copy of Suburban Family Magazine, click here.