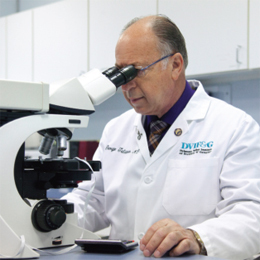 Seeds of Hope
No one is ever prepared to receive a cancer diagnosis, going from seemingly healthy one day to fighting to survive the next. But while you may not feel ready to face what's next, the team at Delaware Valley Institute of Fertility & Genetics (DVIF&G) has committed their practice to helping cancer patients and their loved ones build a future after treatment.
DVIF&G's SEEDS program, or Semen, Embryo & Egg Depository & Storage was created just for cancer patients, both male and female, who want to start a family despite their diagnosis. Working with experts in the field and state-of-the-art techniques, DVIF&G offers a multitude of options to get fertility conversations started as soon as possible and on your way to treatment.
"When you receive a cancer diagnosis you're not thinking much further than day to day, just fighting to survive," says Dr. George S. Taliadouros, president of DVIF&G. "Our oncologists are experts and have been working with us for a very long time. They will be sure to start a conversation about the future of your family around the time of diagnosis, which is where we can step in."
Now in its seventh year, the SEEDS program is designed to help cancer patients get fertility help right away. "If a patient calls with a cancer diagnosis we go through an expedited process," explains Dr. Taliadouros, who says patients can be seen and begin fertility treatments all within the first week of diagnosis. "You are seen right away and work with our team who coordinates that special, attentive care that is needed for a very special population."
Since its inception, the SEEDS program has welcomed 10 babies to cancer survivors, both male and female, with the help of specialized treatments like embryo and oocyte freezing, semen cryopreservation and testicular tissue cryopreservation. But the SEEDS program also goes a step beyond to offer nutritional and psychological counseling, to provide as many resources as possible to families going through the fight of their lives.
The magic of IVM
Dr. Taliadouros and his team are renowned for their revolutionary treatment known as in vitro maturation, or IVM. It's a procedure designed for hormone-sensitive cancers like breast cancer, as traditional fertility treatments can be damaging in certain cases.
"A mature egg produces a higher amount of estrogen which is dangerous when fighting breast cancer. And during traditional in vitro fertilization much more estrogens are produced, which can be a stimulus for a cancer like breast cancer," says Dr. Taliadouros. "One out of eight women in their lifetime will have to face breast cancer, so this was a problem we needed to address."
DVIF&G's IVM treatment recovers immature eggs from a patient, avoiding extra estrogen. From there, Dr. Taliadouros and his team mature the eggs outside of the body and either freeze the eggs or fertilize the eggs and turn them into embryos. A full, detailed video about the process is available on DVIF&G's website.
"For women still in their reproductive years, it can feel like you don't have much of a choice after your diagnosis," says Dr. Taliadouros. "We can have IVM done within a week of the initial call, and within three days those eggs can be frozen or fertilized."
They are the only treatment center in the United States to have produced successful preg- nancies through their specific IVM procedure, which was developed in Scandanavia. DVIF&G developed their advanced methodology through a series of procedures which were monitored and approved by an institutional board.
Since then, DVIF&G has had nine babies born through IVM, which include women having polycystic ovaries, and Dr. Taliadouros is the first to proudly say that they are now growing into healthy and happy children.
"We have had people come from England, from Belgium, Norway and from all over the country for IVM treatments," he says. "And we still have embryos that have been produced through this methodology to cancer patients and will be available when they are ready to start a family."
Delaware Valley Institute of Fertility & Genetics
6000 Sagemore Drive | Suite 6102 | Marlton | (856) 988-0072 | StartFertility.com
Published (and copyrighted) in Suburban Family Magazine, Volume 7, Issue 8 (October, 2016).
For more info on Suburban Family Magazine, click here.
For information about advertising in Suburban Family Magazine, click here.
To find out where to pick up your copy of Suburban Family Magazine, click