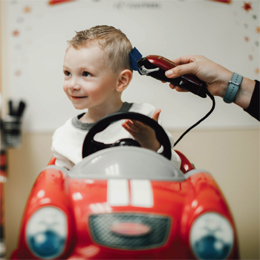 First Haircut, Lasting Memories
Week by week we watch our children grow so quickly, going through major developments like rolling over, clapping, crawling, walking and talking. As parents, we want to be there to cheer them on for all of life's firsts; and their first haircut is another event worth celebrating.
Kids Kuts of Voorhees knows how important this moment is, not just for the child, but the parents, too. Under the new ownership of Sherrie McLaughlin—a mother of three who started working for Kids Kuts when she was 19—Kids Kuts is entering its 26th year in the community. McLaughlin and her staff of professionally trained cosmetologists specialize in children, tween and teen hair. Suburban Family spoke with McLaughlin about what kids and parents can expect from their first haircut experience at Kids Kuts.
Q: Who is usually more nervous about the first haircut: parents or the child?
A: We usually see kids at the age of 1 to 2 years old for their first haircut, and at that age, kids don't know what to expect. But parents can be anxious because they don't know how their children will react, or how we'll handle them if they cry or have a sudden movement. We're here for the parents and the child and we want everyone to enjoy the experience.
We tell parents to relax and let us take care of everything, and just come in with a general idea of how they want the hair cut, if it's just cleaning it up so you still see your baby or if you want a real big boy or big girl haircut. We really believe people trust us with their memories because this haircut is going to be in pictures for their birthday, back to school or the holidays, and we value that trust.
Q: What makes the Kids Kuts experience so special?
A: First, we encourage parents to bring their child's favorite toy, blankie, pacifier, snack—something that will make them more comfortable. We have TVs playing movies, but we also welcome parents to bring a cell phone and access our free Wifi to play their favorite show.
The front of our store is very kid-centric and there is a specialized seat in the shape of a car, with a steering wheel and seatbelt for security, so we'll sit the kids in there and distract them with the steering wheel, or the TV, music and snacks. Behind the car is a special first haircut backdrop that's perfect for pictures. We know you've got to save that first lock of hair, so we put that in a bag for parents, and afterward we present them with a certificate and take a Polaroid photo by the backdrop. You could easily go anywhere for a haircut, but you come here for the experience. Just like Disney, you go because it's an experience, and that's what we do.
Q: How can I make sure all of my child's future haircuts go smoothly?
A: It's true that the second or third haircuts can cause more upset because the kids catch on. We encourage parents to use the word "trim" instead of "cut" because we always tell kids to be careful not to "cut" themselves or objects. Hearing "haircut" can get them a little fearful. We can also put the child on mom or dad's lap in a regular salon chair to do the trim if they don't want to be strapped into the car seat we have.
I also suggest making an appointment so you're not waiting. We are the only Kids Kuts that accepts appointments, and if you're in the area, chances are we can fit you in if you give us a call last minute. We honor appointments first and walk-ins second.
Kids Kuts of Voorhees
Echo Shoppes | 300 White Horse Road | Voorhees | (856) 770-9292 KidsKutsVoorhees.net
Published (and copyrighted) in Suburban Family Magazine, Volume 7, Issue 8 (October, 2016).
For more info on Suburban Family Magazine, click here.
For information about advertising in Suburban Family Magazine, click here.
To find out where to pick up your copy of Suburban Family Magazine, click here.