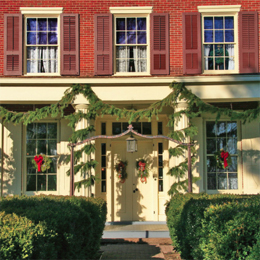 Experiencing History
With fall finally upon us it seems only fitting to look for a few spooky spots around South Jersey to get into the spirit of Halloween. And while haunted hayrides and amusement parks abound, one spot in South Jersey gives guests the opportunity to relive the area's real, spooky past.
The Burlington County Prison Museum in Mount Holly is the country's longest used prison and the first fire-proof building in the United States. Built in 1811 and operational until 1965, the prison saw thousands of inmates, accused and convicted of all varieties of crimes.
"There's a lot to tell about in this spot," says Marisa Bozarth, museum attendant. "When it was originally built it was the most modern jail in the country. The goal was to rehabilitate prisoners so that they would never come back. But it was also the last stop for some. Everything from the drunk and disorderly and theft to first-degree murder were housed in this prison."
That includes the infamous Albert DeSalvo, also known as the Boston Strangler, who was kept at the prison for several days before being given his ominous title. Guests to the prison can now view his intake card from the 1960s, on display all year long. It also includes the inmates that were executed by hanging in the prison courtyard, all the way up until 1906. Some people say that, 110 years later, those souls still haunt the prison.
"We get a very large response from ghost hunters coming in to investigate the prison," says Bozarth. "Some of them have gotten photos. One group got a full-bodied apparition on camera. Some of them have picked up voices. They'll hear people call them to spots in the prison, or they'll pick up people talking.
"I have enough things that have happened that I just can't put my finger on, and I hear a lot of stories from people walking around where they feel other visitors, hear other people talking, and they're alone. You just feel like there's something in the building when you're the only one there."
Of course the museum isn't all spooky sounds and historic haunts. In fact, the Burlington County Prison Museum also has a connection to Ellis H. Parker, the Burlington County detective commonly known as the American Sherlock Holmes. "Parker worked out of this prison for 40 years, and during that time he would be called all over the country, all over the world, to solve crimes," says Bozarth.
All of this and more is available for the public to view four days a week, via personal walking tours or private group tours led by volunteers at the museum. "It's a great piece of history for southern New Jersey residents," says Bozarth. "Most people don't know this piece of history is right in their backyard."
Looking forward
Fall haunts aren't the only history worth exploring in the area. The Burlington County Underground Railroad Museum is a brand-new museum coming to Smithville Park, Eastampton in February. Currently undergoing restoration, a preview exhibition is available just next door, so residents can get a taste of what's to come.
"The exhibits will be related specifically to the Underground Railroad in Burlington County, which was a very prominent part of the Underground Railroad," explains Bozarth. "There are artifacts and information on people related to the area who were involved, including very well-known people like Harriet Tubman and what she did in this area."
Open four days a week, tours are led by museum founder Louise Calloway, who leads discussions on abolition, slavery and the Underground Railroad itself. "Louise does a wonderful job interpreting the story of those involved," says Bozarth. "Not only do guests see everything, but they'll be able to have the story of the Underground Railroad told to them as they experience these artifacts."
Artifacts include slave chains and branding irons, photos of slaves and plantations, walking sticks, hand-crafted quilts and much more, give visitors a clear look at this important piece of American—and Burlington County—history.
"The artifacts are things you've heard about in your history class or in school, but never physically are able to see," says Bozarth. "You learn to appreciate the impact, and the local impact. If we don't experience these things physically you don't get the real, full impression of what was going on and the importance of abolition."
The jewel of the County Parks System, Historic Smithville Mansion in Eastampton Township, was the home of H.B. Smith who established a model 19th century industrial village that offered its resident workers access to education, culture and a healthy country lifestyle. Smithville Mansion is not without its share of ghosts and scandals. The Friends of the Mansion are busy preparing for the holiday tour season and the County is hosting its Victorian Holiday celebration on Dec. 4. The Mansion will be open for tours daily starting Dec.5. Tours begin at 1, 2 and 3 p.m.
Burlington County Parks System
www.co.burlington.nj.us/parks
(609) 265-5858
Burlington County Prison Museum
128 High St. | Mount Holly
Burlington County Underground Railroad Museum
803 Smithville Road | Eastampton
Historic Smithville Park
801 Smithville Road | Eastampton
Published (and copyrighted) in Suburban Family Magazine, Volume 7, Issue 8 (October, 2016).
For more info on Suburban Family Magazine, click here.
For information about advertising in Suburban Family Magazine, click here.
To find out where to pick up your copy of Suburban Family Magazine, click here.