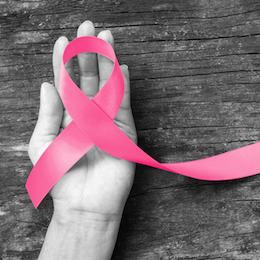 Path to a Cure
A breast cancer diagnosis can be one of the hardest experiences a person goes through in their life. From diagnosis to treatment, a person living with this reality may not know where to turn. Luckily, our area is saturated with experienced experts who have dedicated their lives to helping breast cancer patients find resources that will ease their fears, allowing them to focus solely on their futures.
Meet the medical minds across South Jersey giving their all to provide breast cancer patients and their families with what's to come tomorrow. These professionals are leading revolutionary research and treatments to not only help beat breast cancer, but protect patients' minds, bodies and souls while focusing on a cure.
Rose Marie Beauchemin
Beauchemin's annual Day of Hope has become an event that has shaped the futures of cancer survivors all over the area for years. She specializes in 3-D areola nipple tattooing, which gives women and men who have undergone a mastectomy back the look of their natural breast.
Every year Beauchemin opens up her doors for the Day of Hope, held this year on Oct. 26. On that special day Beauchemin—who has earned international accolades for her work in permanent cosmetics and micro pigmentation—offers complimentary areola tattooing for mastectomy survivors.
Beauchemin's goal is to give women who have been through their own battles a way to start their healing process, so that they can feel like their whole selves once again.
Kristin L. Brill, MD, FACS
Dr. Brill is the program director for MD Anderson Cancer Center at Cooper's Janet Knowles Breast Cancer Center, a totally unique facility now in its second year. The Janet Knowles Breast Cancer Center is a multidisciplinary space, so patients can have all of their treatments and needs met in one spot. From oncology and radiation, to plastic surgeons, nutritionists and behavioral health specialists, those fighting breast cancer no longer need to travel the globe for the help they need.
Now in its second year, the Camden location comes complete with eight exam centers, private chemotherapy spaces and even a gift shop selling jewelry and home wares.
Brill specializes in breast surgery, benign breast disease and high-risk patient treatment. She was named in the top 10 percent of surgeons in the country by U.S. News & World Report in both 2011 and 2012 and is board-certified in surgery. She belongs to the American College of Surgeons, the Associate of Academic Surgeons, the American Society of Breast Surgeons, the American Society of Breast Disease and the Mammography Society of Philadelphia.
Georita Marie Frierson, PhD
As the director of clinical training for Rowan University's Clinical Psychology Ph.D Program and an assistant professor of psychology, Dr. Frierson has spent much of her career studying the importance of mental health support in breast cancer patients.
Frierson's pilot study funded by the Discovery Foundation studied the psychological and behavioral results of patients in their first year of triple negative breast cancer treatment. What she found was that the physical symptoms associated with breast cancer are very closely linked to psychological health and recovery.
Among other things, Frierson's research revealed that breast cancer treatment can impact a patient's quality of life, sleeping habits, intimate relationships and even the taste of foods. Frierson's research was further funded by the National Institutes of Health, United States Department of Education and the Department of Defense, as well as other national institutions who supported her work.
Generosa Grana, MD, FACP
Serving as the director of the MD Anderson Cancer Center at Cooper means that Dr. Grana spends her life helping cancer patients of all kinds fight this dreaded disease.
Board-certified in internal medicine and medical oncology, Grana takes a special interest in breast cancer along with cancer prevention and cancer and its relation to genetics. She has conducted clinical research on breast cancer at Cooper and has taken a specific focus on helping the underprivileged in the community.
Grana also serves as the professor of medicine at Cooper Medical School of Rowan University and works as an adjunct professor at the University of Texas MD Anderson Cancer Center. Her work educating future physicians and medical minds is contributing to a brighter and more hopeful future for cancer research and treatment.
Kathleen Greatrex, MD
Dr. Greatrex wears many hats with the Lourdes Health System. She serves as chair of the Department of Radiology and Nuclear Medicine, president of Lourdes Imaging Associates and the division chief of breast imaging. She is also the first female president of the Our Lady of Lourdes Medical Center and Lourdes Medical Center medical staff.
Greatrex has become one of the leading experts in breast imaging across the country, largely in part because of her work with 3D mammography or breast tomosynthesis, which makes diagnosing cancer easier.
While all physicians take a personal approach to medicine, Greatrex's work with breast cancer reaches close to her heart. Greatrex lost her mother Rose to breast cancer while she was a student at Temple University School of Medicine, and she continues to honor her mother's memory through her work on the medical advisory board for the Susan G. Komen Foundation's Philadelphia affiliate.
Alexis Harvey, MD
The local roots run deep for Dr. Harvey, who serves as the medical director of 21st Century Oncology's CancerCare of Southern New Jersey and a member of Lourdes' oncology department. Harvey has worked with cancer treatment and care in South Jersey for almost 30 years.
During her time in the area, Harvey has helped build the partnership between 21st Century Oncology's CancerCare of Southern New Jersey and Lourdes to provide patients with resources across multiple practices. As a board-certified radiation oncologist, she specializes in the treatment of breast cancer, and has dedicated her life to breast cancer radiation treatment.
She also serves on the American College of Radiology, the American College of Radiation Oncology and the American Society of Clinical Oncology. Reaching closer to home, Harvey is a committed member of the New Jersey Medical Society, New Jersey Cancer Society and the Camden County Medical Society.
Malini Iyer, MD, MS, FRCS, FACS
With more than 15 years of in-practice oncology experience, board-certified general surgeon Dr. Iyer has become a trusted name in the fields of breast surgery and onocology, using her expertise with the Lourdes Health System's oncology department as well as at 21st Century Oncology's CancerCare of Southern New Jersey, where she specializes in breast surgery.
Iyer has a list of accolades to her name, including the Best Surgical Faculty Teacher Award from the University of Connecticut and the John MacArthur Award for Best Presentation by the American College of Surgeons' Connecticut chapter, both of which were issued to her for her work in breast cancer and breast surgery.
Iyer is a member of the American Society of Breast Surgeons, American College of Surgeons, Royal College of Surgeons England and the Society of Surgical Oncology.
George S. Taliadouros, MD, FACOG
Dr. Taliadouros has served South Jersey for 28 years through his private practice, Delaware Valley Institute of Fertility & Genetics, but it's his work with breast cancer that has caught the attention of an international audience.
Taliadouros has crafted a unique method of fertility treatment called in vitro maturation, or IVM. It is designed for women diagnosed with breast cancer still in their child-bearing years. Radiation has been known to damage a woman's reproductive health, but traditional in vitro fertilization requires the use of hormones, which can make an estrogen-sensitive cancer like breast cancer worse.
Through IVM, Taliadouros is able to extract an immature egg from the ovaries, then mature the egg outside of the body, so the woman is not subjected to extra hormones. Taliadouros has become the only practice in the country to receive approval by an institutional board.
Theodore N. Tsangaris, MD
Kennedy Comprehensive Breast Center named Dr. Tsangaris as the new medical director in June, in charge of overseeing the Washington Township location's breast care program. Since then, the center has been named one of America's Best Breast Centers by Women's Choice Award, an online referral site for women.
Tsangaris also serves as the professor of surgery at Jefferson Medical College. Tsangaris specializes in nipple-sparing mastectomies, and brings with him experience that helps both diagnose and treat breast cancer through surgical means. He currently serves as the surgical director of Jefferson's Breast Health Center which is affiliated with the Sidney Kimmel Cancer Center.
In addition to his work with breast cancer in the area, Tsangaris serves in the Naval Reserve as a Naval flight surgeon. He also belongs to the Society of United States Navy Flight Surgeons.
Published (and copyrighted) in Suburban Family Magazine, Volume 7, Issue 8 (October, 2016).
For more info on Suburban Family Magazine, click here.
For information about advertising in Suburban Family Magazine, click here.
To find out where to pick up your copy of Suburban Family Magazine, click here.