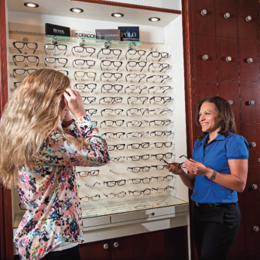 Staying Focused
Back to school season is in full swing, and that means more time spent hard at work, both in school and at the office. In between the buzzing of your computer monitor and your ever-busy cell phone, that can mean a lot of strain on you and your children's eyes. Digital devices like computers, smartphones, tablets and televisions emit blue light, which can lead to eyestrain, eye fatigue and headaches; a condition known as digital eyestrain. You can't avoid technology, and it's often a great way to unwind at the end of the day, which is why Dr. Sally Halim of Village Eyecare has set her sights on protecting her patients' eyes against the strain that comes from using these digital devices.
Dr. Halim notes that: "In terms of the visible light spectrum, blue light produces some of the shorter wavelength, higher energy forms of light that our eyes can be exposed to. This causes, in essence, 'visual noise.' The eye is able to filter out UV light, yet it allows comparably shorter blue light to pass through unobstructed. The effects of this type of light is eye strain and fatigue."
To combat digital eye strain, a blue light blocker can be added to the lenses of your glasses. This coating that is applied to your lenses is cosmetically invisible and works to prevent the strain, dryness and fatigue that come from daily work on digital devices. "Blue light blockers have been around for a few years, but with the growing popularity of digital devices, it looks like they are here to stay," says Dr. Halim. "People want to be able to use their digital devices and feel 'connected' without feeling eyestrain.
How do you know if you might be a candidate for blue light blocker lenses? "Eye fatigue is definitely a big indicator of a problem, as are headaches, dryness, double vision and eye strain at the end of the day," says Dr. Halim. "If you feel like your eyes are working really hard, much harder than normal, then it's a good time to look into a blue light blocker. We have made it a part of Village Eyecare's standard lens package because digital eyestrain is one of our patients' top complaints. Once our patients learn the benefits of blue light blockers, they are relieved to hear there is a solution to their problem."
Dr. Halim notes that even contact lens wearers can benefit from lenses with blue blocker technology. These patients can wear a prescription-less pair of glasses with just a blue light blocker over their contacts. "Even if you don't have a prescription, this is a great option for anyone working on a digital device," she says.
With school back in session, now is the time to look for the signs of digital eyestrain in your children. "If your children are using smart boards, computers and handheld devices, they are more likely to experience digital eye fatigue. Blue light blockers are a great way to ward off digital eyestrain in patients of all ages. Be sure to ask your children specific questions regarding the signs and symptoms of digital eyestrain as children may not realize they are experiencing any issues. Children are probably using digital devices, as much, or even more often than many adults."
Dr. Halim also suggests practicing regular computer and digital screen eye care, by keeping a bottle of preservative-free artificial tears by your desk to combat dryness. If you wear contact lenses, you can use artificial tears for contact lenses. In addition, Dr. Halim suggests students and adults of all ages follow the 20-20-20 rule. "Every 20 minutes try and take a 20-second break, by looking away at something that's at least 20 feet away. It's tough, especially when you're busy, but it can make a huge difference."
Village Eyecare
120 Center Square Road
Woolwich Township
(856) 832-4950
SJVillageEyecare.com
Published (and copyrighted) in Suburban Family Magazine, Volume 7, Issue 7 (September, 2016).
For more info on Suburban Family Magazine, click here.
For information about advertising in Suburban Family Magazine, click here.
To find out where to pick up your copy of Suburban Family Magazine, click here.