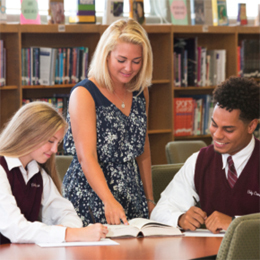 A New Era
Formerly known as Holy Cross High School, Holy Cross Academy (HCA) changed its name in 2015 to better reflect its 21st century education. The coeducational institution has been a mainstay in Burlington County since its inception in 1957, and today remains the only Catholic high school in the county. And although a Catholic school, 35 percent of students come from public institutions.
Over the last decade, HCA's curriculum has gone from traditional and ordinary to that which promotes, sets and maintains educational standards amongst local schools. In 2008, tablets were issued to all students and a collegiate block schedule was implemented. Students study four courses September through January and four new courses January through June. The longer periods allow teachers to cover more content with fewer interruptions, providing students with more attention and one-on-one support, as well as a more sustained, in-depth learning experience. A 60- minute flex period gives students the chance to get involved in clubs, receive tutoring, or work on a service project they may otherwise have not had time for. A student no longer has to choose between athletics, the arts, clubs and activities.
"In order to better prepare our students for college, we needed to create a more learning-intensive environment, and at the same time, incorporate more opportunities for students to partake in co-curricular activities and service," says Principal Dennis Guida. The connectivity between laptops and smartboards enhances the educational interaction between teachers and students in the classroom. As for out-of-classroom interaction, this state-of-the-art technology has replaced "snow days" with virtual classrooms.
As far as benefits to the new schedule, Kim Chiarelli, director of admissions, says it has given way to improved SAT scores. "Students on average are scoring better on tests because they are learning the material better in the classroom and because they are able to spend more homework and study time on their own in each subject. In more recent years, Holy Cross has set the bar even higher by offering the most college credit courses of any high school in South Jersey. We have teachers certified by Seton Hall and Rowan University as adjunct professors. ... Students who take their courses receive college credit as if they have taken them on a college campus," explains Chiarelli. "In theory, a graduate from Holy Cross can enter college with 46 credits under their belt, making them a second year college student. Based on in-state tuition, that's an approximate savings of $22,000."
Each year, Holy Cross continues to see great results: In addition to higher SAT scores, college scholarships/grants to the graduating class average more than $15 million, and students are attending military academies and colleges/universities including Princeton, Rutgers, Johns Hopkins and Maryland. In June 2016, Georgian Court University and Holy Cross entered into a "Guaranteed Admission Agreement," a partnership that automatically accepts HCA graduates for fall enrollment. "The Georgian Court agreement automatically accepts our graduates into their school because they feel the curriculum at HCA has prepared students to succeed at the college level," says Chiarelli.
But with all the academic improvements, Guida states, "It is important to realize that amidst our concentration on academic superiority, Holy Cross has remained faithful to its Catholic identity and its mission to develop young men and women to become lifelong learners and well-informed citizens."
Carla Chiarelli, the principal of Our Lady of Good Counsel, says, "HCA is a natural progression. As the 2015 recipient of The Blue Ribbon Award, it's obvious our academic curriculum is robust, and it's a great comfort knowing our Diocesan High School has an aggressive academic curriculum and sound faculty suited to prepare our graduates for success in college."
"We appreciate the sacrifice parents are making in sending their children to a Catholic school," adds Kim Chiarelli, "and in recognition, Holy Cross has established an agreement with eight Catholic Partner Schools in the Diocese of Trenton, offering their graduates a $2,000 tuition grant opportunity for freshman enrollment beginning in fall 2017."
"I'm proud of where we've been and where we are going," says Guida. "The academic recognition our students continue to achieve is truly something. Year after year our athletic teams earn their spots at the semi and state finals. This year, baseball ended their season with a state championship title. We are a personal, unique and consistently growing school, that is showing an array of results."
Holy Cross Academy
5035 Route 130 South, Delran
(856) 544-9507
HolyCrossHighSchool.org
Published (and copyrighted) in Suburban Family Magazine, Volume 7, Issue 7 (September, 2016).
For more info on Suburban Family Magazine, click here.
For information about advertising in Suburban Family Magazine, click here.
To find out where to pick up your copy of Suburban Family Magazine, click here.