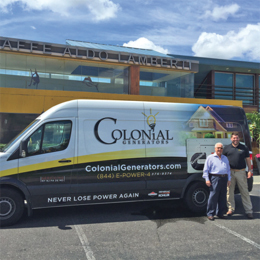 Life, Uninterrupted
It was Christmas Eve and Caffe Aldo Lamberti was preparing to host close to 800 people for the holiday. But instead of welcoming those diners, pouring them wine and serving them the fine Italian cuisine that has made the restaurant a landmark in the South Jersey dining scene, the owners found themselves calling to cancel reservations due to a power outage.
As a result of this power outage, Caffe Aldo Lamberti lost a significant amount of revenuem as well as food, but more than that, the owners felt like they let their customers down. This led them to call Colonial Generators, one of the leading emergency generator installation companies in the Northeast.
Within 24 hours, Colonial Generators was on-site assessing the situation. They designed and installed a 100kW natural generator from Cummins on the roof of the restaurant. "It is able to power the entire restaurant from the bar to the dining area to its beautiful wine cellar banquet room. The generator is very quiet and starts in less than five seconds if there is an outage, and it will run until the main utility comes back online," says Eric Barrett, senior account manager of Colonial Generators. "With Aldo we helped provide the analysis in choosing the best generator for the project, all the required permitting, delivery and installation."
Barrett says this is a perfect example of how a power outage can be a risk to a business. "They realized how much liability they had by not protecting their business from a power outage," he says. "Sadly, most people wait until after a power outage to realize that the investment cost and cost of ownership is really so affordable. Caffe Aldo Lamberti is now a stunning example of how a business can transition from a loss to become the focal point of community during an emergency. Never again will any of their customers have to experience an interruption during one of their most cherished events."
The same can be said from a residential perspective. A power outage disrupts our lives. With the loss of power in the summer how do we keep cool? How much food will we have to throw away in our fridge? How long must families wait until finding another place to stay for a few days? Just this past summer, severe thunderstorms swept through Pennsylvania and New Jersey and Barrett received a call from a thankful customer who experienced their first outage—just three weeks after bringing a newborn home.
"They were so thankful that we were there for them and that they didn't have to go to a hotel with their baby," he says. "They could live their daily lives as opposed to having to pack up and leave their home."
Colonial Generators works with all of the largest generator manufacturers but has partnered with Cummins and Generac as their two main suppliers in the residential and light commercial markets. "The reason we can power entire homes and not just portions of a home is because these systems are so reliable," Barrett says. "We can manage all of the large appliances and the machines turn on so quickly that you might not even notice any loss of power. Additionally, when the machine is running, it makes less noise than your central AC unit."
Systems are also monitored 24 hours a day. "If there's a storm track headed toward our customers, they're notified and reassured that they will not be affected by an outage because we can test their machines remotely prior to the storm, and during the storm we can see that they are operating properly," says Barrett.
Colonial Generators has simplified the process of installation and affordability for its customers. As part of Colonial Home Services, which includes Colonial Marble & Granite, Colonial Windows & Doors, and now Colonial Generators, Colonial has you covered from everything in the home from counters to tile, from railings to flooring, and now even home entertainment with Antenna Star (their Dish Network Group).
"We have systems that cost as little as $59 a month and we offer new programs that are true no money down, no interest and no payments for almost two years," Barrett says, adding that homeowners may even be eligible for deeper discounts on their homeowner's insurance for having a generator installed.
Generators become permanent fixtures of the house, installed outside near the air conditioners and are no larger than the average AC unit. Colonial Generators offers natural gas, propane and diesel options, and has recently begun carrying mobile units for commercial vehicles like ambulances and RVs.
There is nothing on the market matching the value and peace of mind of Colonial Generators. No more worrying about frozen pipes at your Shore home, sump pumps failing during a flash flood or fighting crowds at the nearest box store to buy a portable generator that will only power appliances for a few hours.
From commercial to residential, Colonial Generators has the marketplace covered with a comprehensive solution for any emergency situation. Never Lose Power Again!
Colonial Generators
Servicing N.Y., N.J., Pa., Del., and Md.
(844) E-POWER-4
(844) 376-9374
ColonialGenerators.com
Published (and copyrighted) in Suburban Family Magazine, Volume 7, Issue 7 (September, 2016).
For more info on Suburban Family Magazine, click here.
For information about advertising in Suburban Family Magazine, click here.
To find out where to pick up your copy of Suburban Family Magazine, click here.