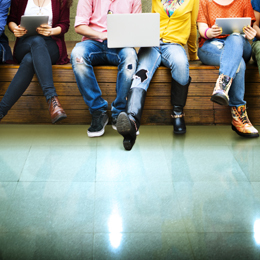 Living Social
In the past, parents would send their college freshmen off and worry how their children would handle their newfound independence. Would they meet the right friends? Would they get into trouble? Now, some parents wonder if their kids will ever get out of their dorm room to meet anyone new.
Today's students have the ability to connect right at their fingertips through social media. They have the opportunity to play video games with their old high school friends on their computers and consoles until the sun comes up, and the temptation to binge watch to their hearts' content through streaming services like Netflix and Hulu. Parents are concerned about how they can motivate their college students to get out on campus, be outgoing, and make new friends and memories in such a digitally driven world.
How can parents be sure that their students leave their smartphone in their pocket, talk to new people face to face, and participate in life on campus, not just life on a screen? The answer is a tricky one, and requires a modern approach to a modern problem.
"This is the world that these students know," says Kevin Burke, dean of academics at St. Augustine Preparatory School. "These are the social avenues that they know how to navigate. It's not good to approach it as 'back when we were young.'"
Instead of expecting students to cut way back on their technology consumption, many institutions are choosing to embrace what students have been embracing their entire lives.
"We work with technology instead of keeping it at bay," says Dr. Dianna C. Dale, vice president for student affairs and enrollment management, and Bridget Haines-Frank, dean of students at Neumann University in Aston, Pa. "If we were to walk away from technology, we would lose them. We know they come to us tied to an iPad or a laptop. We use technology to advertise and promote so they are aware of what is going on at campus."
Camden County College does the same.
"We're a commuter school, so we got big about the social media world," says Melanie Iannuzzi, director of student recruitment at Camden County College. "We market on social media and use Facebook and Instagram."
So if the students aren't putting down their iPhones anytime soon, how can parents make sure they meet new friends and get the full campus experience?
It starts in high school
Burke suggests parents help their children obtain social skills while still in high school, skills that the "previous generation got when they were playing in the front yard."
At St. Augustine, students have a public speaking requirement freshman year that teaches interpersonal interactions and helps build student confidence. For parents who want to help their students build those same skills, Burke suggests getting them out of their normal settings in a variety of ways:
Have students do service hours. Parents can have their children put in volunteer time at a place where they're required to interact with others, even if the school doesn't require it.
Have students get a job while still in high school. Most jobs come with a social component and will put students in the position of interacting with others.
Require students to participate in mock interviews—both for college and jobs. It helps them develop their "presentation of self," something that will be important in helping them socialize and make new friends in college.
Converse with your children. Burke suggests letting your children know you're going to ask them three questions every day that they have to answer. It gives them a chance to have a back and forth conversation each day. Stick to three, and when they are done, the kids know they get to do what they want to do.
A little encouragement goes a long way
"We create a lot of programming driven toward the weekend so new students feel like there is a schedule of things they want to be on campus for. If they get engaged very early on, it becomes a pattern of behavior," say Dale and Haines-Frank.
From the beginning, Neumann University reinforces the message for residents to come out of their room or commuters to stay on campus to get the most out of the college experience. With encouragement, Dale and Haines-Frank say that students do come out. Things aren't as anti-social as some parents might fear.
"Parents have to adjust their thinking to the times and technology. We're not so sure that life on campus has changed that much. If you give them free food, free T-shirts, free concerts, they will come," they agree. Add in some food trucks—the big trend on campuses right now— and students are bound to show up, even if they have headphones in their ears.
"The social experience is still the same, there is just another layer of technology inclusive of social media that allows them to do some things," agree Dale and Haines-Frank.
Commuting students can be social, too
For students who don't live on campus, socializing can still be a large part of their college experience. Iannuzzi suggests that students schedule classes with a couple hours in between instead of scheduling them back-to-back.
"Hanging out between classes is when you get to meet," she says. She has some other suggestions for commuting students who want to have a social college experience:
Eat in the cafeteria.
Go to the library or the tutoring center.
Get a job where other students are working.
Schedule classes at different times of day – you'll meet other types of people.
Go to a sporting event or theater production.
Take advantage of the college gym that's included with tuition.
Join a club.
For an elective, take an art or music class that requires students to go to museums and shows—they end up being classes where students are very social.

It turns out students are still being social on campus whether they live in the dorms or commute. It just looks a little different than it did when their parents went to college.
Published (and copyrighted) in Suburban Family Magazine, Volume 7, Issue 7 (September, 2016).
For more info on Suburban Family Magazine, click here.
For information about advertising in Suburban Family Magazine, click here.
To find out where to pick up your copy of Suburban Family Magazine, click here.