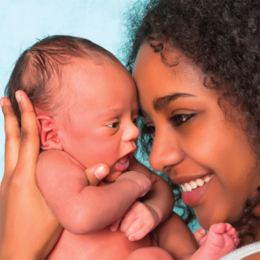 The Beauty of Birth
Childbirth is something no parent ever forgets, but for some it can be a frightening and confusing experience. Cathy Daub, PT/CCE (BWI)/CD (BWI), understands that all too well, which was why she founded BirthWorks International, which provides birthing parents with comprehensive childbirth preparation and resources, and also helps train women as childhood educators, birth doulas and post-partum doulas.
"We believe a woman labors the best wherever she feels the safest and most secure and help her to find that place be it a hospital, home or birthing center.
"We believe that all women are born with the knowledge about how to give birth, therefore birth is instinctive. What is instinctive doesn't need to be learned," says Daub. "Rather, in BirthWorks, we help women to have more trust and faith in their body's knowledge that already knows how to give birth. This is a unique and innovative approach to childbirth preparation that increases confidence and decreases fear about giving birth."
BirthWorks is using this belief to reach an international platform, with a special South Jersey conference that brings the most brilliant minds from across the globe to the Hotel ML for four days of education and information. TheBirthWorks Conference 2016—"Finding the TRUTHS About Birth"—features presentations and discussions from the likes of Ina May Gaskin, the most famous midwife in America, Dr. Jennifer Margulis, author of Your Birth Your Way, and Dr. Michel Odent, international speaker and author—along with many more experts from around the world to share their expertise and help expecting parents, as well as birthing professionals, find joy and security in the experience of childbirth. "We want to reframe birth as a peak experience in life so people know what a beautiful experience birth can be," says Daub.
The conference kicks off with a presentation by Dr. Nils Bergman from South Africa, an expert on the popular Kangaroo Care, mother-baby skin-to-skin parenting technique. Movies and 5Rhythms dancing are all a part of this exciting conference. "This is a place where you get so much information; it's perfect for birthing parents, midwives, doulas, childbirth educators, doctors and any health care professionals." says Daub.
BirthWorks Conference
October 2016, Mount Laurel
"Finding the TRUTHS About Birth"
Registration, speaker schedule and more available at BirthWorks.org
BirthWorks International
Medford
(888) 862-4784 (TO-BIRTH)
BirthWorks.org
Published (and copyrighted) in Suburban Family Magazine, Volume 7, Issue 6 (August, 2016).
For more info on Suburban Family Magazine, click here.
For information about advertising in Suburban Family Magazine, click here.
To find out where to pick up your copy of Suburban Family Magazine, click here.