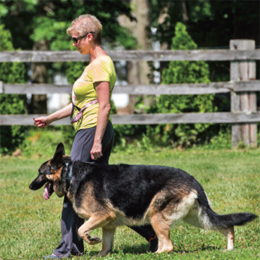 From Debt to Success
Today, if you were to meet Harry Ramos—owner and operator of South Jersey K9 Solutions, located on his 10-acre property in Hammonton—you'd never know that just six years ago he could barely make ends meet.
"In 2010, my wife and I lived in an apartment. And we were struggling. We lived on our credit cards. We bought diapers, formula for our kids with credit cards. We had absolutely no money whatsoever," he says.
While working full-time supervising inmates, Ramos turned to his passion of dog training on weekends, but he wasn't happy. His mentor Andre Aportela, a DEA K9 instructor and owner of Pro Canine Center Training Academy in Frenchtown, told him to quit his job. Ramos had trained under Aportela from 1991 to 1998.
"Andre is like a father figure to me and whatever he tells me to do, I do, because I trust him 100 percent. He knows the industry better than I do, so I quit my job," Ramos says. "Andre imported a dog from Europe. Andre gave me the dog and told me to do special training with the dog. So I did what Andre told me to do even though I didn't put the pieces together yet and I wasn't going to ask what he had planned. But I knew that if it was Andre, he had something good for me. Two weeks later, Andre sold the dog, and handed me a check for $35,000 for training it," Ramos remembers.
"Andre advised me to use that money to help purchase a training facility and finally start my business full time as South Jersey K9 Solutions," Ramos says. "I was able to more than quadruple my salary in just one year. And my business keeps getting bigger and bigger."
From that financially depressing situation came what is now an internationally recognized facility, offering basic and advanced obedience training, behavior modification and personal protection training. He's trained dogs for professional athletes and local law enforcement agencies, as well as the average family and word has spread throughout South Jersey and beyond about Ramos's methods and success rate—even catching the attention of two TV networks interested in producing a show with him. While Ramos can't speak on that until details are final, it's further validation of how this industry changed his life.
Now he wants to share that feeling of success and pride with others.
"People come to my facility and they look around and say they wish they could do this," he says. "I know that if I did it, they can do it, too."
Ramos plans to begin offering student courses where he'll teach the same superior training skills and methods he uses every day in his business. By the end of the course, students will be fully certified with national accreditation.
Just like his mentor did for him, Ramos is paying it forward. "The reason why a lot of dog trainers don't make it in the industry is because they don't get the proper education on dog training theory and behavior. No. 2, they aren't receptive to someone mentoring them who knows the industry and knows how to help them market their business. That's exactly what I learned from Andre Aportela and that's what I want to pass on to my students."
Curtis Sharp is a former client who is now training under Ramos. He first sought Ramos' services after bringing home a rescue dog that was aggressive with other animals. "We got the dog for protection," Sharp says. "We had a frightening incident where people came to our house impersonating police officers and after that I wanted a protection dog for my family. He was great with us but aggressive with other dogs so I brought him to Harry for training."
The training was so successful that the dog became suited for competition.
"Here my $100 rescue dog was competing with the very best," Sharp says. "Not only did he get a perfect score but he beat out a $25,000 competition dog. It goes to show that it's all about the training. Harry really sets himself apart from the competition—he's one-of-a-kind."
Ramos hopes to produce a new generation of skilled trainers.
"My objective is to produce great dog trainers that will help 'clean out' the dog training industry," Ramos explains. "Ninety-nine percent of the facilities out there are low caliber and give the industry as a whole a bad rap. I want to change that."
South Jersey K9 Solutions
Hammonton | (856) 745-3180
SJK9Solutions.com
Harry.Ramos@SJK9Solutions.com
Published (and copyrighted) in Suburban Family Magazine, Volume 7, Issue 6 (August, 2016).
For more info on Suburban Family Magazine, click here.
For information about advertising in Suburban Family Magazine, click here.
To find out where to pick up your copy of Suburban Family Magazine, click here.