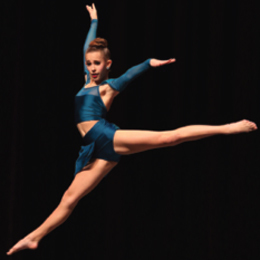 Jazz Unlimited Studio of Dance Arts
IF MARLTON IS KNOWN FOR ANYTHING, it's being home to one of the largest, most popular dance studios in the country. After growing steadily for 47 years and today boasting more than 1,500 students, Jazz Unlimited Studio of Dance Arts is a staple in the area, a tradition that is to be applauded. And if you trace that amazing success, you'll find it leads to one person—Artistic Director Carryl Slobotkin.
As a young woman, Slobotkin had a passion for dance. Her hard work and dedication led her to perform as one of the world-famous NYC Rockettes. She also choreographed for the Philadelphia Eagles Cheerleaders. Therefore, it was no surprise when, upon graduating college, she was selected to start Cherry Hill East's dance program.
"All of a sudden, dance became one of the most popular subjects. Seeing the success I had within the school system, I realized I could turn this into a business," says Slobotkin. "I convinced my husband that we could run our own studio. We decided to take the risk never thinking that we could accomplish this type of success."
Since Jazz Unlimited opened more than four decades ago, Slobotkin has done everything she can to build it into one of the largest dance schools in the nation. But more than size, quality is Slobotkin's focus here. Providing the finest dance education heavily relies on the teaching staff.
"I work diligently on hiring compassionate and skillful teachers who will help each dancer grow to their fullest potential," she says.
In fact, many of the teachers she employs grew up with her at JU. Meredith Ziemba, executive director and past Ensemble member says, "JU was our second home during childhood and provided us a place to learn, grow and excel. Now we have the privilege of passing that along to our students today, just like Carryl did for us."
It is also so important to keep up with the most contemporary techniques happening in dance. "I was taught by the best in the field in New York, so I like to bring in master teachers for my students as well," Slobotkin says. "We have had some of the biggest talents come teach here like Andy Blankenbuehler, the 2016 Tony Award-winning choreographer for the smash Broadway hit Hamilton and Dee Caspary from So You Think You Can Dance."
Slobotkin's dedication to the world of dance is evident by her invitation to present at the Dance Teacher Summit in Long Beach, Calif, which was also held a week before in New York City. Among 1,500 teachers and studio owners from all over the world, Slobotkin was selected to present a seminar on recreational dance, which teaches other professionals how to give recreational students the same all-star experience as ensemble dancers. It's her sixth year at the summit, and she loves the experience. "It's wonderful to see so many people in the same room with the same goal—to enhance children's lives through the art of dance."
The studio has a vast range of special programs and classes, sure to keep every age group happy—with new classes specifically designed to instill the love of dance in two-, three-, four- and five-year-olds, to adults in their 50s and up. The dance styles that are offered to everyone include jazz, tap, ballet, pointe, hip-hop, contemporary, acro and more. And you can register for any and all classes without a registration fee.
Additionally, the JU Dance Ensemble has been a strong force at both regional and national dance competitions since its inception. During the 2015-16 dance season, the Ensemble was awarded many top honors including Top Choreography & Critics Choice Nominations. Over the years, the ensemble has performed all over the U.S. including Carnegie Hall and the halftime show at the Orange Bowl. They have also traveled overseas to Europe and Asia, Los Angeles and performed at Disneyland.
One of the most impressive qualities about Jazz Unlimited is the ability to cater to dancers of all ages, abilities and interests. "The amount of classrooms, teachers and students we have allows us to provide the largest variety of classes to our dancers," Slobotkin says. "We have a large space with six studios, so we can even break up the classes for our little ones into single age groups, keeping three-, four- and five-year-olds in separate classes, which is so valuable at that age. We can also limit class sizes to 12 students and under."
Slobotkin hopes that parents remember the many benefits to enrolling in dance classes. "Dance is a great outlet for kids. They are able to get great physical activity while having fun with their peers. They learn all about discipline and commitment. It's also great for building self-confidence, especially during the recital time when they perform in front of a large audience. Through dance, children learn to be accepting of who they are and what they love to do. It gives them skills for life far beyond dance."
There are many reasons why people come to Jazz Unlimited Studio of Dance Arts. "Some children just want to have fun with friends, to exercise, or to learn the latest dance craze. Others come to learn about self-esteem, respect and life lessons. And some see dance as a professional career. Jazz Unlimited offers it all."
Jazz Unlimited Studio of Dance Arts is located in Marlton Crossing Shopping Center, 201 S. Route 73, Marlton. Classes start Sept. 12 and registration is open. For more information, call (856) 983-6608 or visit IBJazz.com.
Published (and copyrighted) in Suburban Family Magazine, Volume 7, Issue 6 (August, 2016).
For more info on Suburban Family Magazine, click here.
For information about advertising in Suburban Family Magazine, click here.
To find out where to pick up your copy of Suburban Family Magazine, click here.