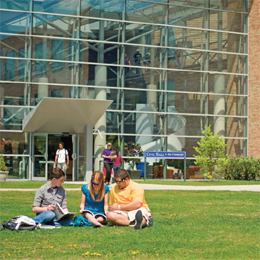 A Smart Education
Today, a college education can come with a lot of baggage—and many millennials are dealing with the repercussions of a difficult economy paired with an expensive four-year school tuition. However, there is an alternative to the current state of higher education: community college.
As a means to help provide a more affordable education, Camden County College President Don Borden explains the wide array of financial services the institution offers its students and adults. For one, the college offers the NJ Stars scholarship program, giving free tuition based on a student's high school academic performance and if they graduated in the top 15 percent of their class. Additional scholarships are also offered via the Camden County College Foundation along with the Bridging the Gap program, which works in tandem with Rutgers University-Camden.
"Whether they start here or are accepted at Rutgers as a freshman and their combined family income is $60,000 or less, they're not going to pay any tuition to go to college here or at Rutgers," says Borden. "If they have a collective income of $100,000 or below, they're not going to pay any more than $20,000 for their education, which is a pretty compelling circumstance from a family perspective."
CCC faculty members are experts in their fields. Not only are fulltime faculty members required to have master's degrees or PhDs in their subject areas, but they also come to the college with real-world experience. Additionally, adjunct instructors often teach at other local schools, so students are getting the same instruction offered at a four-year school for about $300 before fees at CCC.
With a lush variety of incentives to help lower the cost of college tuition, Camden County College also offers mentorship and support for each student—especially if they're unsure of their education direction. "If you don't know what you're going to do, spending a lot of money to investigate that option is probably a pretty poor investment," says Borden. "It's important for people to understand it's not where you start your college education, it's where you finish.
"[We have students] who transfer to Rutgers, Rowan University, University of Pennsylvania or Drexel University and when they finish their four-year education, their diploma is from Rutgers, Rowan, Penn or Drexel," he adds. "If you choose to go here as a freshman as opposed to Drexel, the savings are in the tens of thousands of dollars. ... Understanding that by going to a two-year community college… you're making a sound financial decision that's going to have a positive return for you."
Another option to utilize is the dual credit program, wherein high school students can complete college credits and college-level work while in high school. "It gives a student a chance when they're in their most supportive [stage] of their educational life … to experience the rigor of college and if they can earn a number of credits, take that cost off the bill once they transition into the college environment," Borden explains.
Making those smart financial decisions heavily relies on parents and students educating themselves about the viable options early on. "Parents should start looking into this issue well before high school because if you're planning when your child is a junior or senior, you're already behind in terms of putting money away," says Borden.
Former CCC student Zachary Weintraut is cashing in on his positive return from CCC, wherein he took full advantage of the school's financial programs including the NJ Stars and an Elmo Foundation Scholarship. Today, he has a slew of honors and distinguished work experience to his credit.
"I made the decision to go [to Camden County College so] I could explore different classes because I was wary of what I wanted to do," Weintraut explains, who also works part-time while at CCC. "I ended up changing my major two times, so I got to figure out a lot of those changes before I ever started paying a lot of money [for] college."
As a result, Weintraut is studying chemical engineering and has been selected as a NASA Community College Aerospace Scholar and as a Society of Chemical Industry Scholar, and landed an internship at the highly regarded chemical engineering company, Carus Corporation.
"Who would have known you could get this much out of a community college experience?" he asks. "Who would have known in this selection process [of] national scholars, I'm put on par with people from MIT, Harvard University and Yale University? It feels great because I have friends in other schools and they're so much in debt, but I'm debt-free."
The debt accrued via college tuition is something CCC is cognizant of and aims to alleviate that potential burden. "Our philosophy is we need to do more in terms of mentoring and giving good advice to students about choices they make," says Borden. "We provide extensive tutorial support and are a bit more intrusive in our efforts to help our students achieve success.
"Our responsibility is more than just providing coursework and filling schedules. ... CCC embraces a philosophy of being actively involved in the learning process."
As for Weintraut, he's confident the perception of community colleges is bound to change. "If people see you can do great things by being a community college student, [it] will change that."
Camden County College
Blackwood, Camden, Cherry Hill
CamdenCC.edu
Published (and copyrighted) in Suburban Family Magazine, Volume 7, Issue 6 (August, 2016).
For more info on Suburban Family Magazine, click here.
For information about advertising in Suburban Family Magazine, click here.
To find out where to pick up your copy of Suburban Family Magazine, click here.