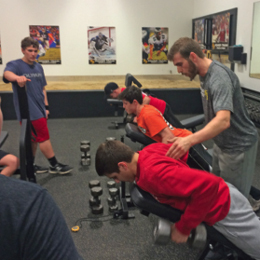 A Formula for Success
In order to advance to the next level of any activity— whether it's a certain subject or learning an instrument— a student must learn from the best, someone who is trained and qualified to teach them. It is no different for an athlete. A student athlete who is looking for a leg up on the competition and to progress to their peak performance in any given sport must train with someone who understands the athlete mindset. Power Train offers them that chance.
Power Train was started 15 years ago by Steve Saunders, who developed strength and sports conditioning pro- grams for some of the NFL's top players, including members of the Philadelphia Eagles, Baltimore Ravens, and Pittsburgh Steelers. As the company grew and word spread about the positive gains its clients were making, serious athletes from all over the nation and world started to utilize Power Train's services, including the KHL premier Russian hockey teams, MLB players, including the Phillies and even famous actors.
Power Train developed a 3:1 client to trainer ratio to lessen the financial burden on parents. With the opening of Power Train's new location in East Greenwich, South Jersey student athletes can now get world-class training and the consistent positive strength and conditioning results they desire at a fraction of the cost.
"Our programs are truly individualized for each client to get them the best results possible. Every time you walk through our doors you will be under instruction from one of our professionals to consistently get you real results," says owner Matt Shields.
All of Power Train's performance coaches are former athletes them- selves, and they have been rigorously trained in the fitness principles, techniques and performance-enhancement regimens that have produced positive results for professional, amateur and student athletes in every major sport and athletic endeavor. "They are all knowledgeable, upbeat, and will push you to achieve your personal best," says Shields.
"Our training model is based around creating a higher lactic acid threshold," says Performance Director Dave Costello. "Lactic acid is that burn an athlete feels and we want to delay that burn for as long as possible." Athletes are given an initial evaluation to deter- mine their baseline for weights, rest periods, etc., and trainers use that to create an individual program including personal training, nutrition, speed and agility, and ongoing assessments.
But they are careful not to let the athletes push themselves to the point of injury. "It doesn't matter how strong and fast you are if you can't stay healthy on the field," says Costello. "We focus on correcting muscle imbalances and dysfunction, keeping their core strong, and building up the stabilizer muscles to prevent injuries." Athletes typically come in two to four times a week minimum in the off-season, and they recommend lifting no more than four times a week.
Athletes may be the primary customers for Power Train but they serve a wide-range of fitness levels, from someone just looking to get or stay in shape or someone training for an intense Spartan race.
"Our boot camp classes are great for anyone looking to work in a larger group setting, with two trainers and a maximum 20 participants. They are designed to keep your heart rate high to help burn fat, but also have strength movement built in to help tone the muscle underneath," says Costello.
Each individual has to put in the work to see results, but one thing is for sure, a Power Train trainer is going to be by your side the whole way. "We don't just hand you a key tag and say 'good luck,'" Costello says. "Whether it's boot camp or a personal trainer we're going to push you and motivate you while also making sure you're doing everything correctly and safely."
Prospective clients can come in for a free boot camp and/or personal training session at the East Greenwich location.
Shields, a former All-South Jersey football and baseball player at West Deptford High School, is also the developer/builder for the Villages at Whiskey Mill project where Power Train Sports is located. "We have a top-notch training facility in a brand new commercial/residential development project with some great tenants. There's a lot of life coming into the area now and a lot of cool things happening," he says. "We encourage everyone to come check it out."
Power Train - East Greenwhich
119 Berkley Rd.
Clarksboro
(856) 599-1950
PowerTrainSports.com
Published (and copyrighted) in Suburban Family Magazine, Volume 7, Issue 5 (July, 2016).
For more info on Suburban Family Magazine, click here.
For information about advertising in Suburban Family Magazine, click here.
To find out where to pick up your copy of Suburban Family Magazine, click here.