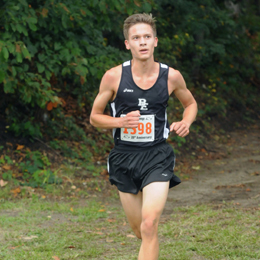 Fall Sports Preview: Boys Cross Country
BISHOP EUSTACE
Crusaders
RUNNERS TO WATCH: Eustace's opponents have grown accustomed to seeing a Hutchison leading the pack over the years, and this season will be no different. It's no longer Shawn—who is now a sophomore at St. Joseph's University—but his brother, Nick Hutchison. The junior followed up a promising rookie campaign with an outstanding sophomore season as he emerged as the team's No. 1 runner. Hutchison took first in the Olympic Conference National Division (and fifth overall in the conference), won the sectional title and took 18th at states. He's joined up front by senior Michael Dziuba, who placed second in the division, third at sectionals and 23rd at states. Sophomore Brian Hutchison, the younger sibling of Shawn and Nick, led a group of rookies who had an impact that includes Noah Richardson, Andrew Massaro, Nicholas Massaro and Zachary Mahoney. Senior Nolan McDonald is a returning runner in the top five and other returners who will contribute are senior Graham Laughlin and junior Luke LaRosa.
OUTLOOK: The Crusaders placed first among South Jersey Non-Public schools, fourth in the Olympic Conference and ninth at states. With almost all of their top runners back, this looks to be an even better season.
CAMDEN CATHOLIC
Fighting Irish
RUNNERS TO WATCH: Camden Catholic brings back five runners who placed in the top 20 at sectionals, including four sophomores. Leading the way is Denny Kelly, who took seventh at both the sectional meet and in the Olympic Conference National Division as a rookie. Another sophomore, Richie Castaneda, was also in the top 10 at both meets and was the top finisher at states among the returners. Senior Greg Del Colombo and sophomores Matt Coffey and Ray Derman round out the possible top five, while juniors Shane Costello and Joe Lisnak are other strong competitors.
OUTLOOK: After taking third at sectionals, ninth in the conference and 10th at states, the Irish have a strong core returning and should only improve this fall.
CHEROKEE
Chiefs
RUNNERS TO WATCH: Cherokee is paced by a dynamic senior duo in Jack Shea and Nick Falk, who will be among the top runners in South Jersey, if not the state. Shea was a mark of consistency at all the major meets in 2015, with top-five finishes at states, sectionals, the Olympic Conference and the Burlington County meets. He ended the year with a sixth-place showing at the Meet of Champions, where he was the second non-senior across the line. Falk claimed the Burlington County title for the second straight year and also took fourth in the conference and fifth at sectionals. Junior Justin Kelly is another key returner whose strong season was highlight- ed by sixth-place finishes in the county and conference. Junior Brandon Marks and senior Brendan Falzone round out the top five and are coming off strong track seasons. Senior Cameron Wilburn and juniors Mike Iannotta, Jon Conn, Joe Falk, Matt Smith and Kevin Bookwalter add depth along with sophomore David Jackson.
OUTLOOK: The Chiefs won championships in the conference and county, took second at sectionals, third at states and seventh at the Meet of Champions. Expect them to contend for sectional and state titles with Shea and Falk leading the way.
CHERRY HILL EAST
Cougars
RUNNERS TO WATCH: Cherry Hill East graduated its top three runners, including one of the best in the state in Aaron Groff. Leading the returners is senior Marc Meltzer, who placed 14th at sectionals and 22nd at states. Senior Josh Dillon is also eager to rejoin the squad after missing all of the 2015 season with an injury. As a sophomore, he took ninth in the Olympic Conference and placed in the top 50 at the Meet of Champions. Tyler Parsons is another key senior who placed 10th in the conference, 17th at sectionals and 26th at states last fall. Senior Noah Preihs had a top-10 showing in Camden County, and other returners include seniors Michael Onu and Andrew Warkala, junior Jeremy Helfand and sophomore Drew Parent.
OUTLOOK: The Cougars claimed their third sectional championship in a row and went on to take second at states and eighth at the Meet of Champions. They also won the county title and placed second in the conference. It will be difficult to stay at that level with the losses to graduation, but new head coach Chris Corey aims to keep the program among the best in the area.
CHERRY HILL WEST
Lions
RUNNERS TO WATCH: Senior Robert Abrams enjoyed a breakthrough season in 2015, emerging as the No. 1 runner for Cherry Hill West. The highlight was a sixth-place showing at sectionals, but Abrams also took sixth in Camden County and 14th in the Olympic Conference. Senior Joel DeLeon is another key returner, and other seniors hoping to make an impact are Robert Holiday, Jason Howe, Aidan Curran and Nelson Villalbos. Junior Luke Andrzejewski and sophomore Tyler Anderson will also look to contribute.
OUTLOOK: The 2015 season was quite successful for the Lions, who placed sixth at sectionals, third in the county and eighth in the conference. They graduated many of their top runners but hope to develop behind Abrams. They'll look to do so under new coach James Cox, who replaces long-time co-coaches Nick Mitidieri and Kevin Brake.
CLEARVIEW
Pioneers
RUNNERS TO WATCH: Colin Gardina surprisingly jumped to the front of the pack as a sophomore for Clearview and should follow up with a strong junior season. He placed in the top 20 in Gloucester County and took 28th in the Tri-County Conference. Sophomore Aidan Coakley is another important returner and Vincent Franceschini is a key senior. Other returners who should contribute are senior Clint LaBattaglia and junior Colin McCarty.
OUTLOOK: Most of the top runners return from a team that took fifth in the county and sixth in the conference, so the Pioneers expect to be improved.
EASTERN
Vikings
RUNNERS TO WATCH: Eastern suffered tremendous losses to graduation, including top runners Nicholas Pschunder and Vipul Bhat. Among the key returners are senior Joseph Passaro and juniors Robert Young and Aaron Forsman. Other seniors are Derrick Wallis, Tyler Miller and Dylan Orloff. The junior class includes Jacob Harley, Andrew Garrison, Alexander Shaw and Chris Bracchi, and John Brodzik could also turn heads as a freshman.
OUTLOOK: The Vikings had top-10 showings at sectionals, the Olympic Conference meet and the Camden County Championships. They're hoping a new cast of standouts can emerge in 2016.
GLOUCESTER CATHOLIC
Rams
RUNNERS TO WATCH: Senior Sean Ward earned all-conference recognition for the third straight year in 2015 and will lead Gloucester Catholic this season. Sophomore Travis Finley is coming off a promising rookie year and other key returners are juniors Frankie Tassi and Nick Giordano. Other runners expect- ed to contribute are seniors Carson Connelly, Anthony DiMarco and Daniel Runior; juniors Vincent Li, Patch Glennan and Chris Polidoro; and sophomore Mike Walton. Freshmen who show potential include Ryan DiGiacomo, Adam Stetser, Anthony Polo, Durrell Cole and Jose Reyes.
OUTLOOK: The Rams have a solid core led by Ward and hope to keep making progress this fall.
HADDONFIELD
Bulldawgs
RUNNERS TO WATCH: Haddonfield graduated a stellar senior class that included sectional champion Greg Pelose, who will be running for Boston University this fall. Leading the returners is senior Brandon Quanci, who placed 12th at both the sectional and Colonial Conference meets, and sophomore Derek Gess, who shined as a rookie with an eighth-place showing at the conference meet and a 16th-place effort at states. Griffin Weiner is another promising sophomore who was in the top 20 at the conference and sectional meets. Junior Richie Glennon was the JV conference champion and other potential contributors are seniors Derek Li and Jimmy Peterman and sophomores Sean Campiglia and Ethan Spellmeyer. Freshman Martin Riddell is also expected to have an impact on varsity.
OUTLOOK: The Bulldawgs extended their streak of sectional titles to 12 straight and took second at states and fourth at the Meet of Champions last year. They also stretched their mark of consecutive dual-meet victories to 182. They have a lot of talented runners to replace but hope to reload for another successful campaign.
KINGSWAY
Dragons
RUNNERS TO WATCH: Junior Joe Grandizio followed up a promising rookie campaign with an impressive sophomore season as he became Kingsway's No. 1 runner. He was the champion at both the Gloucester County and Tri-County Conference meets and went on to place 13th at sectionals and 30th at states. Fellow junior Jonathan Connor is another strong competitor who was in the top 10 at the county and conference races, took 19th at sectionals and actually finished one spot ahead of Grandizio at states, qualifying him for the Meet of Champions. Brian Mangiaracina—yet another talented member of the junior class—and senior Mike Messina also had strong showings in the county, conference and sectional meets. Juniors Cade Hindley and Cole Hindley took the top two spots in the JV conference race and hope to contribute on varsity as well, while junior Nick Fanelle came on strong during spring track to show he is a varsity contender. Sophomores Gavin Wagner, Danny Reynolds and Kieran Burns were three of the top freshmen last year and could also crack the varsity lineup.
OUTLOOK: The Dragons were again the premier team in the county and conference last year, holding onto their championships in both meets. They also took fifth at sectionals and 12th at states. With most of their top runners returning, it's looking like another banner year.
LENAPE
Indians
RUNNERS TO WATCH: Junior Kevin Lauer has put together solid back-to-back seasons to start his high school career and will again be one of the top runners for Lenape. Last year, he placed 12th in Burlington County, 16th in the Olympic Conference and 32nd at sectionals. Senior Ryan Kasper is another key returner who was in the top 30 at all of those meets, and sophomore James Vizzard will look to build on a promising freshman campaign. Junior John Civitillo will also be one of the Indians' top five, and other potential contributors are juniors Parker Leiby and Hunter Louie and senior Josh Goldstein.
OUTLOOK: The Indians took second in the county, third in the conference and seventh at sectionals in a strong 2015 season. They hope to remain in contention at the big races this year.
MOORESTOWN
Quakers
RUNNERS TO WATCH: Moorestown returns its No. 1 runner in senior Kevin Fox, whose best performance in 2015 was a second-place effort in the Burlington County Scholastic League Liberty Division with a time of 16:15. He also took 11th in Burlington County and ninth at the Central Jersey Group III meet. Junior Jesse Wun placed 10th in the Liberty Division, while junior Jack West and senior Andrew Healey also had solid showings at the division and county races. Senior Bavish Gummadi is another key returner who should be part of the top five.
OUTLOOK: The Quakers won the BCSL Liberty title and took fourth at both the county and sectional meets. With Fox leading the pack, this is shaping up as another big season.
MOORESTOWN FRIENDS
Foxes
RUNNERS TO WATCH: Senior Ian Bucci returns as the No. 1 runner for Moorestown Friends for the third straight year. He was the team's top finisher at states last fall, posting his best race of the season. Sophomore Jakob Hull placed 24th in the Friends School League Championships to pace the Foxes, and Neal Shah also had a promising rookie campaign. Other returners who will compete are junior Will Kimberly and sophomores Jack Bear and Ethan Barr. Freshman Aiden Chick brings distance running experience and should also help the team.
OUTLOOK: The Foxes had a solid fifth-place finish at sectionals and will look to be closer to the top teams this fall.
PAUL VI
Eagles
RUNNERS TO WATCH: Paul VI had seven runners place in the top 21 at last year's sectional meet and all of them are back this season. That includes senior Stephen Conte, whose terrific season included a second-place finish at sectionals with a time of 16:47. He also took second in Camden County, 18th in the Olympic Conference and 33rd at states. Junior Sam Giumarello (fourth), sophomore Matthew Slattery (eighth) and senior Sean Bonner were also in the top 10 at sectionals, followed by senior Jack Brogan (15th), sophomore Johnny Paolucci (16th) and senior Christopher Giacobbe. Other returners include senior Connor Plaski, junior Evan Jackson and sophomore Ryan Tenerelli.
OUTLOOK: The Eagles took second at the sectional and county meets, 13th at states and seventh in the conference. With all of their top competitors back, they should make their presence felt at the major races under new coach Andrew Vernon.
SENECA
Golden Eagles
RUNNERS TO WATCH: Seneca saw several of its top competitors graduate, including its No. 1, so a new frontrunner will have to emerge. Senior Shawn Kiraly is the leading candidate after posting solid showings at the Burlington County and sectional meets. Fellow senior Jack Dougherty and juniors Brady Moore and Sampson Johnson also have potential, along with sophomore Billy Hess. Other runners hoping to contribute are senior Tim Ritter and juniors Blake Olson and Sebastian Friend.
OUTLOOK: The Golden Eagles will look to make progress as a team and move up a few spots at the major meets this fall.
SHAWNEE
Renegades
RUNNERS TO WATCH: Mark Miller had a breakthrough season in 2015 and emerged as Shawnee's No. 1 runner. He consistently ran in the 16-minute range and took 11th at sectionals to go with eighth-place finishes at both the Burlington County and Olympic Conference meets. Other returners who should be in the top five are sophomore Sean Keevey, senior James Rudman and junior Jacob Malpass. Other contributors include junior Jack Ennis and sophomore Aiden Dowling.
OUTLOOK: After taking fifth in the county and conference and ninth at sectionals, the Renegades hope for another solid season with Miller at the front of the pack.
ST. AUGUSTINE
Hermits
RUNNERS TO WATCH: St.Augustine has a strong group of returners that includes juniors Nicholas Simila, who ran 18:38 at sectionals to take 25th , and Will Martini, who was right behind him in 30th place. Justin Wright, Blaise Collins and Frank Bergamo are other key juniors, and the talented sophomore class features Anthony Sofran.
OUTLOOK: The Prep placed fifth in the Atlantic County and Cape-Atlantic meets and fourth at sectionals with a very young squad in 2015. Don't be surprised if the Hermits move up a few notches this season.
WASHINGTON TOWNSHIP
Minutemen
RUNNERS TO WATCH: Senior Alex Zingani led the way for Township in 2015 and was consistently timed in the low 17-minute range at the major meets, including a third-place finish at the Gloucester County Championships. He'll look to close out his career with another strong season. Senior Max Ralston was also in the top 20 at the county meet, and other members of the top five are junior Sean Smithson and senior Dean Mignogna. Junior Jake Kolodziej will also have an impact, along with three sophomores who ran around 4:40 in the mile during spring track: Evan Chu, Eric Bearing and Christian Shaw.
OUTLOOK: The Minutemen placed third in the county and 10th in the Olympic Conference last fall. With most of their top competitors back and some talented youngsters added to the fold, they expect to be much improved.
To see a complete list of our boy cross country sports schedules, click here to go to our digital edition.
Published (and copyrighted) in Suburban Family Magazine, Volume 7, Issue 5 (July, 2016).
For more info on Suburban Family Magazine, click here.
For information about advertising in Suburban Family Magazine, click here.
To find out where to pick up your copy of Suburban Family Magazine, click here.